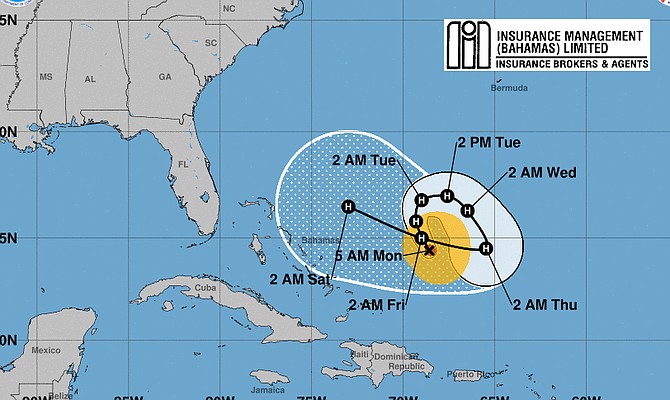 By Khrisna Russell
Tribune Staff Reporter
krussell@tribunemedia.net
WEATHER forecasters said yesterday Hurricane Jose does not currently pose an imminent threat to The Bahamas.
Speaking to The Tribune yesterday, local Meteorology Department forecaster Ian McKenzie said Jose's three-day cone has it located to the east of The Bahamas in a projected looping motion.
Even outside of this motion, Mr McKenzie said there is no expectation Jose will follow the same path as Hurricane Irma, which was now moving across the United States, causing flooding and tornadoes.
AccuWeather forecaster Dave Samuel added Hurricane Jose is something to watch, but not "worth any panic".
"Regards to Jose, most of the concern would be mainly the mariners," Mr McKenzie told The Tribune.
"Within the next 72 hours we would get a better picture of Jose in terms of posing any immediate threat to the country at this time.
"The three-day cone still has it to the east of us moving parallel. Even with the loop now beyond the projected loop that has everyone in hysteria that remains the question right now.
"Even outside the loop it won't be the same path as Hurricane Irma. Because Irma moved towards the west and then across Cuba and then across Key West and (also) Irma didn't do a loop. So there is no duplication in track."
Mr McKenzie continued: "The loop stops midway in the southwest Atlantic. It doesn't continue to penetrate through the island chain as some persons are suggesting. That's why beyond the 72 hours we would get a better picture in terms of a more accurate or a better confidence in terms of the path of Jose.
"We will continue to monitor the system closely. When and if the need arises, we will then go with the watch and warnings if necessary."