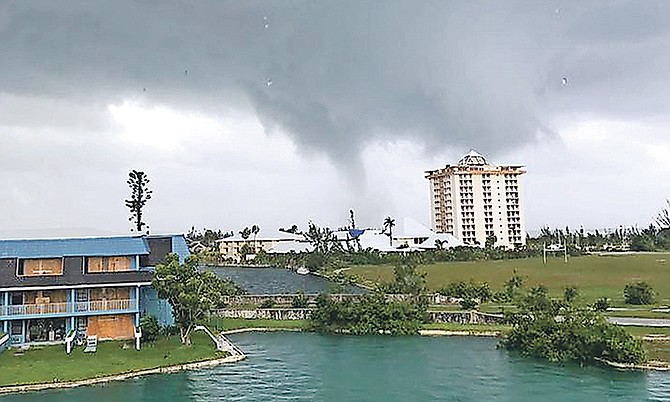 By RASHAD ROLLE
and DENISE MAYCOCK
Tribune Staff Reporters
ABOUT 100 people in Grand Bahama were affected by surprise tornadoes yesterday, some who "completely lost their homes" after the funnel clouds ripped roofs off structures as the island experienced tropical storm conditions from Hurricane Irma, according to Minister of State for Grand Bahama Kwasi Thompson.
East Grand Bahama MP Peter Turnquest said on Twitter there was tornado damage at Tamarind Street where 33 persons were affected, but said there were no injuries.
Ian McKenzie, forecaster with the Department of Meteorology, confirmed that several tornadoes touched down on the island on Sunday afternoon.
There were also reports of a tornado in Bimini. An official from that island said local representatives were called about a tornado shortly before 5pm in Bailey Town and upon investigation, found roof damage in the area.
In Grand Bahama, a funnel cloud was spotted around 1pm in the Imperial Park area, where it reportedly ripped off the roofs off three houses before making its way to the East Sunrise Highway area and caused severe roof damage to the Masonic Lodge Hall.
The tornado travelled in a northward direction along the Mall Drive where several structures, including the Imperial Gardens Apartments and the Colina Imperial Building sustained damage.
Tornadic activity was also reported at Garden Villas, causing some persons to seek shelter at the Central Church of God.
A ZNS news team was preparing to leave the Harold DeGregory Complex on the Mall Drive to gather news footage when they saw a tornado approaching and had to run back inside for cover.
"We watched it coming towards us," said ZNS reporter Kimberly Munnings. "It broke up over the FirstCaribbean building before hitting the Harold DeGregory Complex."
One Grand Bahama resident explained her surprise after seeing a tornado.
"My oldest son came home running and said there was a tornado coming, I thought he was exaggerating," the woman told ZNS' Northern Service, adding that she later saw the funnel cloud for herself. ". . . As it got closer we all ran inside the house. I felt the house actually (shake), after it shook, I heard a big boom, I thought that was it."
Some Bahamians expressed concern that the tornados caught people by surprise and questioned why there was no prior warning from weather officials.
However, Trevor Basden, director of meteorology, noted that his department released an advisory Saturday warning that there was a tornado risk for Grand Bahama and Bimini.
"There is risk for waterspouts and strong to severe thunderstorms in our area," the advisory said.
When it hits land, a waterspout is known as a tornado, Mr Basden said.
An assessment of the damage in Grand Bahama will have to be done to determine the scope of the tornado, Mr Thompson said.
Mr Thompson said after the tornadic activity there were reports of minor injuries, though everyone was accounted for and no one suffered life-threatening injuries.
"The police and defence force officers immediately responded (to reports of the tornado), as well as NEMA and a social services team," Mr Thompson told The Tribune.
"They are continuing those rapid assessments. A number of persons have completely lost their homes. A number have received minor damage. They were given tarp temporarily to save what materials they are able to save."
At a later press conference broadcast live on ZNS Sunday night, Mr Thompson added: "We were sitting here at the (Emergency Centre) when we witnessed tornado activity right on the outside of the building. Quite honestly, it shook up a number of us here and by the time we were able to run outside to see what sounded like a freight train, we saw the tornado in the distance."
He said that was followed by a number of calls from persons who received major damage to homes from the tornado.
He said approximately 100 persons, including children, senior citizens and disabled persons were affected.
He said a number of them had to be relocated, some with family and friends.
"There are some whose entire roof just been lifted off, leaving the house uninhabitable. We will do our best to ensure that those persons are taken care of to the best of our ability here in Grand Bahama," Mr Thompson said.
Danger
Despite the dangerous weather, many people in Grand Bahama were seen on the streets yesterday morning and afternoon. Power lines were down in Freeport, leaving some areas without electricity.
There was also a house fire in the Ridge area of Freeport.
Deputy Commissioner of Police Emrick Seymour said there was no flooding at the Fishing Hole Road as of 1pm when police went to assess the area, which is prone to flooding.
He also confirmed tornadic activity in Freeport.
"It started in the area of Imperial Park Subdivision where several homes were damaged. It made its way across to Lodge Hall on East Sunrise Highway and then into the downtown area where several businesses were damaged.
"We know these activities can occur during this time during this weather."
The deputy commissioner said police were concerned about the number of people roaming the streets and noticed some businesses were open.
He said police shut down those businesses.