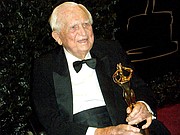 By BRENT STUBBS
Senior Sports Reporter
bstubbs@tribunemedia.net
WITH the 100 Regatta to honour the 100th birthday of legendary Olympic sailing gold medallist Sir Durward 'Sea Wolf' Knowles, committee chairman Danny Strachan is calling for a fitting accolade presented by the Government of the Bahamas.
"Leading up to his 100th birthday, there will be so many things happening," said Strachan, the commodore of the National Family Island Regatta. "A lot of people will probably be putting on events to honour him. "But I think a more fitting and lasting tribute to what he has done for the growth and development of the sport in this country is to put his image on the one hundred dollar note and to name that stretch of water east of Montagu, the Durward Knowles Harbor. I think that's the least we can do for someone who has done so much for this country."
Notwithstanding the fact that Knowles, teaming up with the late Cecil Cooke, captured the first Olympic medal for the Bahamas when they won the gold in Tokyo, Japan in 1964, but he has been a philanthropist, giving unselfishly to just about every cause in the country.
Knowles, the oldest living Olympic gold medallist in the world, will turn a centenarian November 2. However, a joint committee of all of the local sailing bodies has come together to stage the Sir Durward 100 Regatta October 27-29 in Montagu Bay.
Strachan, who heads the body that includes the National Sailing Association and the Bahamas Sailing Club, said they intend to agitate to government on the recommendation of the $100 bill.
"I think if we talk about it and we put more focus on it, I think the message will get out," Strachan stated. "I hear paper talking about running a magazine, but I think we need to recommend that Sir Durward get more prominent recognition by putting his name on the one hundred dollar bill."
As they prepare to honour Knowles, Strachan said the regatta would definitely be the granddaddy of all sailing events to be held in the island nation.
"You're talking about almost 130 boats sailing in Montagu on October 28-29," he stated. "I think Bahamians from all walks of life should be there to celebrate the life of this great Bahamian.
"He has touched the lives of so many Bahamians that it is just so mind-boggling. He doesn't advertise what he's done for the people."
Also a bronze medallist with the late Sloane Farrington in the 1956 Olympics in Melbourne, Australia and a four-time medallist, including champion in the World Championships in the star class in 1947 in Los Angeles, California, Strachan said Knowles has been an icon for Bahamians to emulate.
"What he has done for our country is just remarkable," Strachan stressed. "So what I think we as a grateful nation should do is put his image on the one hundred dollar bill."
For such an event to take place, Strachan said there's a procedure that will have to take place, but at least the powers that be could start by making that commitment to Knowles as he celebrates his 100th birthday.
"We have to do away with tradition in this country," he said. "We like to wait until people die and talk all sorts of good things about them. But he should be able to go away knowing that a grateful nation is honouring him in this fashion."