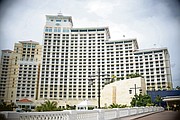 By AVA TURNQUEST
Tribune Chief Reporter
aturnquest@tribunemedia.net
TOURISM Minister Dionisio D'Aguilar yesterday suggested that Baha Mar will have to reconsider its hurricane strategy after the $3.5bn mega hotel was forced to evacuate guests ahead of Hurricane Irma.
"When they built Baha Mar," he said, "they didn't consider getting people from the hotel to the convention centre without going outside. So the only way to get from the hotel to the convention centre is to go outside and that is dangerous in a storm and that creates liability issues for them.
"To close the hotel and not be faced with liability of moving people from the hotel to the convention centre is what motivated that decision. So if you don't know that, you would think well they should never have made that decision, but they have a point and they need to address that issue moving forward.
"You're in a hurricane belt, you need to move people from your hotel to your convention centre during a hurricane, you can't possibly think of putting them in a shelter that's just not gonna work. So they need to think through that and I think for this hurricane, blissfully they were at a very low occupancy, blissfully we didn't get hit. So I think it wasn't really a major issue. It was not necessarily a PR victory for them but I think they will now focus on this issue and address it."
On Saturday, President and Managing Director of the Atlantis resort Howard Karawan has said it is "unacceptable" and "surprising" that Baha Mar would close its doors to "customers and the community" during the passage of a major hurricane.
Mr Karawan said the only reason a hotel should close because of a hurricane is if "the hotel was not built up to standard."
He said when you operate a major hotel on an island you have a "moral obligation" to provide shelter to guests and to support the community.
In preparation for Hurricane Irma that was projected to hit the capital as a category four storm, Baha Mar's guests were told to seek alternative "local shelter" if they were unable to leave the Bahamas, as the resort was temporarily closing its doors until after the passage of Irma.
On Thursday, Robert Sands, Baha Mar's senior vice-president of government and external affairs, told Tribune Business the hotel had already arranged the early departure of "almost 100 per cent" of guests ahead of the super storm's potential strike.
New Providence was spared the brunt of Hurricane Irma that caused catastrophic damage in several Caribbean islands, killing more than 20 people and leaving thousands homeless.
However, the storm brought significant damage to Ragged Island in the southern Bahamas, as well as Grand Bahama in the north.
Mr D'Aguilar told reporters on the sidelines of Cabinet yesterday that his team was working hard to get the message out that the country's major tourist destinations were all open for business in the wake of the monster storm.
"Tourism is a mercenary business," Mr D'Aguilar said, "so where some of the touristic destinations which were wiped out it creates an opportunity. As sad as that may seem it creates opportunity for us.
". . . It's important for us and our marketing edge to let people know that we are open for business and our major tourist destinations are available so please come, that's the main message," he added.
"Get the word out that nothing really happened to New Providence, our other islands Exuma, Eleuthera, Abaco, so please come."