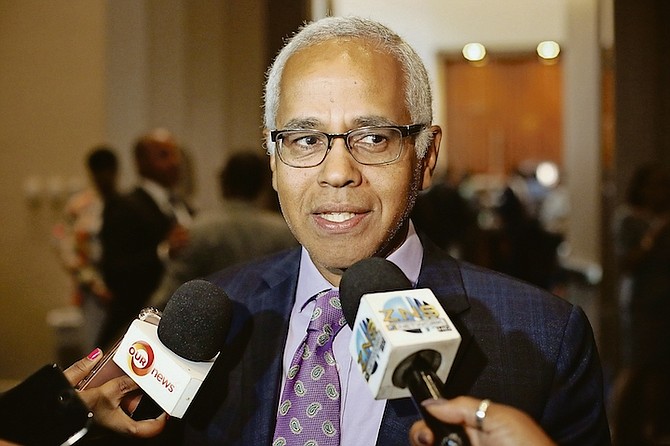 By RICARDO WELLS
Tribune Staff Reporter
rwells@tribunemedia.net
TOURISM Minister Dionisio D'Aguilar suggested yesterday the industry could take a hit in the wake of Hurricane Irma if it can't shake the "destruction in the Caribbean" image being presented to various North American markets.
Expressing a level of concern on Tuesday, Mr D'Aguilar in an interview outside Cabinet said "very little damage" was inflicted on the Bahamas' "major tourist destinations" as he declared "we're open for business".
The Free Town MP said it is now the primary function of the Ministry of Tourism to promote the message that the islands weathered Irma well and remain capable of servicing the holiday needs of guests.
"Everyone is hearing 'destruction in the Caribbean,' 'hurricane went through the Bahamas' and thinking the entire nation was affected. They don't realise that we are an island nation and some islands were affected and some islands were not," Mr D'Aguilar said.
"Hopefully and thankfully our major population destination emerged from this relatively unscathed."
He continued: "Obviously, everybody that had their holiday booked during the days of the hurricane, I think the airlines are hopefully, forcing them to re-book and I know from personal experience that they are calling people to find out how they want to reschedule.
"So we may not get, for lack of a better word, we may not get the money now, but I think it is just going to be shifted further down; which is fine, September is a relatively slow month either way.
"Hopefully those people will just shift their holidays one, possibly two weeks further down the calendar and those people will show up anyway.
"So I am hopeful that people will come once they learn that the Bahamas is back and open for business, they will simply just re-book and come later."
In addition to the Bahamas, major hurricanes have hammered sections of North America over the past two weeks.
Among those areas hardest hit, were Houston, Texas and parts of Florida, two communities that contribute huge numbers to the Bahamas' tourism product.
Asked if this could negatively impact the Bahamas in the coming months, Mr D'Aguilar said "no doubt about it".
"Houston is a major market for us and that got hit hard by Harvey. Florida, clearly, especially the boating market, they are always popping over to Bimini and Abaco and coming through our cays. So when you see on television boats thrown across roads, marinas destroyed in Key West and South Florida, yes, that is going to have an affect on us," he said.
Mr D'Aguilar added: "But, hopefully, they will rebound. I don't think Florida was hit as hard as they initially thought, so hopefully the effect will not be as significant."
Mr D'Aguilar said the tourism industry is a "mercenary business," insisting that whichever Caribbean destination could rebound the quickest post Irma, would more than likely command a great share of the market this period.
He stated: "So, where some of the tourism destinations may have been wiped out, as sad as it may seem, it creates opportunities for us."
"Just on American Airlines' (website) this morning you see Mexico with banners going across the booking engines, saying 'we're open for business' and 'we didn't get hit so come here.'
"So it is important for us, as people decide 'I want to go on a holiday anyway' and 'yes I don't want to go where I was originally thinking,' it is important for us and our marketing engine to let people know that we are opened for business and our major tourist destinations are available, so please come."
To this end, Mr D'Aguilar said he has already implored his staff to get the word out: "Nothing really happened to New Providence, Nassau and our other islands, Exuma, Eleuthera (and) Abaco, so please come."