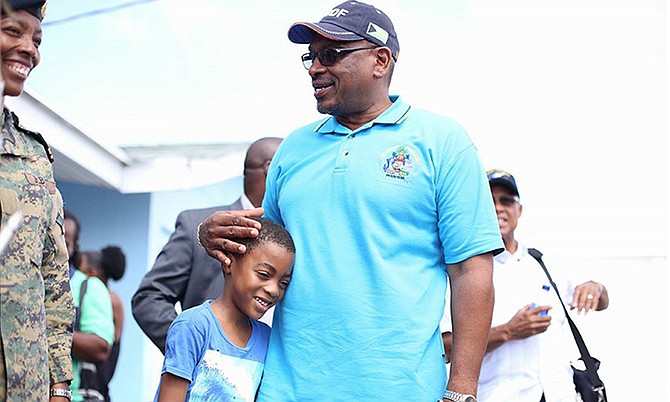 By KHRISNA RUSSELL
Deputy Chief Reporter
krussell@tribunemedia.net
DAYS after Ragged Island was ravaged by Hurricane Irma and deemed not fit for residents by Prime Minister Dr Hubert Minnis, he announced the government's intention to "transform" it into the first fully "green" island in the region.
The prime minister explained renewable energy and smart technology from solar energy and sustainable water purification systems will be utilised for this effort with the help of residents and descendants of the island.
To further support these efforts, Dr Minnis said the government will seek not only the assistance of Bahamians, but look to international counterparts.
However, he did not reveal a cost to be associated with this undertaking, adding Minister of Finance K Peter Turnquest would offer details at a later date on the price tag of Hurricane Irma's related costs.
On Monday, Dr Minnis urged the remaining 18 residents on the island to evacuate as he warned health and safety conditions there would worsen in the aftermath of Hurricane Irma.
Rotting animal carcasses and the destruction of all essential services, led Dr Minnis to strongly urge those still on Ragged Island to leave until the small community can be restored.
Despite this, residents of the island said Tuesday they were determined to go back home immediately and rebuild despite the decimation left by Irma.
"I assure the wonderful people of Ragged Island that their island will be rebuilt," Dr Minnis told Parliament yesterday during his communication on the government's preparation and restoration in the aftermath of the monster hurricane.
Earlier in his address Dr Minnis said: "Tragically, Hurricane Irma essentially destroyed Ragged Island.
"Most homes are destroyed or severely damaged. Power lines are down. Utilities are non-functioning. Public buildings including the government operated school, the clinic and other public facilities are severely damaged.
"Ragged Island will have to be rebuilt through a compilation of private and public efforts. I am pleased that Ragged Islanders throughout The Bahamas have come forward to offer their assistance for recovery and rebuilding.
"The government will evacuate the remaining residents from Ragged Island, (for) those who want to leave by Thursday of this week. Those who evacuated previously have the opportunity to briefly return in order to retrieve any valuables and other items not destroyed by the hurricane.
"An environmental team will be sent in to dispose and to engage in a major cleanup of Ragged Island. Only then can additional recovery efforts begin."
"In partnership with the residents of Ragged Island, my government proposes to transform Ragged Island into the first fully green island in the region.
"Utilising renewable energy and smart technologies from solar energy through sustainable water purification systems.
"To do this we seek all Bahamians and international assistance of all friends of Ragged Island and friends of the Bahamas.
"Out of the devastation and destruction, a new Ragged Island will emerge including stronger building codes, improved zoning and strategies to mitigate against climate change and rising sea levels.
"Ragged Island can emerge as a new model for sustainable communities throughout the Bahamas and the region," Dr Minnis also told parliamentarians yesterday.
The prime minister said as a low lying, small island developing country, the Bahamas must create new mindsets and protocols in this era of "super storms."
"Toward this end the government will convene a panel of experts to study, advise and report on efforts the Bahamas must take in response to the threat posed by the frequent and more severe hurricanes some of which may be monster storms."
"We must be better prepared for hurricanes which affect the entire archipelago and multiple islands in our island chain.
"Mr Speaker over the past several years it is becoming clearer and clearer to us that in far too many cases buildings in the Bahamas have been and are still being approved for construction that are not up to code.
"We need buildings that can withstand an Irma. We cannot be in the business of saving money over saving lives.
"Unfortunately, there are also some buildings that are built and owned by the government of the Bahamas that have been found wanting in regard to code standard. In light of the increasing power and frequency of hurricanes, I am therefore asking the Minister of Works (Desmond Bannister) to review our building codes and to ensure that building code enforcement becomes a much greater focus of our administration.
"NEMA's task in between every hurricane season will be to provide the Cabinet with recommendations regarding how New Providence and Grand Bahama can survive a direct hit from a hurricane the size and force of Irma with no to little loss of life and with decreasing property damage. That is the kind of resilience we must develop throughout the Bahamas," Dr Minnis also said.
He said at an appropriate time, NEMA would be instructed to conduct a full scale after action report to look at what systems and protocols worked and which ones either failed or were not up to par.
This, he said, includes the readiness of shelters throughout the country at the time Hurricane Irma hit.