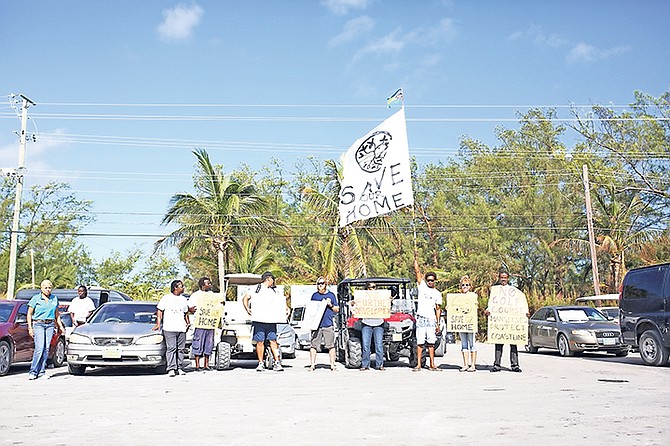 By RICARDO WELLS
Tribune Staff Reporter
rwells@tribunemedia.net
RESORTS World Bimini operators have explained the temporary closure of the luxury resort in the wake of Hurricane Irma, insisting the extensive damage to the property's marina is too "big a blow" to address on the fly.
In interviews with the press Thursday, executives of both the resort and its development company contended that an immediate return to full operation was their main focus, but admitted issues being examined could result in a longer closure period.
Missy Lawrence, Resorts World Bimini president, in an interview suggested the resort could re-open as early as September 27, but indicated that deadline depends on the resort's ability to overcome "a lot of hurdles" in the interim.
The resort's marina was extensively damaged by Hurricane Irma last week. Mounds of Styrofoam were left floating in the ocean near the floating dock as a result of the storm.
"We are trying really hard to get back to work. As I was telling the prime minister, we have a couple of goals. One, is to make sure the building is safe and everywhere we bring people in is safe," Mrs Lawrence said.
She added: "Environmentally, of course, we are deeply concerned just like everyone else is deeply concerned, and if you go out there today you will see my minimal team that I have here is trying to do everything that they can do to help with the remediation and then the RAV team has been instrumental in putting some buoy curtains out there to stop the pull out and we are 100 per cent concerned.
"I think September 27 is a goal date. We have a lot of hurdles to overcome. Not necessarily in this building as you can see, water intrusion here was not too bad, we have to do some mould remediation because it got warm.
"We have to get supplies back, frankly our fresh supplies are ruined. Everything spoiled. We were without electricity for a while and we can't bring employees back until that change is corrected and we can feed them and house them correctly."
Additionally, Rafael Reyes, president of RAV Bahamas, Resorts World Bimini's developer, said the resort is in the process of assessing the property.
Mr Reyes stated: "Sometimes things appear like they are fine and then when you dig into it a little bit further, you realise that there (are) other integrity issues that need to be addressed. So we are in the process of doing that now."
The government conducted a tour of Bimini and the Resorts World property yesterday to ascertain the extent of damage on that island.
Tourism Minister Dionisio D'Aguilar, who was present for the tour, said he was concerned at the level of damage, but said he was hopeful that operators could resolve their matters in a timely manner.
"It is concerning but I understand why," Mr D'Aguilar told reporters when questioned about the resort's closure.
He added: "Obviously it is concerning that it is going to take as long to open up, however, they have to do their assessments. They have to receive substantial damage to their docks. They are a boating hotel primarily. They are one and a half hours from Miami.
"A lot of people like to come there on their pleasure yachts, park and come in and take advantage of the hotel. So they probably feel until they get that component of their product up and running and fully operational it is probably better for them to stay close and sort that problem out first."
Resorts World commissioned its 305 room Hilton resort in early 2016, capping off its mega weekend, casino getaway resort scheme.