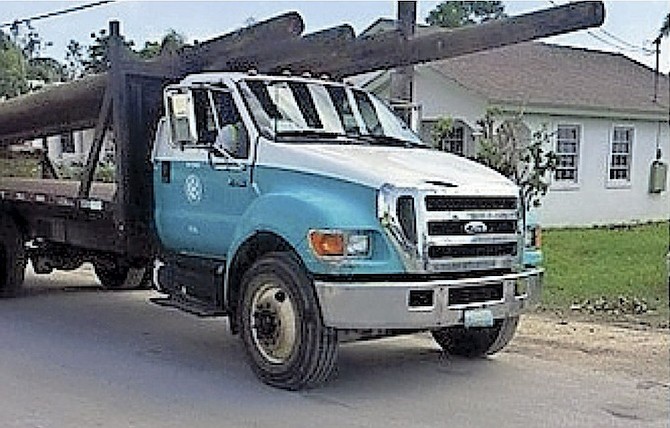 By TANEKA THOMPSON
Tribune News Editor
tmthompson@tribunemedia.net
BAHAMAS Power and Light has given politicians and government officials who were on a special "do not disconnect" list seven days to pay their "outrageous" bills or be disconnected.
BPL is owed "hundreds of thousands of dollars" by persons on this list, several of whom are said to be "active politicians", The Tribune was told. Government House also owes BPL a hefty sum.
The hardline directive came from Prime Minister Dr Hubert Minnis, who was consulted by Minister of Works Desmond Bannister about the practice the latter found in place by the Christie administration, which allowed elite members of society to rack up electricity bills as high as $50,000 and not be disconnected.
This while the average consumer can have his or her electricity shut off for an outstanding sum of as little as $200.
The Tribune understands the list includes several Progressive Liberal Party officials, government officials and at least one Free National Movement member. BPL issued the letters to the delinquent customers on Thursday. They will have the option to arrange a payment plan if they cannot pay in full.
While the government is adamant about collecting the unpaid utility bills from politically connected individuals, The Tribune understands Dr Minnis is also focused on going after companies with delinquent National Insurance Board (NIB) contributions and those who owe money to the Public Treasury.
The Tribune understands the prime minister, who previously told Parliament his own electricity was once cut off for non-payment, does not want to know who is on the "do not disconnect" list, but is resolute no one is above the law and those who cannot pay their bills should have their electricity shut off.
When contacted for comment, Mr Bannister told The Tribune: "BPL used to have a list and they used to put all the politicians and some other (well connected) people on it. The prime minister has said from the outset that we are not going to operate like that.
"As soon as I was able to learn of the existence of this list, I contacted him and he agreed there was to be no list and everyone was to pay their way."
Mr Bannister said he has not seen the names on this special list, but told The Tribune he knows some of the sums owed are "outrageous."
"I don't know how someone could accumulate $30,000, $50,000 and not be concerned about paying BPL," he added.
"They (officials at BPL) were instructed to send those letters out and we fully expect there will be nobody who will be exempt. (. . . Except) the GG, that's the only person who should not be cut off, at Government House.
"I know Government House will pay; the message has to be that all of us are subject to the law and all of us must pay."
When asked again who was on this list, Mr Bannister said: "I haven't looked at the bills; I have not looked at the names. I don't want to know the names. It's not a political witch hunt and I'm not interested in who it is, just interested that BPL is going to be able to operate appropriately.
"When I was a minister (from 2007-2012) they cut me off twice – once I was in France on government business and they cut me off. Former Prime Minister (Hubert) Ingraham didn't tolerate that nonsense. We have to let everyone know this is a country of law and order and we don't operate that way."
He added: "Since the election, I've had my headquarters turned off, my community centre in Carmichael has been turned off. It's rented and I didn't get the bill in time from my landlady and I went and paid it."
When contacted by The Tribune, BPL Chairwoman Darnell Osborne could not say how many delinquent people are on this list or how much is exactly owed by those in this category.
"As a board, in terms of policy, and in terms of trying to improve the cash flow of the corporation, we would like to have all customers treated the same," she said.
"Whatever the policy has been in the corporation in terms of management and what they do for regular customers in terms of receivables, in terms of if you fall on hard times, you come in and pay a percentage, whatever policy they have for regular customers, they have been instructed to deal with everyone in that manner.
"It's just that there is no special treatment for anyone going forward," Ms Osborne added.
In December 2016, Department of Statistics officials revealed that as many as 12,000 people had their power disconnected due to nonpayment.
Cyprianna Winters, a statistician, said at the time: "Approximately 10 per cent of households where the main source of lighting was electricity had their power disconnected due to nonpayment of their bills."
Ms Winters said that "10 per cent" translates to about 12,000 people.
The survey was conducted between October 24 and 30 of last year.