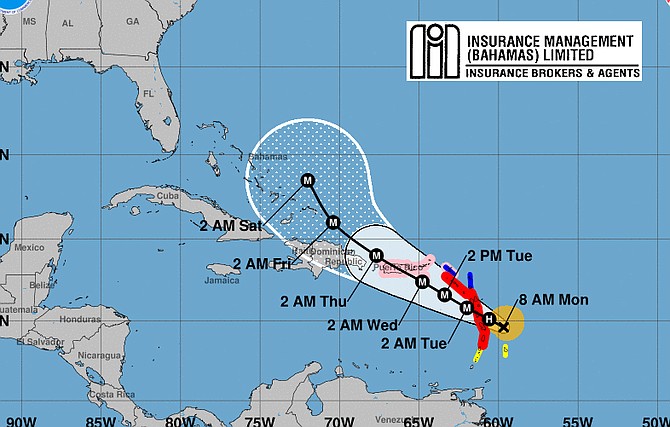 By NICO SCAVELLA
Tribune Staff Reporter
nscavella@tribunemedia.net
WEATHER forecasters yesterday warned of the potential dangers of Tropical Storm Maria, advising that in the "worst case scenario," the system could turn out to be a "major hurricane" expected to hit the southern Bahama islands by the weekend.
Dave Samuhel, senior meteorologist for Accuweather.com, said while Tropical Storm Maria isn't expected to hit the southern islands until Friday or so, its impact on islands in that region "could be severe".
He said Accuweather currently forecasts Maria will strengthen into a category two or three storm, however, he said that prediction may very well change.
Nonetheless, Mr Samuhel said the Bahamas should not receive any impact from Tropical Storm Maria immediately, although noting that waves from Hurricane Jose – passing near the US East Coast - will continue to affect both the northern and southern Bahamas, with the north facing shores also to experience "some large surf" as a result.
He said the other system forecasters are tracking, Tropical Storm Lee, is "weakening" and will be a "non-factor."
According to an Accuweather.com report, Tropical Storm Maria continues to strengthen as it makes it way west-northwestward. Conditions are conducive for the storm to strengthen into a category two hurricane prior to reaching the Lesser Antilles on Monday night and Tuesday, the report said.
By midweek, the storm is expected to reach category three intensity, when it is expected that the storm would affect much of Puerto Rico and the Virgin Islands with severe rain and wind.
Based on the storm's projected path, Mr Samuhel said he expects that by Friday, Tropical Storm Maria will hit Inagua and the Turks and Caicos Islands.
"We're looking at Maria to cross the northern Caribbean Tuesday and Wednesday, and the impacts will really be determined by how much of those islands it goes over," Mr Samuhel told The Tribune on Sunday. "Say does it go right over Puerto Rico and Hispaniola, and if so it will be a much weaker hurricane as it passes by those islands, so that would be I guess good news for you.
"If it stays just north of those islands it will retain more intensity, but regardless of what happens there your impacts are probably not until Friday or next weekend when you'll start to see some tropical storm or hurricane conditions in the southern Bahamas.
"It would first approach Great Inagua being the southernmost island there and then the Turks and Caicos," he added. "That's where we could start to see impacts by Friday or so."
When asked by The Tribune about forecasted severity of the storm by the time it hits, he said: "It could be severe. The worst-case scenario is it's a major hurricane coming into the southern Bahamas Friday or next weekend."
"Our forecast right now is for a category two, but it's likely going to change as to what happens," he added.
Tropical Storm Maria is the third system to affect the region in recent weeks, following the passages of Hurricanes Irma and Jose earlier this month.
Maria has prompted a hurricane warning for Guadeloupe and Dominica and a hurricane watch for Antigua, Barbuda, St Kitts, Nevis, Montserrat, Saba, St Eustatius, St Maarten, St Martin, St Barthelemy and Anguilla - many of which were devastated when Irma struck and killed 44 people in the Caribbean, according to CNN.