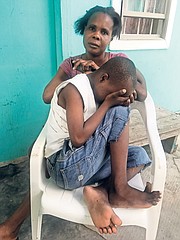 By AVA TURNQUEST
Tribune Chief Reporter
aturnquest@tribunemedia.net
A HAITIAN mother is considering placing her 11-year-old special needs son in the care of the state after he was allegedly denied access to school for three consecutive years because of the country's immigration policy.
Activists are calling on the government to implement temporary measures to address the "glaring gaps" created by the November 2014 policy that affected access to public services, and effectively marginalised vulnerable communities.
Jan Pierre, 36, told The Tribune that the grim prospect for her son Watson was one of only two options at her disposal, having exhausted attempts to obtain the required documentation for her child because of her own status.
The second would be to send him to Haiti to live with his father, a place he's never been and a setback that would drastically inhibit his ability to apply for Bahamian citizenship.
The Tribune met with Ms Pierre, and activists Louby Georges and Stephanie St Fleur, in a shantytown off Carmichael Road.
Mr Georges said: "We can say to you that this is not just Nassau, we've received calls from Freeport, Abaco. We're not talking about kids that are coming from somewhere else. These are kids that were already in the school system.
"We've been at this for three years now, but now that there is a new government we're wondering if there will be any change. It's the same problem, they all know about the problem because while in opposition they said they would work to address it.
"It's a multi-ministry problem, (Ministries of) Immigration and Education, but it's still happening so at least put in place some temporary measures to help these kids while you discuss it at the Cabinet level. There are a lot of kids caught in this gray area and are being denied an education."
Meanwhile, Ms Pierre explained that she has had irregular status since 2004, and at present was waiting for the renewal of her passport. Since the November 2014 immigration policy, Ms Pierre has had difficulty getting an employer to assist her with obtaining a work permit.
Her work permit first expired in 2004.
"For her, her main concern would be her son's development because he can't go to school," said Mr Georges, an executive member of Rights Bahamas, formerly the Grand Bahama Human Rights Association.
"She's contemplating sending him to Haiti even though he's not from Haiti, he was born here, or giving him up to the (Department of) Social Services because however hard it may seem or sound as a parent she's really concerned about him having the best life."
Rights Bahamas has repeatedly raised concerns over the harmful, dehumanising conditions created by the 2014 immigration policy, which they saw as an attempt to legitimise inhumane state practices against unregularised or undocumented persons.
The policy mandates that every person living in the Bahamas has a passport of their nationality with proof to legally reside in this country, among other restrictions, like the requirement for every foreign person enrolled in schools, including children born in The Bahamas to immigrants, to have a student permit.
Although the policy was introduced in November 2014, the restrictions did not come into effect until the Fall 2015 school semester.
Then Immigration Minister Fred Mitchell explained that the school permit rule would help the government keep track of who works and lives in The Bahamas and who attends schools here.
The annual school permit costs $25 with a $100 processing fee.
Mr Georges said: "Watson was already registered at school, had been going to school. The policy kicked in and affected education after the summer break of 2015.
"So Jan didn't know, she got him dressed for school and took him and then he was not accepted when they got there. When she got there, the principal spoke to her and asked her if the child had a permit. The principal told her without a permit they won't be able to accept the child."
In 2015, while out of office, Brent Symonette warned that making it harder for children of immigrants to get an education could create a slippery slope that results in a myriad of long-term social problems for Bahamians. He was appointed minister of immigration after the 2017 general election, a post he held from 2007-2012.
However, since taking office, activists lament the new government has been silent on this issue.
"You go to NIB and they send you to Immigration," Mr Georges said, "when you get to Immigration, they say 'oh no you need the NIB card.' When you go back they say no you need something from Immigration so you can't go to either place without something from the other one. So we want to know if they're even meeting to try to fix this thing."
Ms St Fleur said: "Since the new policy came in, there are kids born after independence right now there is a problem with them getting that identity card or Haitian passport. And if they do get the Haitian passport and go to national insurance, they don't want to issue the NIB card so it's like everywhere is putting a block.
"At the end of the day," she continued, "myself and Louby, we were in the same situation these children are in today. My parents at one time had work permit, my parents at one time had to wait when their documents were up.
"I'm straight, Louby is straight, every single person in my immediate family is straight but I have to think that these kids could be me."
Ms St Fleur added: "If I was denied an education during a time when my parents didn't have their work permits, how could I contribute to this place? The only country I know as home? These young children are put in this same situation here, lack of education.
"How, in the next few years when they turn 18 and they apply for their citizenship, tell me how can they contribute to the only place they know as home?"