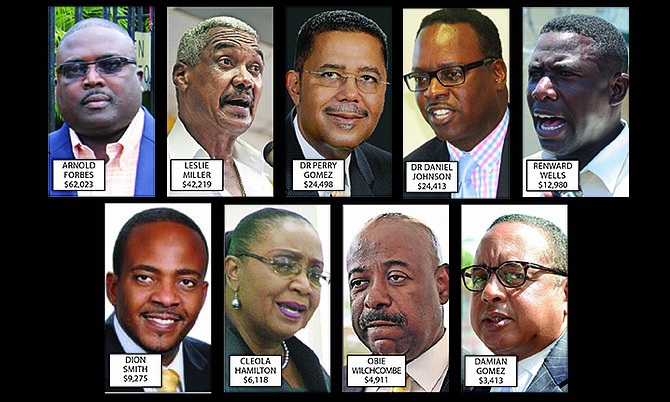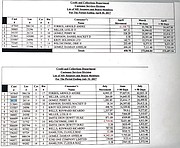 By AVA TURNQUEST
Tribune Chief Reporter
aturnquest@tribunemedia.net
FOUR former Progressive Liberal Party Cabinet ministers owed more than $20,000 each at Bahamas Power and Light, with one former minister in arrears for some $60,000 as of July, according to a list obtained by The Tribune.
The Credit and Collections Department listing of MPs, senators and board members for the period ending July 31, revealed that former State Minister in the Ministry of Works Arnold Forbes owed BPL $62,023.14.
The list obtained by The Tribune contains delinquent accounts of six former PLP Cabinet ministers, two former PLP MPs, two private entities, and one sitting Cabinet minister: Bamboo Town MP Renward Wells.
Mr Wells, who owed $9,277.07 and $3,703.96 at two separate locations - $12,981.03 in total – did not want to comment yesterday, and the other former officials could not be reached up to press time.
According to sources close to the matter, as of Monday Mr Wells has since paid $9,000 on his accounts with an outstanding balance of some $8,600.
The source also said as of Monday Mr Forbes was in talks with the company to settle the balance over a three-month period. Mr Forbes, former PLP Mount Moriah MP, was appointed to Cabinet in January 2015, and previously served as the chairman of the Bahamas Agricultural and Industrial Corporation.
Others on the "do not disconnect" list are: former Minister of Health Dr Perry Gomez, former Tall Pines MP Leslie Miller, former Minister of Youth Dr Danny Johnson, former Nassau Village MP Dion Smith, former Tourism Minister Obie Wilchcombe, former South Beach MP Cleola Hamilton and former Minister of State for Legal Affairs Damian Gomez.
Mr Miller, former executive chairman of the Bahamas Electricity Corporation, owed $34,909.61, and 7,310.07 – or $42,219.68 - at two separate locations. Mr Miller served as the minister of trade and industry during the first Christie administration in 2002. He revealed earlier this week that he has a payment plan with BPL for his outstanding bills.
Dr Gomez, former North Andros MP, owed $24,498.02, and Dr Johnson, former Carmichael MP, owed $24,413.16 for the same period.
Former West End and Bimini MP Mr Wilchcombe owed $4,911.04 and Mr Gomez, former South Eleuthera MP, owed $3,413.40.
Mr Smith, former BAIC executive chairman, owed $5,440.98 and $3,835.87 – a total of $9,276.85 - at separate locations; and Ms Hamilton, former parliamentary secretary in the Ministry of Foreign Affairs Cleola Hamilton, owed $3,546.79 and $2,572.94 - $6,119.73 in total - at separate locations.
The partial list obtained by The Tribune also contained two companies: one which owed $15,028.56 and another which owed $3,272.24. It is unclear who owns these entities.
The revelations follow The Tribune's reporting into the existence of a special "do not disconnect" list for parliamentarians, top civil servants and churches at BPL.
One member of the special list yesterday pushed back against the assertions that elite members of society are allowed to skip out on paying electricity bills indefinitely.
That person, who asked not to be identified, said inclusion on the list was an automatic and historic courtesy and not a benefit that politicians personally advocated for. The member insisted that membership did not mean that persons were not shut off for nonpayment, only that the threshold was significantly higher.
The member acknowledged that some of the account arrears were egregious.
"I believe once you get elected they put you on that list, it's automatic," the member said. "Every member of Parliament is on that same list. Even though you're on that list they still shut you off, so it's the wrong perception, you have a grace period but you're still getting shut off.
"It's more of a courtesy where they will try and work it out with you. For some of those persons, like $68,000, that's abuse but at the end of the day when you look at it in totality in terms of just the list, it's just a courtesy," he said.
On Monday The Tribune revealed BPL issued letters on Thursday to persons on the list noting they had seven days to pay the balance, arrange a payment plan or face disconnection.
The Tribune understands Prime Minister Hubert Minnis has called for the special list to be abolished and for an end to special treatment for officials.