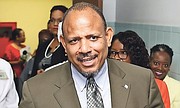 AS category five Hurricane Maria approaches the Bahamas, Health Minister Dr Duane Sands said the government is faced with a "gut wrenching" decision regarding if it should ask residents of the southern islands to evacuate ahead of the storm.
Maria has already devastated the island of Dominica. It is expected to approach the southern Bahamas by the weekend. Many Bahamians in those southern islands have just returned to their communities after evacuating ahead of Hurricane Irma, a monster storm that left devastation in its wake earlier this month.
Clean-up has begun on some southern islands hit by Irma, as local officials keep an eye on the direction of Maria.
After Irma, Ragged Island was considered unfit for residents while those still in shelters in New Providence from Salina Point, Acklins have said their hometown is not ready for their return because of the storm.
Dr Sands said realising the need for healthcare personnel on these islands, a team is now working on an "off-site out post" approach where personnel from nearby islands will visit several times a week to care for medical needs.
He said: "I think there has already been some heavy equipment dispatched from Nassau to Ragged Island to begin the process of cleaning up.
"We have had the Pan American Health Organisation teams down to assess the issues with water and the potential risk of diseases, etc.
"Right now this is a very fluid problem because we have this other crazy system in the Atlantic, which may or may not impact the southern Bahamas and I think every single eye is on that system to determine when do we move.
"This is gut wrenching because (we are faced with the decision) do you allow people to go back into that environment only to say on Thursday or Friday now we need to pull you back out? So we will discuss again probably in the course of the day the timing of various agency responses to Irma.
"We are still trying to put together the specific plan."
He said it was also difficult to say at this time when nurses would be re-assigned to the islands devastated by Irma.
"It is difficult to put anybody on an island which is uninhabitable. It's one thing to say to a marine of the (Royal Bahamas) Defence Force that you are going to live in a hut or cot under a tent.
"It's a far cry different to say to typically a young woman 'you (are) supposed to be providing healthcare services (on the island).' How do you do that when you don't have basic sanitation, electricity or potable water, etc?
"And so on Friday gone my team began to create a plan for an off-site out post approach to caring for the people in Ragged Island and we are seeking to deploy people either from Exuma, Long Island or one of the other islands and then moving them in several times per week by boat to examine anybody that happens to be working on the island and anybody who might get injured.
"But the idea that you are going to have somebody staying on that island right now is untenable," Dr Sands said.
A hurricane alert was issued for the southeast Bahamas and Turks and Caicos on Tuesday. This covers Inagua, Acklins, Crooked Island, Mayaguana, Long Cay and Samana Cay. A hurricane alert means hurricane conditions are expected in these areas within 60 hours.