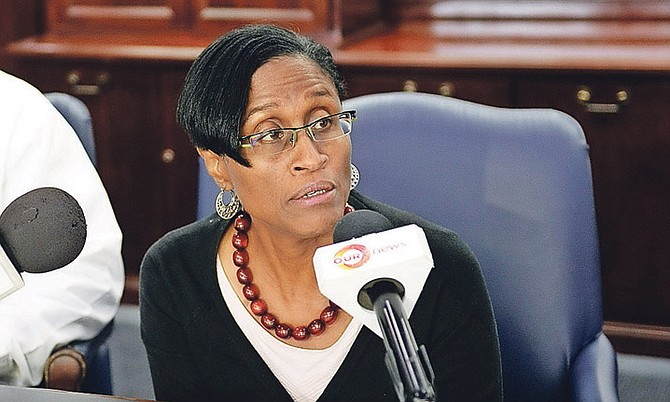 By KHRISNA RUSSELL
Deputy Chief Reporter
krussell@tribunemedia.net
THE Minnis administration has terminated the management services agreement between American company PowerSecure and Bahamas Power and Light (BPL), which enabled foreign BPL executives to be paid more than any Bahamian parliamentarian or executive at the electricity provider,  according to Works Minister Desmond Bannister yesterday.
Under the MSA, former BPL CEO Pamela Hill was paid a salary of $25,000 per month and received $6,000 each month in housing benefits, down from an initial $8,719 monthly. She also received monthly benefits of $3,833.33, Mr Bannister said in the House of Assembly.
In addition to paying this monthly fee of $34,833.33 for the former executive, Bahamian taxpayer dollars also paid $27,322.46 in travel costs and $23,637.55 in relocation costs. Mr Bannister said for quite some time, Bahamians paid travel costs for a CEO who only lived in the Bahamas for five days each week – from Monday to Friday, but spent weekends elsewhere. She was terminated last month with immediate effect.
The executive vice president of generation and operation received a similar salary. This executive received $33,583.33, with a salary of $23,750, housing benefits of $6,000 and other benefits of $3,833.33.
The executive vice president of transmission and distribution operations cost taxpayers $26,083.33. This included a salary of $18,750, housing benefits of $6,000 and other benefits of $1,333.33.
"To put these salaries that the former administration agreed to reimburse to executives selected by PowerSecure in perspective, it must be appreciated that a member of Parliament is paid less in one year than any of the two top executives of BPL make in one month," Mr Bannister said yesterday. "And the highest salary paid to any Bahamian executive at BPL is $10,600 per month.
"This is indeed a wonderful example of what members opposite meant when they spoke of putting Bahamians first."
He continued: "On August 17, 2017, the board of BPL wrote to PowerSecure to itemise certain alleged breaches of the MSA. In accordance therewith, PowerSecure had 30 days to respond thereto. Their options were to cure the alleged breaches; or to take issue with them. If they failed to cure the alleged breaches without reasonable excuse, then the MSA would be terminated.
"On September 18, 2017 PowerSecure through its local attorneys took issue with the alleged breaches and itemised certain alleged breaches by the board of BPL, both current and former. They have in their words accepted the repudiation of the MSA.
"The MSA is therefore terminated. PowerSecure has agreed to leave their personnel in place until as late as December 31, 2017 to facilitate an orderly transition.
"I wish to personally thank PowerSecure Inc for their contribution to the Commonwealth of the Bahamas during their tenure here. We anticipate moving forward under new and vibrant Bahamian leadership."
Apart from hefty salaries, the MSA stipulated PowerSecure was to be paid an annual base management fee of $2m.
It also provided for the payment to PowerSecure of an annual performance compensation fee, which could reach a maximum of 150 per cent of the base management fee. This equates to an additional $3m.
As of July 25, 2017, PowerSecure has been paid a total of $7,994,753.42.
The fee includes: $2,666,666.71 to PowerSecure for management fees, $901,500 for the BPL business plan, $1.2m as a performance bonus, $2,035,078.80 for the Harbour Island project and $1,191,507.91 for other services inclusive of Hurricane Matthew restoration.
Earlier in his contribution, Mr Bannister said: "I wish to draw the attention of honourable members to the existence of a confidentiality clause in the MSA.
"The people's government is one of transparency, not confidentiality. Where others conclude agreements and hide them from the people, we are unmistakably different. Where others make promises that they don't intend to keep, the people's government cherishes and protects the right of the Bahamian people to know.
"An interesting provision in the MSA provided that PowerSecure was to be reimbursed 'for all wages, salaries, bonuses and incentive compensation, benefits, pensions and other post-employment benefits, travel and business expenses, executive recruiting fees and labour costs described in (its) business plan and reasonably incurred by the service provider in connection with the employment of the executive management.'"
He said the problem was the former administration did not put any limits or caps on the salaries taxpayers had to reimburse, so BPL ended up having to reimburse PowerSecure $76,626 for executive recruiting fees, since the people they sent to the Bahamas were not necessarily their employees.