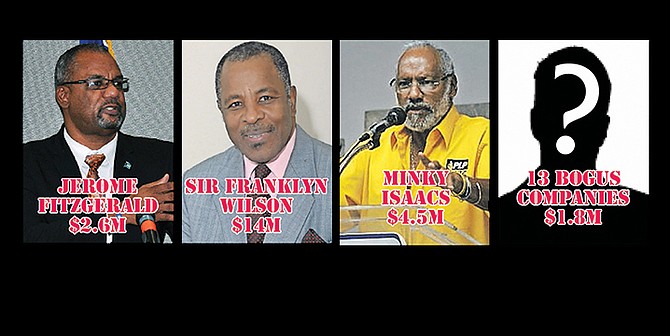 By KHRISNA RUSSELL
Deputy Chief Reporter
krussell@tribunemedia.net
A FORENSIC investigation into Bahamas Power and Light Company unearthed glaring infractions of the tender process, revealing a company owned by the family of Jerome Fitzgerald was awarded a contract for brokerage work despite no participation in the tender process and a recommendation that another entity should be given the approval.
According to an Ernst & Young audit into BPL, in one "egregious" instance, Mr Fitzgerald's family business, Bahamas Courier & Logistics (BCL), was awarded a contract over Pinder's Customs Brokerage, a company with the best bid. Mr Fitzgerald was minister of education in the last Christie administration.
The electricity provider spent $2,626,001 with BCL since 2012.
The audit further found in two separate instances, J S Johnson was the winning contractor in the bidding process for insurance coverage, but both contracts totaling $14,183,159 were ultimately issued to Sunshine Insurance, the company of Franklyn Wilson, a Progressive Liberal Party supporter and financier.
BPL also spent $4,592,041 with Penta Industrial Services, the company of PLP Chairman Emeritus Errington "Minky" Isaacs. There was no indication a competitive process of obtaining alternative quotes or competing bids took place.
Other contracts approved for entities owned by former Bahamas Electricity Corporation (BEC) board members were also awarded.
Works Minister Desmond Bannister made the revelations yesterday in one of five separate communications in Parliament.
The audit, he said, identified numerous irregularities in the manner in which the contracts were awarded since 2012, when the PLP took office. The document is dated August 15, 2017.
Fraud
This report was commissioned as a result of concerns raised relating to fraudulent cheques paid to fictitious vendors before the general election in May.
It identified 41 fraudulent cheques to 13 fake vendors totaling $1,886,525 and three fraudulent cheques to legitimate vendors in the amount of $126,779, Mr Bannister said.
However, as the police are still reviewing the report, the minister said he was not at liberty to table it in the House of Assembly.
For this reason, he zeroed in on issues with the awarding of contracts.
"First the report identified numerous instances where the tender process was not followed," the Carmichael MP told parliamentarians. "Many contracts were awarded in excess of $100,000 for which no formal tender had been performed. In other instances, there was no evidence of any procurement analysis or of other quotations being obtained.
"There were also instances where contracts were awarded to vendors who had not been selected in the tendering process, thereby rejecting the companies that had actually submitted better bids and in one egregious case, a company that did not even bid was awarded a contract over the company that had followed the process and to whom the tenders committee had approved the award of a contract."
He also said: "The government of the Bahamas is deeply concerned about these irregularities. We are committed to stamping out fraud at BPL. To this end, Ernst and Young has been instructed to pursue further investigations."
Other irregularities in the report included the awarding of a contract to Sure Tech CCTV & Surveillance for $157,750 when the contract was never put out to tender.
Mr Bannister said legal action had to eventually be taken against the company when it failed to complete the contracted work.
Atcun Security was another company awarded work in the absence of tendering. This company was awarded a contract for $870,684 and since 2012, $3,685,257 was spent with the entity.
"As a result of the contractual relationship with this company, the monthly cost for security services jumped from $72,280 to $94,419 an increase of more than $22,000 per month," the minister said.
Rowcreek Company Limited was also awarded a contract for $114,036 to provide furniture, but there is no evidence of any procurement analysis being completed or any other quotations obtained.
The audit also found other concerning matters where BPL violated business norms.
Among these are a lack of vendor due diligence; the chairman of the corporation being involved in operational procurement activity; no clarity as to who had authority to create vendor profiles and in various cases there was no supporting documentation for payments along with missing cheques and invoices.
In April, The Tribune reported that from as early as 2013, Mr Fitzgerald, then the Marathon MP, sought to secure for his family's business millions of dollars in brokerage, trucking, and limousine contracts at Baha Mar while he sat in Cabinet.