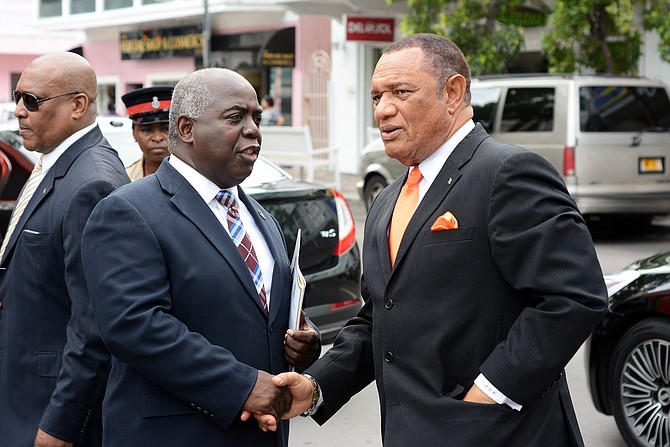 EXCLUSIVE
By TANEKA THOMPSON
Tribune News Editor
tmthompson@tribunemedia.net
FORMER Prime Minister Perry Christie tops a "confidential list" at the Water and Sewerage Corporation which allowed politicians and elites to accumulate arrears and not be disconnected, with one of two accounts in his name owing more than $20,000 as of July 2014.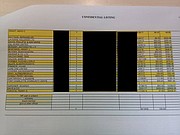 The list also shows law firm Davis & Co, headed by Progressive Liberal Party Leader Philip "Brave" Davis, owed $22,603.33 – the second largest amount – as of March 31 of this year when a payment of $5,000 was made.
Mr Davis had a substantially lower bill at his Westridge residence, owing $2,334.21 as of April 5.
The confidential document obtained by The Tribune lists dozens of politicians and other well-connected people, however not everyone has an exorbitant bill. Some on the list have zero balances, owe less than $500 or are even owed money by WSC.
The document, dated June 13, shows that a payment of $57 was made on July 25, 2014 on a West Bay Street account in Mr Christie's name, leaving a balance of $23,432.51. It is unclear if other payments were made on the account after that. Another West Bay Street account in the former Centreville MP's name, which he shared with his wife Bernadette, had a balance of $514.55 as of May 1.
Several PLP politicians populate the list. The Tribune can reveal former Minister of Agriculture and Marine Resources V Alfred Gray had a balance for a residence at Culbert's Hill of $7,051.43 as of June 7, after making a payment of $100.
Dr Perry Gomez, former minister of health, owed $7,529.64 after a $2,000 payment on July 1, 2015.
South Andros MP Picewell Forbes owed $3,270.51 after making a $500 payment in February. Former Tourism Minister Obie Wilchcombe owed the corporation $3,156.22 after making a $1,000 payment on March 20.
Former Labour and National Insurance Minister Shane Gibson owed $1,046.50 after making a payment in December 2015 while former National Security Minister in the first Christie administration Cynthia "Mother" Pratt owed just over $1,800 as of April. Another account in her name owed less than $200 as of May.
Members of the Free National Movement are also on the list, however on average they did not have high balances.
For instance, former Deputy Prime Minister Frank Watson owed nearly $900 as of April 18. Former Prime Minister Hubert Ingraham is also on the list, with a balance of $576.63 in April for an address in Cooper's Town, Abaco.
Former Minister of Works Neko Grant had a negative balance of $46.60 as of April, suggesting he was owed money by WSC. Minister of Immigration Brent Symonette did not owe any money, and Attorney General Carl Bethel owed less than $200, among others.
The list is populated by several former government officials as well.
Former Central Bank Governor Julian Francis owed $3,765.79 in June 2016 while former Urban Renewal Co-Chair Algernon Allen had a balance of $3,586.56 in April 10, 2014 after making a payment of just over $200.
Several companies are also listed.
An entity called June One Ltd owed $3,975.96 after making a payment of $1,000 on March 8.
Laverne Holdings Ltd had a balance of $2,290.44 as of October 3, 2013.
The Fort Charlotte Community Centre on Boyd Road owed $8,967.44 after making a payment in November 2013.
Meanwhile, the American embassy appears on the list several times with multiple accounts, most of which had zero balances or were owed money by WSC. However, one US Embassy account owed more than $1,400 as of April.
The headquarters of both major political parties are also on the list however neither entity had an overdue balance.
Last week, WSC Corporation Chairman Adrian Gibson confirmed the existence of a special list populated by scores of elites at the government owned utility provider as he pledged to initiate a crackdown on delinquent accounts.
At the time, Mr Gibson told The Tribune the "confidential list" held 221 accounts, with a combined total of $175,000 for the period ending June 2017.
The Tribune understands WSC has written to persons holding these delinquent accounts giving them 14 days to pay their debts or arrange a suitable payment plan or face disconnection.
This revelation comes after The Tribune reported last week about a similar list at Bahamas Power and Light. Persons in this category owed the cash-strapped electricity provider thousands of dollars, with many owing more than $10,000.
Prime Minister Dr Hubert Minnis has ordered officials to end the list and stop giving special treatment.
In the aftermath of the report, some people claimed they never asked to be on BPL's special list. Former BEC Executive Chairman Leslie Miller, who was on BPL's list owing thousands, said a similar policy was also in place at BTC and all government corporations.