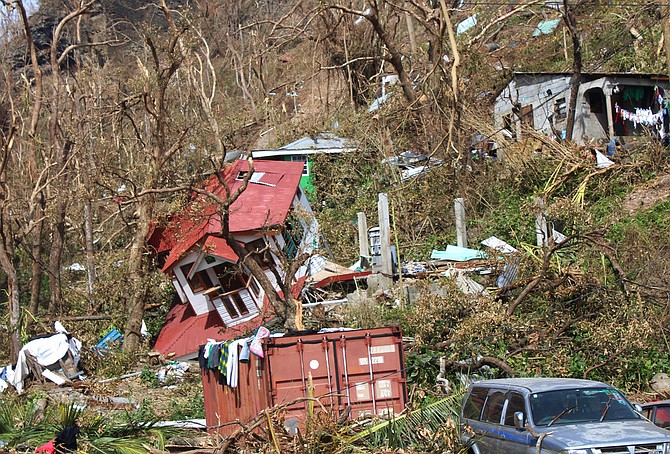 By RICARDO WELLS
Tribune Staff Reporter
rwells@tribunemedia.net
PRIME Minister Dr Hubert Minnis announced plans to accommodate students from Dominica displaced by Hurricane Maria, the first step in a series of moves to provide aid to the island nation.
In a press briefing following the departure of Dominica's Prime Minister Roosevelt Skerrit from Jet Aviation on Sunday, Dr Minnis also urged all Bahamians to display their "caring" nature, calling it "essential" for The Bahamas to do all it could to assist in Dominica's rebuilding efforts.
Dr Minnis declared that whatever needs to be done will be done as quickly as possible to accommodate as many of the country's students displaced by the storm here in The Bahamas in both the public and private school systems.
"There would have been a lot of children that were displaced and therefore we are opening our school system to accommodate them," Dr Minnis said. "Our immigration minister will deal with that matter so that they can be placed within our school system and, of course, I plead to Bahamians, especially with Dominican roots and Bahamians in general, to assist, and even accommodate these individuals in the private schools."
Dr Minnis added: "I am not sure, (but I think) we have a lot of individuals out there who will assist in accommodating these individuals, both financially and otherwise.
"After all, we are a caring nation and this is our time to display and show that. Then there are a lot of Dominicans here who would also have families there, and, therefore, we will accommodate those individuals also."
Hurricane Maria, which made landfall in Dominica on September 18 as a massive category five storm, ripped through that island nation completely destroying communications, infrastructure and critical facilities.
That night, Dominica's prime minister, in a Facebook post said even he had to be rescued from his official residence after the powerful storm ripped the roof off his home.
Mr Skerrit has since said the intensive care unit at the island's main hospital had been destroyed and dialysis machines were down.
"It's worse than in a war zone," Mr Skerrit said in a live broadcast from Antigua last Thursday. "Everything has to be manual."
Mr Skerrit said the hospital's dialysis machines had to be powered with solar equipment in order to save patients.
Dr Minnis has spoken about the need for the Bahamas to utilise green energy – with plans to rebuild storm ravaged Ragged Island as a green community - and has said the region needs a solar initiative that can be helpful in times of natural disasters when power is knocked out.
On Sunday, Dr Minnis noted the role countries such as Dominica played in the development of the Bahamas following its independence in 1973.
"A lot of people tend to forget that as we were developing and growing as a nation, it was Dominica and some of the other Caribbean nations that helped in our development," Dr Minnis said.
"The police force was Dominicans; some of the teachers were Dominicans; land and surveys were Dominicans; a lot of the professional groups who helped in our development, Dominicans. So they are part of our society and for all intents and purposes, they are our brothers and sisters."
He also said: "We have offered assistance via our Defence Force. All of that is done through a network, through CARICOM. We will do all we can to assist because they've been devastated and a similar thing could have happened to us. We will help them to (rebuild), to redevelop, to get back on their feet as soon as possible."
Asked when the country could expect the initial groups of Dominican students in the country, Dr Minnis said the process to enable their arrival had already started.
He said he had already held talks with Immigration Minister Brent Symonette, who has assured him that plans were in motion.
However, he said he had yet to communicate directly with Education Minister Jeffery Lloyd.
On Friday, as a guest on Guardian Radio talk show Real Talk Live with host Carlton Smith, Mr Lloyd said public schools in the country were "bursting at the seams," implying the public school system could not absorb more students.
Despite these ongoing issues, Dr Minnis said he was certain Mr Lloyd would be able to "ensure that it is done," referring to the accommodation of Dominican students in Bahamian schools.
For his part, Mr Symonette, on hand for Sunday's briefing, said: "The prime minister is not sure (of how many students will travel to the Bahamas), but (Dominica) will do its work through CARICOM to establish those lists and we'll further the list on in a few days."
In the days following that storm, the Ministry of Foreign Affairs confirmed there were three Bahamians living and working in Dominica: two students and a businesswoman.
Dr Minnis on Sunday confirmed that all three of those persons were "safe and sound."
Addressing the steps those persons should take moving forward, Dr Minnis added: "We have a number of students and Bahamians who live there, those individuals would have called us here for advice on what they should do, they would like to leave, etc."
He continued: "Our advice to them was the Dominican government will advise them as to what they should do as they would be advising all of their nationals, visitors and guest to their shore. So they are only to follow the direction and the advice of the government, and once they do that they will be safe."