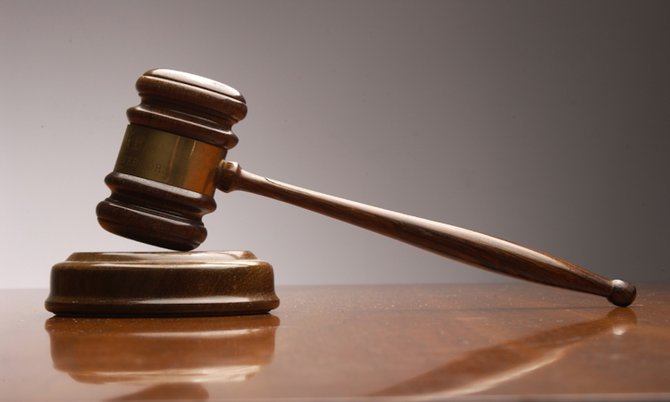 By NICO SCAVELLA
Tribune Staff Reporter
nscavella@tribunemedia.net
SUPREME Court jurors yesterday heard submissions from both Crown prosecutors and defense counsel as to why Tiano D'Haiti should or should not be convicted and sentenced for the October 2014 murder of Blair Estates resident Andre Cartwright.
Jairam Mangra, attorney for the accused, submitted to jurors in week five of the murder trial that the Crown had failed to establish any definitive link between D'Haiti and the incident in question, much less the murder and attempted armed robbery with which he is charged.
Mr Mangra submitted that as D'Haiti had "nothing to prove" in the matter, the onus was on the Crown to prove his guilt beyond a reasonable doubt, something which he noted is a "particularly high standard" to attain.
Mr Mangra further submitted that despite there being forensic and scientific analyses conducted into Cartwright's murder, there was nothing present, and the Crown had not produced anything to establish a nexus between D'Haiti suffering a gunshot wound to the left chest and the incident in question.
Mr Mangra said the jury was thus left to assume D'Haiti was shot whilst in the Cartwright's residence on the morning in question, and that the Crown was asking the jury to defy "reason, common sense, and logic" by guessing how D'Haiti would have received the injury in question.
Mr Mangra further questioned the circumstances surrounding the oral statements D'Haiti allegedly made to Detective Sergeant Sherwin Braynen on October 31, 2014 while in the Princess Margaret Hospital suffering from a gunshot wound.
Previously, Sgt Braynen told the court how D'Haiti allegedly told him from his hospital bed that while he was one of five men who visited Cartwright's home on the night in question, he stayed in the car while the other four forced their way into the home.
According to Sgt Braynen, D'Haiti allegedly said he only went into the house after he heard the sound of gunshots. And, upon entering and noticing his former co-accused Kevin Andrews, he heard another shot ring out, consequently he fled with the others, and later realised he had been shot.
Another officer, Corporal Santino Maycock, offered a similar testimony that day.
However, Mr Mangra submitted yesterday that all of the aforementioned officers gave conflicting evidence about D'Haiti's alleged confession, and that they allegedly "colluded" to concoct the story.
At best, Mr Mangra charged, D'Haiti's alleged statements to Sgt Braynen only place him at the scene of the crime, and after the fact at that.
Ultimately, Mr Mangra submitted to the jury that the Crown provided the court with a "plethora of evidence" that is not at the level needed to prove his client's guilt beyond a reasonable doubt.
However, Crown prosecutor Kendra Kelly, aided by Destiny McKinney, charged that the Crown had provided enough circumstantial evidence throughout the five-week long trial, and that the jury can make reasonable inferences about D'Haiti's guilt from the evidence led.
Ms Kelly said examples of circumstantial evidence relevant to the matter include, but are not limited to the gunshot wound he suffered to his left lateral chest, allegedly as a result of the home invasion, as well as the period of time between the shooting and D'Haiti's arrival at Accident and Emergency (A&E).
Noting that circumstantial evidence can also include a person's alleged behaviour following a crime, however, Ms Kelly further submitted that D'Haiti's decision to lie on multiple occasions after the incident in question is enough circumstantial evidence of his guilt.
She pointed to when D'Haiti allegedly instructed Shecoya Davis, the woman who took him to the hospital after suffering the injury, to say she picked him up from Carmichael Road if questioned by police. She also noted how D'Haiti allegedly told a police officer present at the hospital shortly afterwards that he was stabbed.
Ms Kelly also referred to what she said was D'Haiti's attempt to "minimise" his involvement in the matter by allegedly confessing to Sgt Braynen that he only served as a driver for the four suspects the day the incident occurred.
Ms Kelly also highlighted D'Haiti's decision to remain silent when called upon to answer the Crown's case against him. She noted that while it was his right to remain silent, it also meant there was nothing on his behalf to contradict the Crown's case against him.
She further submitted that his decision to remain silent suggests he does not have an alibi, charging that if he had a reasonable explanation about the circumstances surrounding his injury, he was "at liberty to do so" from as far back as November 2014, when both he and Mr Mangra were allegedly present at a police interview at the Central Detective Unit (CDU).
Regarding D'Haiti's injury specifically, and in line with her previous submissions about his decision to remain silent, Ms Kelly questioned the lack of evidence to show that D'Haiti was shot elsewhere.
Ms Kelly further pointed out the significance of the circumstances behind D'Haiti's attempted armed robbery charge, charging that Cartwright shooting his gun in defense and wounded D'Haiti likely foiled what could have been an armed robbery.
"If he had not been shot, he might have gotten away with it," she said.
After hearing submissions from both parties, Justice Renae McKay adjourned the matter to 11am today, at which time she will summarise the matter and put D'Haiti in the jury's charge.
Kevin Andrews, D'Haiti's former co-accused, was acquitted by the jury on Justice McKay's instructions last week.
According to initial reports from police, Cartwright, 44, was at his Blair Estates home around 1.40am with his mother, Emma Cartwright, his father, Glenn Cartwright on the morning in question, when men kicked in the door of the house.
When he heard the noise, the deceased got his licensed shotgun and went to investigate, police reported. He encountered the suspects, one of whom was armed with a handgun, police said.
There was a brief exchange of gunfire, which resulted in the victim being shot multiple times. He died at the scene. One of the suspects was also shot, however, initial reports from police said he and the other men escaped in a silver Honda Accord.