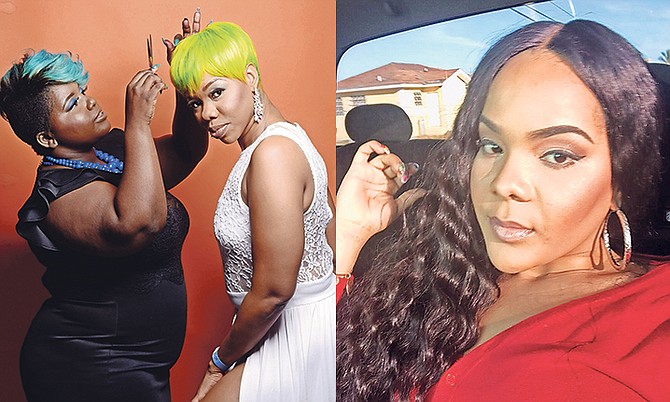 By ALESHA CADET
Tribune Features Reporter
acadet@tribunemedia.net
WHETHER FOR natural hair protection, versatility or just convenience - there are many reasons and options which come to mind for women when choosing weave and wig hairstyling.
Very easily, weaving and wig styles allow women to achieve looks at their leisure - from a black bob cut during the Christmas holidays to a long length red Brazilian curl in the spring.
In an interview withTribune Woman, popular Bahamian hairstylists Jameelah Thompson of Malikah's Hair Services and Keva Sadé, owner at Salon Sade International, give their take on the fun topic.
At a very young age, Jameelah, along with her twin sister Aqueelah Turner expressed interest in fashion design, straw work, make-up and hair styling, but Jameelah's focus stood firm on becoming a beautician, specialising in colouring, weaving and the construction of wig caps.
After flaunting one of her wig creations some years ago, Jameelah experienced a sense of instant gratification by transforming the way she looked and felt about herself.

"It was at this point that I made the decision to share my skills and talents with others. A wig or cap is more convenient. If a client is quite the active person or just likes to treat her hair on a regular basis, then wearing a wig is the perfect option. In addition to being convenient and protective, the wig saves the client money, because the style lasts longer and the client has the option of changing the hairstyle of the wig as much as she likes without the fear of damaging her own hair," said Jameelah.
When asked to explain the differences between weave and wig styling, the hair stylist said there are several factors; a wig is similar to a hat or a cap to place on to the head and take it off at any time. In creating a wig, the hair is attached to the cap by way of an intricate technique of sewing. A weave on the other hand, she said, are pieces of packaged or virgin hair stitched on to a woman's own hair braiding to make it appear fuller or longer in length. Weaving does not allow the client to remove the hairstyle as they please.
"Wearing a wig has become very trendy. I must say that I am my most loyal customer, not only do I wear wigs of different lengths, colour, texture and style as a form of advertising, I do it simply because it is most convenient to slip on a cap of hair than to style my natural hair. Wigs are now taking on the slogan of the American Express Card, 'don't leave home without it," said Jameelah.
With the same point of view Keva Sadé believes it is indeed the wig styles that are becoming more popular because they appear more durable than weaving.
" They are not time consuming, and they can also be used as a protective styles. Wigs come in many different styles and colors. Women can be Beyoncé in the day and Rihanna in the night. Wigs are so convenient for the average working woman. Many women choose wigs styles as an opportunity to experiment with a new look," said Keva Sadé.
Known in the industry to specialise in short hair styling and hair loss techniques, for Keva Sadé's clients, most of them often choose a wig cap as opposed to a weaving to achieve Keva's trendy pixie style looks.
"I always try to inspire them and give hope, thereby raising the bar of what hair is about. I always want to provide a luxury experience while changing the way someone feels about themselves. Choosing this profession was like love at first sight. Just to see clients reaction after I style their hair is a blessing. Their happiness makes my salon a success. It has always been my passion to help women define their beauty with style," she said.
Also important to both Keva Sadé and Jameelah is the fact they get to create wig caps for persons living with cancer.
"It is important to me to bring confidence to a woman who's facing cancer. Making her feel confident in her own skin with or without a wig on is a must. Being an motivator alone makes a whole difference. At the end of the day it's all about being positive and staying beautiful through Christ who strengthens us," said Keva Sadé.
It certainly means the world to Jameelah to do the same, providing a service for clients who have lost their hair due to cancer treatments such as radiation and chemotherapy.

"For many, if not all cancer patients, losing their hair is the most distressing and the most feared side effect of cancer treatments. My cancer clients come in feeling depressed and with a very low self esteem, but by the time they leave my chair, they are a totally different person, feeling more attractive and confident. One of my clients once said, 'only you can make me feel good about my baldness'. This is what Malika' s hair is all about: ensuring that my clients are fully satisfied with my service," said Jameelah.