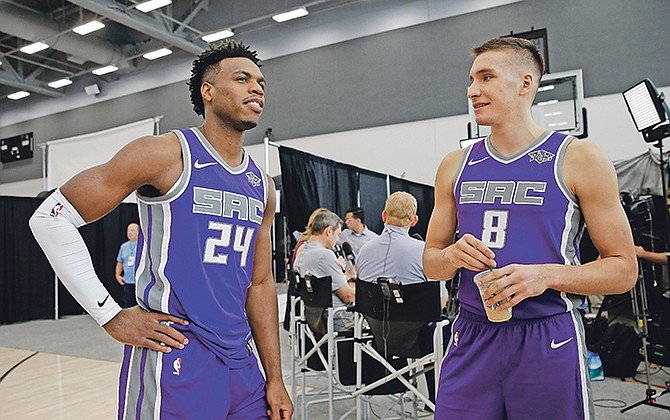 By BRENT STUBBS
Senior Sports Reporter
bstubbs@tribunemedia.net
Media day on Monday in Sacramento brought out both the funny and the serious side of Chavanno 'Buddy' Hield as he gets set for his sophomore year in the National Basketball Association and his first full season as a Kings shooting guard.
The 23-year-old Grand Bahamian jokingly asked the reporters what they did and when one said he did a little of too much, he told him how he was disappointed that he didn't get invited to the parties that the reporter hosted.
"I party with everybody. Once the cameras are not around, I'm good," Hield chuckled. "No cameras, no tape recorders around."
He then encouraged the reporters to come to his residence. He admitted to another reporter that he does "phone valet" because people are too sneaky.
One reporter then turned to a more serious and sensitive issue as Hield was asked how his family here at home in the Bahamas was coping after the passing of Hurricane Irma.
"I think the hurricane hit the lower parts of the island," he said. "I still have to talk to my sister and my family and see what we can do. I didn't hear back too much about the hurricane, but I know it hit the lower part of the island. So we're going to see what I can do as a family to help them."
Reflecting on his days growing up in Grand Bahama, Hield said it was always scary when a storm was travelling.
"As a kid, you never know how important the hurricane is because you only know there is no school," he said. "But as you get older as an individual, you see that hurricanes are no joke. They put families through a lot of stress, people have to find food and children have no home, no roof over their heads, so it's tough out there. I just hope those families can make a quick comeback and hopefully their jobs are not gone. Hopefully we can turn this around and get back on track."
After coming over from the New Orleans Pelicans as their first round draft pick right after the All-Star break, Hield went on a tear and produced an exciting finish to his rookie season. Now he's in his first media day with the Kings and Hield said it's certainly much better than when he started the journey last year.
"I'm ready. I'm willing to learn more," he stated. "I'm a guy who still doesn't know it all, but I'm willing to learn, work hard, compete and have fun and do what I do best."
With the Kings not being mentioned as one of the top tier teams in the league this year, Hield said it gives them a better chance to show their stuff.
"We just have to go out there and steal wins." he said. "People have counted us out, but we just have to compete hard. Everybody is beatable in the west. I know the west is going to be hard. Everybody is adding star players, but they are all beatable teams. So we're not worried about that. We just have to compete hard and have fun."
Not only is the league going to be hard, but Hield said it's going to be even harder for the Kings in training camp because all of the players, including himself, have to compete for their spot on the team. "You're competing for a job. Guys are going to bring their all," he projected. "Nothing comes easy in life. If it did, everybody would be doing it. So you want to compete hard and earn your spot. That's why we're here. Somebody has to win it and I plan to be that guy that wins a spot out there."
In preparation for the upcoming season, Hield said he has been working on every aspect of his game. "You work on everything during the offseason, not just one thing," he said. "You work on everything."
For the past month, the 6-foot-4 Hield said he's been in Sacramento working on his game after undergoing a busy summer in which he hosted a basketball camp in New Providence and Grand Bahama. Now he's getting ready to make his contribution to the Kings, which has changed slightly during the offseason.
"Everybody counts us as a young team but we still have a lot of vets that can still play," he said. "We have guys who can help to lead us into wins."
One of them is Vince Carter, the Kings' biggest acquisition during the offseason.
"He brings that leadership. He can help to mentor the guys," Hield noted. "We're going to pick his brain, how he's taken care of his body for 20 years and stuff like that. Twenty years is amazing. He could be our dad out there if he wants to be. But I just want to learn from him. Whatever he says, you have to listen to him because he knows his stuff. He's been in the league for 20 years. He has been through the ropes, he's been to the wire so you just have to learn from him."
Like every youngster, Hield said he used to marvel at how efficient Carter was as a dunker, but he was even more impressed when he got to watch him display his offensive game.
And even at age 40, Hield said they are looking to see what he does from training camp to the regular season. "He still has his legs, so I'm excited to play alongside these guys and learn," he stressed.
"You want to compete and see how far they can test you and just get better."
Hield said he's just good to be back in the Kings' organisation and to see everybody as they try to improve on their 32-50 win-loss record that denied them a chance to play in the playoffs.
"We're experienced, but we still have a lot more to experience," he said. "I'm going on my second year, so I have to learn a lot more. I don't know it all. I'm trying to figure it out. I just have to continue competing hard. Once you compete, have fun, learn from the coaches, watch films and come ready for game night. When the ball goes up and you know that you give it your all, you will be fine."
While he didn't try to beef up too much during the offseason, Hield said his main goal is to try and be as explosive as he can and keep his opponents right in front of him defensively and offensively.
And, if he can get to the free throw line a little more to complement his shooting, he will be a much better player.
Despite the fact that the top teams have been stacking up, Hield said they are looking forward to playing against the Oklahoma City Thunder, and even the Minnesota Timberwolves, who have all rebuilt their team.
"It's all about winning championships, so you can't worry about them. You have to worry about yourself," he pointed out. "If we lose or we win. we just have to keep it rolling."
Now that he has had a short sting with the Kings at the end of last year, Hield said he had a chance to learn the rules because everybody is a "copycat," but they just call it something different. Whatever they call it in Sacramento, Hield said he's prepared to help the Kings raise to another level this year.
The Kings, coached by Dave Joerger, will play their first pre-season game against the San Antonio Spurs on October 2.
Their regular season opener will be at home against the Houston Rockets on Wednesday, October 18.