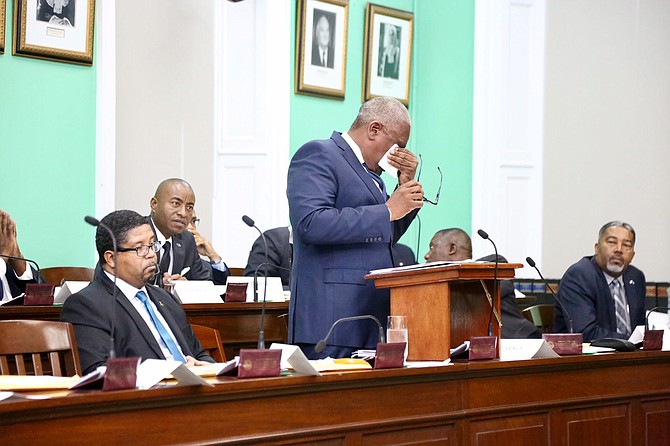 Reader poll
Yes, I support the offer. 87%
No, I do not support the offer. 13%
1084 total votes.
By KHRISNA RUSSELL
Deputy Chief Reporter
krussell@tribunemedia.net
AMID criticism of government's intention to relax immigration restrictions for some citizens of Dominica, Prime Minister Dr Hubert Minnis was brought to tears as he shed light on how this process will work and outlined three categories by which Dominicans will be granted access to The Bahamas.
Giving an impassioned contribution at Parliament yesterday morning where he repeatedly wiped tears from his eyes, Dr Minnis, his voice at times trembling, spoke of the decimation in the island nation as he made a case regarding the government's reasoning to assist that country. Dominica suffered widespread destruction from both Hurricanes Irma and Maria.
He questioned the fate of The Bahamas and its citizens had this country had the full brunt of these natural disasters.
In view of this, the prime minister rebuked critics and defended his decision to assist the devastated island nation, reminding Bahamians this country has received aid and assistance from many overseas partners in its time of need.
He said if Bahamians' expressions of gratitude do not translate into generosity toward those in dire need because of these killer storms, our gratitude to God is superficial at best.
However, Official Opposition Leader Philip "Brave" Davis rejected this, saying he did not think Bahamians were ungrateful to God or that the criticism of the proposal was due to xenophobia. He said there appeared to have been uproar because there was uncertainty of the details regarding how the plan to accept Dominicans would work. He said had there been better communication on the issue, it may not have caused controversy.
"My government proposes to temporarily relax the immigration rules for a number of school children from Dominica who wish to continue their education in The Bahamas," Dr Minnis told Parliament yesterday.
"Permits to reside will be issued to students from Dominica, who, with the approval of parents, wish to study in The Bahamas.
"There are three categories of students who may apply: children who have relatives in The Bahamas, and who can find lodging and support from family members; college students who may wish to study at the University of The Bahamas, and who seek boarding at UB; children of parents employed in companies, banks, etc, which have offices in The Bahamas, temporary employment transfers can be arranged with these institutions.
"The government will continue to apprise the general public on other details related to assisting children and young people from Dominica.
"I will lead a team to Dominica on Monday, October 2. The purpose of the visit is to survey the damage for myself, and for others to see the level of devastation," Dr Minnis also said earlier in his address yesterday.
He said he has invited Mr Davis, the head of the Bahamas Teachers Union, the leader of the Christian Council and others on the tour.
"Given what we already know, the government proposes to deploy HMBS Lawrence Major landing craft to Dominica," he said. "The Lawrence Major is a 198 feet landing craft in length with 19 officers, and a carrying capacity of approximately 14 x 40 foot containers or 28 x 20 foot containers of equipment and supplies. The vessel can also transport 50,000 gallons of potable water and 22,000 gallons of fuel. We will provide a further briefing on the deployment of HMBS Lawrence Major.
"What further targeted assistance can we offer Dominica at this time? Children are among those who are most affected by natural disaster and hurricanes. Such psychological scars and mental scars often last a lifetime," Dr Minnis said.
"The sooner children are allowed to return to a state of normalcy the better it is for their long-term development.
"As a physician, I know all too well the effects of trauma, such as from hurricanes on the minds of the young, especially when all is gone, and when parents are distraught, and have nowhere to turn."
In clear disapproval of the negativity stemming from the government's offer of generosity, Dr Minnis said Bahamians should fill their hearts with gratitude and thanksgiving in hindsight.
He said: "Let us remember that Dominica was hit by both Hurricanes Irma and Maria. Maria went from a tropical storm to a category five hurricane within hours.
"I hope that most Bahamians now understand why the government quickly sounded the alarm about both Hurricanes Irma and Maria. Those who continue to complain about the preparations they had to make before Hurricane Irma should look to the devastation in the Caribbean and the United States.
"Those who are prone to complaining and whining should fill their hearts instead with gratitude and thanksgiving."
He also said: "Imagine if 80 per cent of the buildings on New Providence were destroyed. Imagine if our electrical and telecommunications grids were destroyed. Imagine if most of the roads in New Providence were uprooted and if PMH was without power.
"Imagine if every single government-operated school was destroyed, and most police stations, clinics and government offices were destroyed. Imagine if most people on Grand Bahama or New Providence became homeless overnight.
"So how should we respond to our Caribbean neighbour and CARICOM partner? We should respond the way we would want others to respond if we were in such dire need and desperation.
"As Caribbean neighbours, we share a similar history of overcoming colonialism and slavery. And we share a common destiny, now also shaped by the reality of climate change and global warming.
"How should we respond? The character of our nation and our values are riding on how we respond," Dr Minnis said.