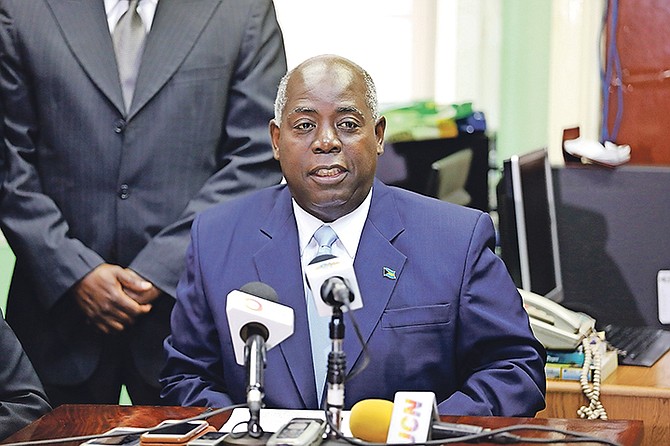 Reader poll
Yes, I support the offer. 87%
No, I do not support the offer. 13%
1084 total votes.
By KHRISNA RUSSELL
Deputy Chief Reporter
krussell@tribunemedia.net
OFFICIAL Opposition Leader Philip "Brave" Davis said before the government decided to allow Dominicans into the country, Prime Minister Dr Hubert Minnis should have engaged in discussions on the move and offered Bahamians the concrete details.
In an interview with reporters yesterday, Mr Davis seemed apprehensive to reveal whether the Progressive Liberal Party was fully on board with the government's plan to relax immigration restrictions to allow some Dominicans into the country in the aftermath of Hurricanes Irma and Maria.
However, he said, once it does not require a strain on the public purse, it might be something Bahamians can rally around.
The Cat Island, Rum Cay and San Salvador MP said he would await further details as promised by the prime minister before the PLP took a definitive position.
Meanwhile, Foreign Affairs and Immigration Minister Darren Henfield defended the prime minister's decision, saying Dominica remains in "dire straits".
"What I could say is he ought to have engaged in more discussions and appreciate what he was saying before he said what he did," Mr Davis said yesterday, "and when he said it he ought to have come with the details as opposed to just a blanket offer as he did."
He also said: "Generally there is a standard policy of assistance to our CARICOM sisters in the time of disaster or need and the policy has always been that we would give at least $100,000 as an immediate gift and that is nothing new. You'll find that most countries have what they call a standard relief package that they award immediately to countries in need in circumstances such as these.
"For example the Chinese (and) the Americans they all will just give an immediate sum to bring some instant relief and thereafter they would consider what further relief or assistance they will give and that will come of course after consultation and understanding specifically the needs of the country afflicted.
"And so insofar as the PLP is concerned, we embrace that policy of granting immediate assistance as has been the norm where they immediately do a grant to these countries. Now insofar as any further assistance over and beyond that it requires a discussion and that discussion then determines what the country is able to do."
He continued: "The unfortunate fact here is that the xenophobic flames that have been fanned by the lack of details that we put into the public domain has caused everyone to pause to look and to seek more details before they jump to any conclusion to support or otherwise."
For his part, Mr Henfield said the prime minister's decision was a part of a comprehensive position taken in the region, adding that the offer from the prime minister was reasonable.
He said: "I was in the United Nations General Assembly. I was the third speaker after Prime Minister (Roosevelt) Skerrit from Dominica and I could sense a very palpable presence in the assembly when he said his country had been basically decimated from what he called a war zone as a result of climate change.
"His country is in dire straits. I think as a fellow Caribbean country as a member of CARICOM I think there is an obligation between CARICOM states to do all in their power to help and assist a fellow state in trouble to recover.
"I think what we offered was quite reasonable. I think the prime minister very clearly elucidated his plan how it will be done. I know as the foreign minister with the cognisance of CARICOM and the secretary general of Guyana these determinations will not be made independently of anyone or by The Bahamas.
"We've been struck in the past and people have come to our assistance," Mr Henfield said.
On Wednesday, Dr Minnis was brought to tears as he shed light on how this process will work and outlined three categories by which Dominicans will be granted access to The Bahamas.
Giving an impassioned contribution in Parliament where he repeatedly wiped tears from his eyes, Dr Minnis, his voice at times trembling, spoke of the decimation in the island nation as he made a case regarding the government's reasoning to assist that country. Dominica suffered widespread destruction from both Hurricanes Irma and Maria.
At the time he said: "My government proposes to temporarily relax the immigration rules for a number of school children from Dominica who wish to continue their education in The Bahamas.
"Permits to reside will be issued to students from Dominica, who, with the approval of parents, wish to study in The Bahamas.
"There are three categories of students who may apply: children who have relatives in The Bahamas, and who can find lodging and support from family members; college students who may wish to study at the University of The Bahamas, and who seek boarding at UB; children of parents employed in companies, banks, etc, which have offices in The Bahamas, temporary employment transfers can be arranged with these institutions."
Dr Minnis will lead a team to Dominica on Monday, October 2, to assess damage there.