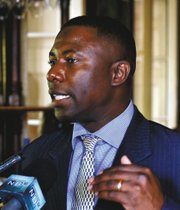 By AVA TURNQUEST
Tribune Chief Reporter
aturnquest@tribunemedia.net
WHILE he empathised with the economic depression faced by Grand Bahamians, former Cabinet minister Tennyson Wells yesterday disagreed with Pineridge MP Fredrick McAlpine's position against the government's decision to accommodate storm-displaced Dominicans.
Mr Wells insisted that humanitarian aid rendered by the country did not negate or distract from local issues and the need for government action.
"I can understand how an MP looking at that every day, or every week, could feel how he feels. I can understand that most of those people in the Family Islands, particularly in West End and Eight Mile Rock, I can tell you (the former) government did nothing for those people. So from that perspective I understand how he feels but that does not negate the country helping the neighbour on humanitarian basis, that has nothing to do with it. You may have problems in your home but if your next door neighbour don't have anything to eat and you have two pork chops, you give them one and you still have one. I think Minnis is absolutely correct in what he's doing."
The former Free National Movement MP continued: "I support what the government did, I think they should assist, it's the natural thing to do. If McAlpine is opposed to that I don't agree with him, if we were in the same position all those countries would chip in and help.
"I didn't get the impression he was opposed, he was very nuanced in the language he used. But the principle is if we can help, we should help, and I think we can help.
"When Bahamians have a mortgage to pay that doesn't stop them from putting tithes in church. I think Mr McAlpine, if he's opposed, I'd say he's out of order."
In the House of Assembly on Wednesday, Mr McAlpine criticised his own party's plan to accommodate Dominicans following the destructive wake of Hurricane Maria. He recommended that wealthy Cabinet ministers instead take money from their own pockets to contribute to the island's restoration efforts rather than give Dominican people safe haven here.
He also attacked his party's policy for Grand Bahama's development, his statement marked the first time this term the Free National Movement has received pointed criticism from one of its own in a public forum.
In what appeared to be a swipe at Prime Minister Dr Hubert Minnis, who wiped tears from his eyes earlier in the day as he spoke of the destruction in Dominica and the harsh reactions some have had to his plans to help citizens there, Mr McAlpine said he is crying for his own people.
A source close to the party yesterday were of the opinion that Mr McAlpine's comments belied his dissatisfaction after not receiving a substantial post in the Minnis administration.
Mr McAlpine is chairman of the Hotel Corporation.
Meanwhile, yesterday Mr Wells said Grand Bahama's economy is suffering: "If you go down in Grand Bahama, I went to West End, this was a month or two before the election. I spent half a day in West End just looking around talking to people and if you see the destruction from (Hurricane) Matthew I could see how people from Grand Bahama and I understand that most of those places are still like that today.
"This new government," he continued, "they should try to be cohesive and have unity but when you have an opinion and you feel you're correct in what you're saying I think he should be allowed to say it. He's' just one in 35 and some others may be feeling the same way."