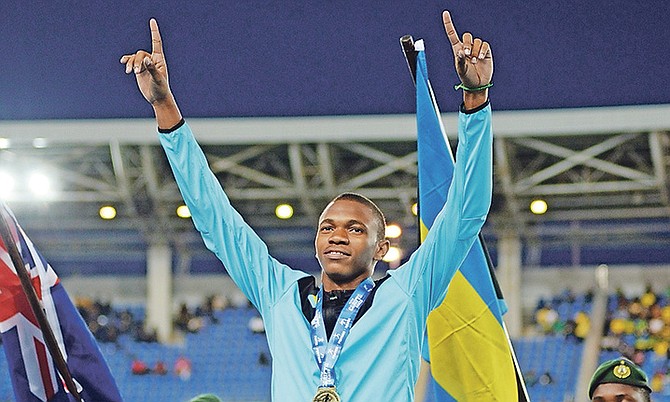 By RENALDO DORSETT
Tribune Sports Reporter
rdorsett@tribunemedia.net
Team Bahamas improved on last year's performance and in their role as hosts with a second-place finish at the 47th Flow CARIFTA Track and Field Championships.
The 80-member team finished with a total of 35 medals – six gold, 14 silver and 15 bronze - after three days of competition at the Thomas A Robinson National Stadium.
Perennial champions Jamaica once again claimed the meet title in dominating fashion with a total of 82 medals – 44 gold, 27 silver, and 11 bronze.
Trinidad and Tobago finished third with 17 medals – four gold, six silver and seven bronze, Barbados was fourth with 13 medals - three gold, five silver and five bronze - and St Vincent and the Grenadines was fifth with two gold medals.
Briana Williams of Jamaica won the Austin Sealy award as the Most Outstanding Athlete at this year's meet.
At the 2017 meet in Willemstad, Curacao, the Bahamas finished third with 31 medals, including six golds, but Trinidad and Tobago (22 total medals) had the advantage with seven gold medals.
Day three got off to a record-setting start with Rhema Otabor's performance in the Under-17 Girls Javelin. Otabor won gold and set a new meet record with her throw of 44.21 metres. Miranda Tucker finished fifth with a throw of 30.58m.
"I was pretty excited when I won the event and to get a new record was just unbelievable," she said. "It was amazing to win in front of this crowd and to hear the people cheer."
Tarajh Hudson won his second medal in the throws with a bronze in the U-17 Boys Discus. His mark of 46.94m trailed a pair of Jamaican athletes, Zackery Dillon (57.15m) and Ralford Mullings (53.81m). The Jamaicans swept the short sprint hurdles, but the Bahamas reached the medal podium in three of the four divisions.
On the track, Sasha Wells won the Bahamas' first medal of the day in the opening event of the final session with a bronze medal in the U-20 Girls 110m Hurdles. Wells ran 13.44 seconds but Jamaica took the top spots as Amoi Brown set a new meet record in 13.15 and Dazray Freeman was second in 13.39. Raymond Oriaki picked up his third medal of the meet with a bronze medal in the U-17 Boys 110m Hurdles. He ran 13.94 secs to finish behind the Jamaican pair, Vashaun Vascianna (13.60 secs) and Jahvel Granville (13.77 secs). Oscar Smith won bronze in the U 20 Boys race in 13.57 secs. Jamaica's Orlando Bennett took gold in 13.35 secs and Jeanice Laviolette of Guadeloupe won silver in 13.52 secs.
The Curtis family continued the success for the Bahamas in the middle distance events.
Following the success of Mitchell Curtis in the U 17 Boys division, Gabriel Curtis took to the track on day three and won bronze in the U 20 Boys 5000m. Curtis ran 15:25.08 secs to finish behind Keveroy Venson of Jamaica (15:24.57 secs) and Alexandre Gauthierot of Guadeloupe) 15:25.08 secs.
The Bahamas medaled in each of the four 200m finals. Joel Johnson was the top finisher with his silver medal in the U 20 Boys event. He finished in 20.90 secs behind Christopher Taylor of Jamaica in 20.38 secs. In the U 20 Girls, Devine Parker won the bronze medal in 23.77 secs, just behind Gemima Joseph of French Guiana in 23.70 secs and gold medal winner Ockera Myrie of Jamaica. In the U17 Girls, the Bahamas experienced disappointment followed by celebration of a medal winning performance. Medal contender and new 400m champion Megan Moss was disqualified on a false start, however, Jaida Knowles went on the win the bronze medal in 23.85 secs. Briana Williams of Jamaica won gold in 23.11 secs and Shanique Bascombe of Trinidad and Tobago was second in 23.75 secs. In the U17 Boys, Terrance Jones delivered a late charge in the final 20m to take the bronze medal in 21.69 secs. Jamaicans Rajay Morris (21.25 secs) and Andre Bent (21.42 secs) took gold and silver respectively.
Jamaica nearly swept the 4x400m relays to close out the competition on the track, but a disqualification in the controversial U 20 Girls 4x400m division prevented the feat.
After several minutes of delay and uncertainty, it appeared the Bahamas would not compete in the race, however, the team of Marissa White, Gabrielle Gibson, Wendira Moss and Doneisha Anderson finally made their way on to the track to just as the remainder of the field completed warmups and approached their blocks.
Both the Jamaican team and Bahamian teams were later disqualified, awarding the gold medal to St. Vincent and the Grenadines.
In the U 17 Girls, Moss recovered from her 200m false start and returned to anchor the 4x400m team to a silver medal in the first of the four relays. She teamed with Jasmine Knowles, Ebony Kelly and Angel Pratt to produce a time of 3:48.03 secs. Jamaica won the event in 3:38.39 secs.
In the U17 Boys, Ethan Hanna, Kendrick Major, Davonte Forbes and Oriaki won silver in 3:18.81 secs behind team Jamaica who won in 3:14.99 secs.
DAY TWO
The Bahamas concluded day two with 24 medals - six gold, 11 silver and seven bronze medals by the end of session four on Sunday night.
Mitchell Curtis was the highlight for team Bahamas on day two when the middle distance star won his second medal in as many nights.
Curtis won gold in the U 17 Boys 3000m in 9:04.65 secs and fought off a challenge down the stretch from Jamaica's Giovouni Henry who finished second in 9:04.98 secs.
Curtis was ahead for much of the race before Henry pulled even near the 150m on the final lap. Curtis looked briefly to his right to see Henry enter his peripheral vision but backed by an exuberant home crowd, he powered down the stretch for the win.
"I was thinking this is my race," Curtis said, "I know my teammates, my country wanted it so I had to do it for them."
Curtis also won a silver in the 1500m on opening night. Gianni Henry of Jamaica finished third in 9:21.97 secs.
The Bahamas' day on the track began with Indea Cartwright's silver medal in the U 17 Girls 400m Hurdles in 1:02.17 secs. Shaunece Miller was fourth in 1:07.54 secs. Calisha Taylor of Jamaica took first place in 1:01.04 secs and Patrice Richards of Trinidad and Tobago was third in 1:02.56 secs.
Raymond Oriakhi won his second medal of the meet when he took bronze in the U 17 Boys 400m Hurdles in 54.54 secs. Devonte Archer of Jamaica won gold in 52.85 secs, followed by Kyle Gale of Barbados in 54.45 secs.
Oriakhi also won silver in the 400m on opening night.
The Bahamas occupied two spots on the medal podium in the U 17 Boys High Jump with Tyler Missick and Christian Sturrup after both cleared 1.90m. Missick took silver on fewer knockdowns, and Sturrup won bronze. Romaine Beckford of Jamaica won gold as the only member of the field to clear 2.00m.
Anthaya Charlton won bronze in the U17 Girls Long Jump with a mark of 5.64m. Jamaicans claimed the gold and silver medals with Ackelia Smith (5.91m) and Velecia Williams (5.73m) respectively.
Denvaughn Whymns also won bronze in the U 20 Boys Long Jump with a leap of 7.13m. Again, Jamaica was first and second with Wayne Pinnock (7.46m) and Safin Wills (7.28m).
With only three competitors in the U 20 Boys Pole Vault exhibition, team Bahamas finished second and third with Vano Rahming at 3.40m and Tristan Hanna won bronze at 3.20m. Baptiste Thiery of Martinique was first at 5.05m.
In the throws, Tarajh Hudson won bronze in the U 17 Boys Shot Put with his mark of 14.01m. Zackery Dillon (16.40m) and Ralford Mullings (15.49m), both of Jamaica, took gold and silver respectively.
The Bahamas also won a pair of silver medals in the 4x100m. In the U 17 Girls the team of Charlton, Jaida Knowles, Danielle Saunders and Megan Moss finished second in 46.24 secs.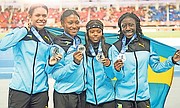 In the U 20 Girls, Denisha Cartwright, Devine Parker, Lakelle Kinteh and Sasha Wells finished second at 45.14 secs.
DAY ONE
Team Bahamas got off to an impressive start with a 12-medal haul on day one of the meet.
The team captured four gold, five silvers, and three bronze medals Saturday night as competition began.
Team Bahamas concluded the night with several highlights in the 100m and 400m to bring a raucous home crowd to their feet on several occasions.
Joel Johnson closed out the 100m series by claiming the title of the fastest junior sprinter in the Caribbean. Johnson won gold in the U 20 Boys 100m in a time of 10.31 secs, following a second-half execution of his race that completely separated the hometown favourite from the remainder of the field.
Johnson's time set a new personal best and junior national record in the process when he surpassed the time of 10.34 secs set by Keanu Pennerman in 2015.
Adrian Curry won a second medal for the Bahamas in the race when he took the silver in 10.43 secs. He finished just ahead of Rikkoi Brathwaite of the British Virgin Islands who won bronze in 10.46 secs.
Jaida Knowles won silver for the Bahamas in the U17 Girls race in 11.68 secs. Jamaica's Brianna Williams blew away the field in a blistering 11.27 secs, ahead of Soniya Jones of Antigua and Barbuda in 11.75 secs.
Devine Parker finished fourth in the U20 Girls race in 11.59 secs. The top three spots on the podium were occupied by Michae Harriot (11.39 secs) and Ockera Myrie (11.46 secs) both of Jamaica and Akliah Lewis of Trinidad and Tobago (11.51 secs).
The Bahamas won three medals, including a pair of gold in the 400m.
Meagan Moss set a new CARIFTA record and won gold in the U17 Girls 400m in 53.19 secs. Her time surpassed the previous mark of 53.36 secs set by Shanuae Miller-Uibo. Jasmine Knowles finished sixth in 56.00 secs. Daniella Deer of Jamaica was second in 53.95 secs and Deshana Skeete of Guyana finished third in 54.15 secs.
Doneisha Anderson won the U20 Girls 400m in 53.58 secs while teammate Marissa White was seventh in 56.41 secs. Cherokee Young and Janielle Josephs of Jamaica were second and third respectively in 53.63 secs and 54.45 secs.
Raymond Oriakhi won silver in the U17 Boys race in a new personal best time of 47.75 secs, Kyle Gale of Barbados won gold in 47.07 secs, but was later disqualified. Avindale Smith of Antigua and Barbuda won gold in 47.54 secs.
Mitchell Curtis won the Bahamas' first medal on the track, with his silver medal in the U17 Boys 1500m. Curtis ran 4:13. 41 secs to finish second, just beating out Guyana's Murphy Nash at the line. Nash took third in 4:13.59 secs. Bryant Lowe finished ninth in the Boys U20 1500m in 4:14.56 secs.
The Bahamas' medal haul began in the first session of the day when M'Kayla White won the silver in the U 17 Girls High Jump with a jump of 1.65m. Jamaica's Shantae Foreman took the gold in that event (1.74m) and Curaçao's Vanessa Mercera the silver with 1.71m.
Keyshawn Strachan followed with a silver medal in the U17 Boys Javelin. His throw of 50.14m placed him behind Trinidad and Tobago's Veayon Joseph (55.92m) and ahead of Turks and Caicos' Katrell Pierre (45.24m).
The Bahamas continued their success in the field and took both spots atop the podium in the U17 Boys Triple Jump with Latrell Taylor and Chima Johnson respectively. Taylor took first place at 14.10m followed by Johnson's leap of 13.76m to secure the silver medal. Jamaican teammates Luke Brown and Jordan Turner were tied for third at 13.74m and Lavia Jevonie of St. Vincent and the Grenadines was fifth at 13.27m.
For the second consecutive year, Kyle Alcine took silver in the U20 Boys High Jump. He cleared 2.08m, followed by Curacao's Jaden Bernabela took the gold medal on fewer knockdowns. Shaun Miller finished fourth, just outside of medal contention with a clearance of 2.00m.