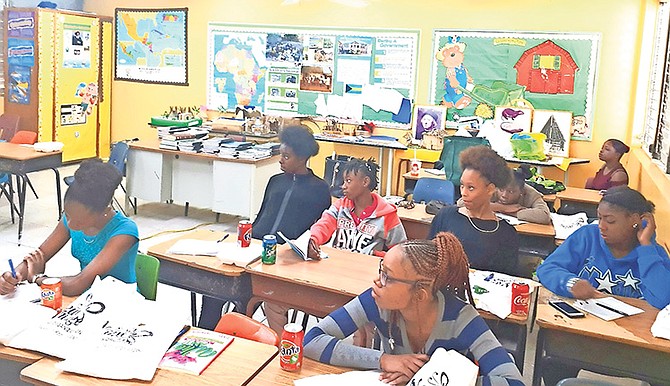 By ALESHA CADET
Tribune Features Reporter
acadet@tribunemedia.net
Teaching young women their worth and preparing them for life's challenges was the goal of this year's New Image Ladies workshop.
With the theme "Ready. Set. Go", Tanya Sweeting, the group's founder, told Tribune Woman that she wanted to show Bahamian girls how to lay the foundation for future success.
Topics covered included "Prepared To Position", " Who Am I?", "Rise Above" and "Position to Move". Speakers were author Cindy Thompson, Bryanna Ferguson of New Image, poet Rev Kelli Jolly, New Image Ladies co-director Sheska Sands, and Ms Sweeting herself.
"The workshop steered the young ladies to first realise some important steps that are needed to talk about in order to reach success - self-worth and empowerment. Cindy Thompson, a new author of the book journal called 'Who Am I?', elaborated on the point that I am who God says I am. Bryanna Ferguson, a young lady who is now 20 years old has been with the New Image ladies from 2015, gave a motivational speech on never giving up regardless of self-doubt, fear and negative people. Rev Kelli Jolly shared information about moving towards being successful and seeing the success in your own eyes. Sheska Sands closed the workshop on the command 'Go!', which says it all; and I spoke about first identifying what you want or need to achieve or improve, and then preparing your mind, body and spirit to focus on achieving that goal," said Ms Sweeting.
With participants ranging in age from 13 to 25, Ms Sweeting said the workshop offered an exciting, real and enlightening day out. She said it was also fun seeing the girls participate in physical and mental exercises.
"There was time allotted to write immediate goals, plans and actions to get to the goal right now, and practicing expressions and poetry of who they really are. In the feedback session one of the responses from the young ladies was that she feels she has power. This was the highlight of the entire workshop, as the workshop was also geared towards empowering the young ladies to see themselves being able to accomplish something they have not done before," said Ms Sweeting.
Moreover, she noted one of the objectives of the New Image Ladies organisation is to actively support the youth in an effort to help them examine their strengths and build their dreams, accomplishing goals both in the national and international arena.
"The major take-away from the workshop is what we call 'aah moments' that are specific ideas or points that resonate with the young ladies and are shared. Such 'aah moments' are to prepare yourself for what you want to do, to never give up, to know what you want to become in life, to know you cannot get anywhere unless you include God in your plan, and failure is not an option. These are all major points the young ladies shared from the workshop. All of this and more can be seen on the videos taken live on the New Image Ladies organisation Facebook page," said Ms Sweeting.