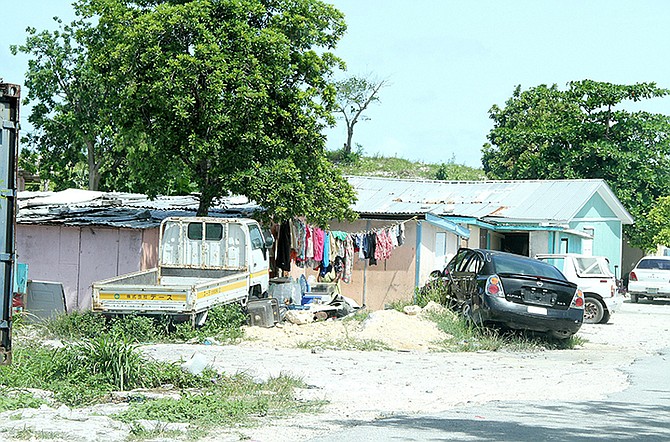 By KHRISNA RUSSELL
Deputy Chief Reporter
krussell@tribunemedia.net
ANY structure within shanty towns across the country that does not adhere to building codes will be "demolished", Labour Minister Dion Foulkes said yesterday as he announced a new date for the start of the government's census of residents living in these illegal residential areas.
The national survey of shanty town residents, which has been several times delayed, will now begin this Sunday from 2pm to 5pm.
Mr Foulkes, who is chairman of the government-appointed shanty town committee, did not say when demolition is expected to begin. However the minister told The Tribune in March that officials would use the summer months so as not to disrupt the academic year of children who are enrolled in school. This, he said, was in a bid to treat the issue with sensitivity.
The government wants to ascertain, through a 13 question survey, how many residents are in each shanty town, the age groups, whether the children are in school and whether there are any people living there with disabilities among other things.
He spoke on the issue before going into a Cabinet meeting yesterday morning.
Mr Foulkes said: "The most important thing in the exercise that we are doing is that we want to be sensitive and humane to all of the residents throughout the shanty towns in the country.
"Abaco, as you know The Mud and the Pigeon Peas and the Sand Banks and the Farm Lands at Treasure Cay, is probably the largest area outside of New Providence. They are well-developed towns and they have everything - running water, they've got electricity (and) they even have some gaming houses present.
"The prime minister has given myself and also (North Abaco MP Darren) Henfield and other Cabinet ministers the mandate to have them all regulated. At the end of the day that means that any home that is not built to the Ministry of Works code will be demolished," he also said.
Mr Foulkes added the government has sought the opinions of Haitian community leaders to ensure the survey meets its mandate.
"We have met with the Haitian Bahamian Association. We have met with the Haitian Pastors League, some 16 of them. We have met with Rights Bahamas, which is Joe Darville and Fred Smith (QC). We have met with the Anglican church, the Catholic church, the Seventh-Day Adventist church.
"We have met with many, many different groups to consult. The majority of Haitian Bahamians and Haitian nationals attend three churches.
"On Thursday we are going to have the second meeting with about 20 Haitian pastors to seek their assistance in conducting this survey on Sunday. They have already pledged their support and we are hopeful that some of them will actually go with the survey teams to make the process as simple as possible."
Mr Foulkes said there is no cost attached to the exercise as everyone involved are active government employees and currently there is a team working in Abaco mulling over housing alternatives for residents.
"The government has the will and the prime minister has the political will to regulate all unregulated communities," he added.
For his part, Mr Henfield said many of those living in shanty towns want them to be improved and begin transition to the Bahamian way of living.
He said: "We as government have a holistic approach as to how we deal with these unregulated communities and we are determined to remove them from the landscape of the Bahamas. But we'll do so in a humane fashion and I think Bahamians need to appreciate that these things didn't develop overnight and so it won't be solved overnight, but through shared determination and will we will address this problem in our country.
"Most Haitian Bahamians that I speak to, or individuals of Haitian origin around that I speak to, do not want these communities. They do not wish to see these communities existing in the Bahamas. They would like to come and live in regular communities like regular Bahamians. However it must be emphasised that not only Haitians live in these communities, there are also some Bahamians that live in these communities who have names that are historical to our country."
There are 11 shanty towns in New Providence – eight of which are in the southwest part of the island and the remaining three in the eastern district.
Four others are in Grand Bahama along with several shanty towns in North Eleuthera, North Andros and Abaco.