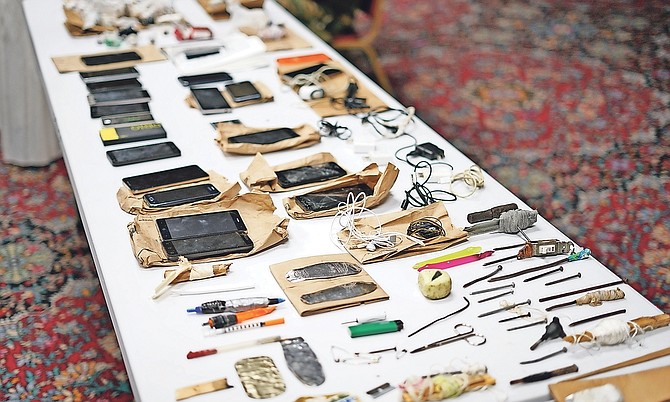 By AVA TURNQUEST
Tribune Chief Reporter
aturnquest@tribunemedia.net
MORE than 200 officers across three law enforcement agencies conducted an overnight prison raid and recovered more than a dozen cell phones, deadly shanks and suspected marijuana.
While no arrests have been made, Assistant Commissioner of Police Clayton Fernander yesterday said officers found to be engaged in corrupt or unlawful practices will be fully prosecuted, and forecast the strengthening of vetting services across all law enforcement agencies.
The joint task force, inclusive of officers from the prison, the Royal Bahamas Defence Force, and three police units: uniformed officers, drug enforcement, and the Flying Squad, conducted a full sweep of the Fox Hill compound in an operation code named SIP (suppressing incarcerated prisoners) that lasted from 10pm on Tuesday until 6am yesterday morning.
The raid was spurred by law enforcement intel and the incidence of several videos going viral last week purporting to show inmates at the Bahamas Department of Correctional Services. In the short clips, men could be seen making gang references, smoking marijuana and playing music from a portable speaker.
"We went from cell to cell," ACP Fernander said, "and we spent some quality time conducting searches in those cells. As a result of our search we recovered a total of 19 cell phones, 11 cell phone chargers and 42 homemade shanks. These are very dangerous shanks capable of causing serious injuries or death, along with a large quantity of suspected marijuana.
"The marijuana, drugs were already packaged as if it's for sale already. We were able to recover those items from the various cells and I must say the inmates there were so creative in hiding those items," he said.
"We had to really spend quality time searching each cell with the assistance of our K-9 Unit as well who were able to sniff out some of the drugs that were hidden in areas in the cells."
The raid was the first full search for the year, according to Deputy Commissioner of Corrections Bernadette Thompson-Murray, who said a search was conducted of one housing unit on Tuesday.
She explained that the items were likely brought onto the compound due to corruption, and acknowledged the possibility of a network of officers.
"Upon being employed, things happen, a lot of officers live in the neighbourhoods of these inmates and if not strong enough then you will fall prey," she said.
Inmates utilised ingenious methods to subvert prison rules, ACP Fernander said, pointing to cellphones hidden in books with pages dug out, and the usage of wires from light fixtures in the ceiling to charge the phones.
He said the operation will be the first of many collaborations as law enforcement agencies work to re-strategise efforts to meet national security goals.
ACP Fernander continued: "You can't be incarcerated and be able to be in touch with the world at your pleasure, at your will, that's a no-no. As a result of this operation we will go away and re-strategise how we will move forward to ensure we disrupt that type of operation that is going on in the Bahamas Department of Correctional Services.
"Once we identify those officers who are corrupt or in bad practices, we will deal with them and put it before the court. We have a lot of work to do with respect to the items retrieved…a lot of inquiries to make. We will be interviewing those persons who were found with the items."