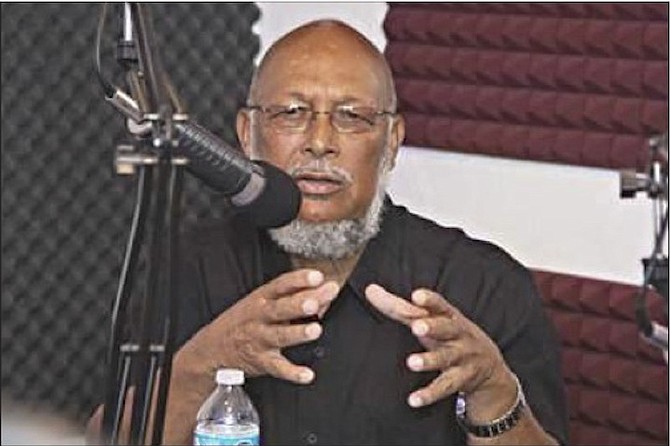 By AVA TURNQUEST
Tribune Chief Reporter
aturnquest@tribunemedia.net
SAVE the Bays Chairman Joseph Darville has made another impassioned plea to Prime Minister Dr Hubert Minnis for a clean break with the $5.5 billion Oban Energies project, this week insisting Grand Bahama had suffered enough from "unchecked industrial pollution."
"I urge and encourage you to make a clean break with the sins of the past," said Mr Darville in a letter to Dr Minnis on Monday.
"End the tired and broken neo-plantation development model, empower your people and help them find a path towards prosperity that does not sell out our birthright but rather preserves it for the benefit of all Bahamians – those with us now and those to come."
Mr Darville, a longtime Grand Bahama resident and former teacher, alleged 30 of his former students have passed away from what he believes to be the longterm effects of exposure to industrial pollution on the island.
"I have had the great misfortune of witnessing firsthand the consequences of this," he said, "having fought for decades as a school teacher and later principal on behalf of the hundreds of students made ill by toxic chemicals from industrial plants in Grand Bahama.
"This story of this shameful tragedy continues to unfold. Of a single graduating class that I taught in the 1980s, more than 15 have now passed away in circumstances which I am convinced point to the longterm effects of exposure to pollutants.
"In all, 30 of my students from the 80s have died and many more have been diagnosed with cancer and other diseases attributed to exposure," he claimed. "It is fair to assume that at this point, their families will never get justice. Grand Bahamians simply cannot take anymore and I fervently plead with you on their behalf to reconsider this deal before it is too late."
The activist does not specify an area in his letter to Dr Minnis on Monday; however, it is likely he is referring to the residents of Pinder's Point, Lewis Yard, and Hawksbill in proximity to some ten industrial companies.
An unreleased government study conducted some 30 years ago stated industrial pollution in Grand Bahama was responsible for significant gastro-intestinal disorders, chronic eye disorders and acute skin disorders.
The Tribune published a report on the study last year.
In 2015, the PAHO/WHO study found that there were no health risks to residents living near the industrial plants, and recommended air monitoring and that a safety risk assessment be conducted in the affected communities.
However, it is widely held that the relocation of Lewis Yard Primary three years ago, and other schools in 1988-9 (Grand Bahama Catholic High and Hawksbill Senior and Primary Schools) prove that there is a health risk to the residents in the surrounding areas.
The Pinder's Point Lewis Yard Environmental Committee and resident of Pinder's Point rejected the latest report and are calling for the relocation of residents from those communities.
"At the end of the day, even if this project delivers on its promises – which considering the unorthodox manner in which it has come about, is far from assured – it would still only amount to a few hundred jobs each year," Mr Darville said of Oban. 
"That is a drop in the bucket for an island where thousands upon thousands are without work. And, were a significant oil spill to take place, the livelihoods of hundreds who live and work in nearby fishing settlements like Sweeting's Cay would be wiped out in an instant.
"Clearly," he continued, "the possible benefits of this deal come nowhere near justifying the very serious risks."