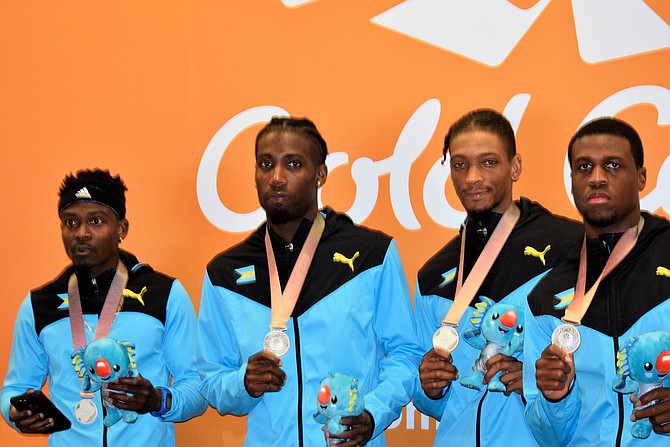 By BRENT STUBBS
Senior Sports Reporter
bstubbs@tribunemedia.net
GOLD Coast, Australia: As the athletic competition at the XXI Commonwealth Games came to a close on Saturday night at the Carrara Stadium, the men's 4 x 400 metre relay team of Ojay Ferguson, Teray Smith, Stephen Newbold and Alonzo Russell provided one more reason for the Bahamas to celebrate.
The team produced a season's best time of three minutes and 01.92 seconds for the silver medal, trailing Botswana, anchored by 400m champion Isaac Makwala for the gold. Jamaica, anchored by Javon Francis, picked up the bronze.
When added to the gold won by Shaunae Miller-Uibo in the women's 200m and the silvers from Jamal Wilson and Jeffery Gibson in the men's high jump and 400m hurdles respectively, the Bahamas ended up 13th on the athletic medal chart behind Trinidad and Tobago and was sitting in 20th spot.
But the final day of competition didn't go as well as anticipated for the women's 4 x 100m relay. Just before the final, head coach Rupert Gardiner said they made the decision to withdraw the team after Miller-Uibo suffered what appears to be a "slight disc injury" after her games record breaking performance in the 200m on Thursday night.
Gardiner said they felt that the team, which remained with Anthonique Strachan, V'Alonee Robinson, Katrina Seymour and Tamara Myers would not have been "as competitive to challenge for a medal" so they didn't run. The event went to a straight final after only eight countries had registered for the heats the night before.
With the Bahamas' withdrawal, England raced to the gold in a national record time of 42.46 seconds with Jamaica getting the silver in 42.52 and Nigeria getting the bronze in 42.75.
Also on Saturday, Latario Collie placed 11th in final of the men's triple jump with a leap of 15.90 metres or 52-feet, 2-inches.
Over at the Currumbin Beachfront, Jay Major and Anthony Colebrook were among a field of 65 competitors but didn't finish the men's 168.3 kilometre road race. Australia's Steele von Hoff won the gold in 3:57.01, Jonathan Mould of Wales got the silver in 3:57.01 and Clint Hendricks of the Republic of South Africa was the bronze medalist in 3:57.01.
The closing ceremonies will bring the curtain down on the games on Sunday at 7:30 pm (Australian time).