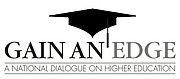 It's not every day one hears the story of how an undergraduate Bio-Chem major – in pursuit of a career as a cardiothoracic surgeon – is not the optimal choice for the ambitious young heroine, but the story of Candilaria Thompson is just such a story. It's a story about jumping off cliffs. It's an adventure story.
At 15, Candilaria had a tough call to make: remain in Canada and complete high school, or return home. And if she came home, which school would she attend? In a prophetic display of uncommon courage, Candi – as her friends call her – skipped the high school option, took her Bahamas General Certificate of Secondary Examinations (BGCSE) a year ahead of her peers and sought direct enrolment into the College of The Bahamas (COB), now the University of the Bahamas. In so doing, she fast-tracked her academic career.
"I was making lifetime decisions at 15-16-years-old and I thought that I wasn't ready to stay [in Canada] and so I want to come home but what are my other options. One option was to sit the BGCSE and I did them. My results were good enough and I was accepted into COB, so I completely skipped the 12th grade and I was very proud of that," she explains.
At a very early age, Candilaria discovered she had very steady hands as well as a love for writing. In 1998, set on a career as a cardiothoracic surgeon due to the precision of her hands, Candilaria began her studies at COB as a Bio-Chem major.
"I cultivated my work ethic at UB. If it's anything I've taken away from UB it's discipline. As a student you have to be very focused, disciplined and organized," she explains.
After completing two years at COB, Candilaria transferred to University of South Alabama where she recognized that she was enjoying her art electives more than her major courses. Conflicted by her aptitude for the arts and her decision to pursue the sciences, Candilaria contemplated dropping out just months shy of completing her bachelor's degree. She was reminded by her father that this was it – if she didn't get a college degree, she would have no formal academic qualification, considering she did not receive a high school diploma. Candi hung in and completed her degree.
As the world of employment beckoned, Candilaria sought employment at the Atlantis Resort and spent 11 years with the renowned hotel on Paradise Island. Although she enjoyed her work, there was always something nudging her to explore her creative side. Throughout the years, Candi's fascination and love for lettering intensified and thanks to modern day technology, she was able to teach herself many lettering techniques thanks to the Internet.
"As a small child I enjoyed handwriting and lettering. I didn't do it so much in high school but I remember distinctly in COB that in all of my notebooks you could just go toward the back of them and find words, just writing of random words," she reminisced.
The leader within Candi was still unsettled and knew she wanted more – that she could do more with her talent. Taking a leap of faith, Candilaria resigned from her job to pursue her entrepreneurial endeavours in calligraphy and lettering and started Design Candi Studio. Today, she is sought after for menu boards, wedding stationary and anything requiring fancy and/or artistic writing. The handwriting was, as they say, on the wall all along.

Her only regret is that she did not do it sooner.
Candilaria was recently featured in the University of The Bahamas Leaders for Life campaign which highlights notable faculty, staff, students and alumni.
• "Gain An Edge" is a weekly collaboration of the Lyford Cay Foundations, Bahamas Technical and Vocational Institute and University of The Bahamas aimed at promoting a national dialogue on higher education. To share your thoughts, email gainanedge@tribunemedia.net.