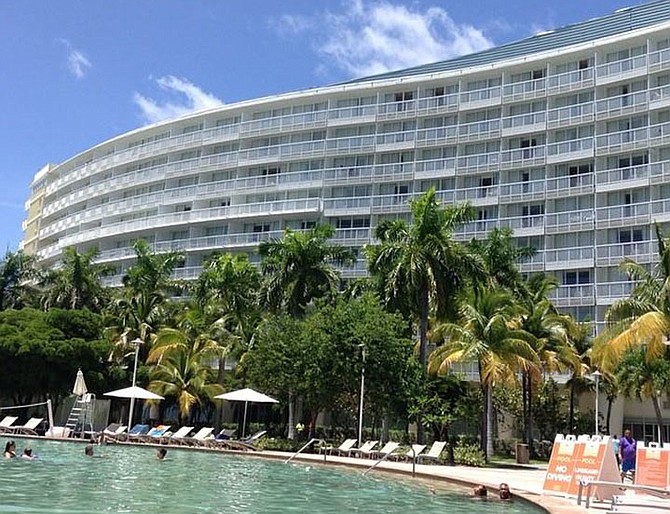 By DENISE MAYCOCK
Tribune Freeport Reporter
dmaycock@tribunemedia.net
ACTING Prime Minister Peter Turnquest has indicated the government is nearer to finalising a Heads of Agreement with new partners in the relaunch of the Grand Lucayan hotel property under a new brand that will revive the island's tourism sector.
While onboard the Grand Classica cruise ship on Saturday during its inaugural voyage to the island, Mr Turnquest said: "We have some exciting proposals before us that are about to go to final stretch with respect to finalising the HOA, but I would not make news today about that.
"I want you to be assured that the government of the Bahamas is working diligently with new partners to bring that facility back to its full operation in the very, very near future."
The Grand Classica is the second of two cruise ships operated by Bahamas Paradise Cruise Line, which also operates the Grand Celebration. The combined arrivals from both ships will result in some 400,000 passengers annually to the island.
Mr Turnquest added that he believes what is being planned concerning the Grand Lucayan "is going to bring new excitement to the destination and our tourism product."
"It will give us the opportunity to expand off of what it is we have in Grand Bahama and to rebrand ourselves as a truly exciting destination, not just tourism destination but a vibrant destination. I look forward to what is to come in that regard because not only will it bring traffic, excitement and energy and entrepreneurial opportunities to Freeport, but it gives us the opportunity to launch other areas of GB that have been neglected."
In January, Prime Minister Dr Hubert Minnis said the deal for the Grand Lucayan's sale was "far from completed." His statement came a month after the government announced a letter of intent had been signed between the owners of the Grand Lucayan hotel strip in Grand Bahama and the Toronto-based Wynn Group.
Commitment
Meanwhile on Saturday, Mr Turnquest, the member of Parliament for East Grand Bahama, commended the Bahamas Paradise Cruise Line for its continued commitment to bringing guests to the island.
"This company has been a partner in GB for many years, and they have delivered quality guests and experiences, and entrepreneurial opportunity for many on the island. The fact is getting to this point today has not been easy.
"We continue to face some challenges that we as government, and they as a company need to address and overcome as we try to facilitate the rebound of GB as a tourism destination."
He also said high airport and seaport fees on Grand Bahama must be addressed.
"We have a lot to offer… however, we continue to be faced with the challenge of access and getting people to this island efficiently and cost-effectively at the airport and harbour," he said.
"This is something we hope that as we go from here with this launch, we will be able to work together with our partners at the Grand Bahama Port Authority, Hutchison Whampoa, and Harbour Company, and government to come up with a strategy that allows us to overcome these difficulties.
"None of us will be successful if we make the barriers to entry so high that it makes it difficult for us to attract the kind of traffic that we want. Our goal ultimately is to get them here, and once we get them here then we have to work collectively on how we can benefit from their presence."
Mr Turnquest believes it is critical for the island's leading stakeholders to work with the government to resolve the ongoing issue of high fees that have resulted in low air and sea arrivals.
"We in government would like for you to be our partners and work with us and the community - we have to build what we have together because anyone of us taking the position that we will collect now upfront without looking at the long term will result in certain failure.
"I put that out there for those to hear. We look forward to continued dialogue in this area in order to bring some resolution to ensure that what we started here today will be successful."
The East Grand Bahama MP said that Bahamas Paradise Cruise brings a "valuable" cruise and stay component that significantly benefits the island.
The Classica will make daily sea arrivals from the US markets as opposed to the Grand Celebration which sails every other day from the port of Palm Beach.
"That is a very important component of our product offering. We know air arrivals are difficult, it is expensive and inconveniencing, but sea arrival allows many the opportunity for enjoyable travel.
"We look forward to what this ship will bring to GB . . . and I want to congratulate and thank BPC for what they are bringing, and what they continue to bring to the island. Unlike the other cruise ships that come for the day…and spend very little on the island, they bring passengers to overnight… and I think it is a very valuable component of our tourism industry."
Mr Turnquest said what the government is contributing towards the partnership with BPC is miniscule compared to the benefit and the economic return that Grand Bahama will reap from the operation.
He encouraged BPC to make Grand Bahama its home port.
Oneil Khosa, CEO of BPC, said the new ship has a crew of 600 and offers employment onboard to Bahamians.
"We want to bring in a record number of passengers, and we will get there," he promised.
He said that it was a tremendous task getting the ship ready and here on time. "She came all the way from the Indian Ocean and was out at sea for 45 days before arriving in Freeport on April 9, and we carried passengers on the April 13," said Mr Khosa.
Some persons and local stakeholders in the tourism industry were invited for a welcome reception, tour and lunch onboard the ship.