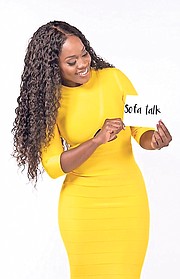 By JEFFARAH GIBSON
Tribune Features Writer
jgibson@tribunemedia.net
Former Miss Gospel Bahamas Sylvian Rahming wants to ask the tough questions and get some real answers when her new show 'Sofa Talk' launches next week.
"I talk about masturbation in one of the episodes, relationships of all kinds, beauty, fitness, and the list goes on…because it's all things me. I hand-picked my guests and ensured that they can handle the pressure and the questions I will ask. 'Sofa Talk' is an honest and real show, therefore everyone that sits on my sofa must keep it one hundred," Sylvian told Tribune Woman.
Because her career as an educator did not end in the way she had hoped, Sylvian decided reinvent herself and follow her passion for media by creating a new and "raw" talk show.
She describes "Sofa Talk" as a funny and informative talk show that addresses all those things people are hesitant to talk about publicly but are still doing privately.
The show is expected to launch April 24 at 9pm on the LiveUp TV app and April 26 at 8pm on the YouTube.
" 'Sofa Talk' is meant to be a warm, cosy and comfortable show. The setup is not the traditional talk show setup. You know how it is when you go over to your girlfriend's house or to your boy's place to talk? You sit on the sofa and you just spill it all... that's the vibe you're going to get," she said.
In 2017, Sylvian rekindled her love for media after leaving her job in education. She was lower elementary educator for 10 years, however, she spent the latter years of her career frustrated because she did not have the freedom to be herself.
"I got frustrated with the system and the administration staff making my looks bigger than my love and passion for teaching. My last year there it became more intense and more about my looks than my contribution to the school, assisting beyond the classroom, being the dance and mime teacher, and also being the first teacher to implement hands-on technology in the classroom for kindergarten students. To them none of that mattered, the focus was my looks. To them I didn't look like a teacher, as if I didn't sat through an entire interview three years before in an A-line colourful fitted Calvin Klein dress and a big pewter bag with a scarf hanging on it with heels to match my confidence," she said.
According to Sylvian, her appearance and the photos she posted on social media were heavily scrutinised by the school's administration despite her compliance with school rules and dress codes.
"After the administration said the school rules applied to me off campus, I knew then that it was the end of the road, because it would've been insane for me to stay and have them control my life. I then decided that I will not allow anyone to dictate how I should look or make my beauty an issue," she said.
Soon after, Sylvian had the idea for "Sofa Talk", which she has been diligently working on over the past year.
"I met with an old friend to discuss my vision and he said he can see it and decided to offer his production company, Elevation Media, to me. I began planning my own television talk show and filmed the first segment of 'Sofa Talk' on the go in July 2017 and wrapped it up the first week in December 2017," she said.
The launch of this show is a big deal for Sylvian, who used most of her savings to start the venture.
"So many people loved the idea and wanted to invest, but when the time came no one was there. It bothered me a bit because I waited so long because of the commitment on their end. I then realised that 'Sofa Talk' will never happen if I don't push through and make it happen. With the last of my savings I invested in and completed six 30-minute episodes of 'Sofa Talk'. I've never been so proud of myself. I looked at my set and said I did it through the help of God, family, and friends," she said.
And to see her dream through to fruition meant she had to wear many hats, including that of producer, director, host and set manager.
"I took on whatever role I needed to fill to make it happen. I'm hoping a network sees the the value in it and is looking to invest in making the show even greater," she said.
"I can't wait to share it with the Bahamas and the world. I meant it when I say with the world, because I want tourists to be able to come and enjoy my talk show."
Sylvian said she became inspired when she attended tapings of the Wendy Williams Show and Live with Kelly and Michael. She envisions one day having a live audience for her very own show just like they do.
"If I were to identify myself with talk show hosts you probably know I would say I'm an Oprah and Wendy mixed into one - the queen of media and the queen of shade. How exciting is that? I love my personality and I'm finally in an arena that I can embrace my beauty and be Sylvian," she said.
Sylvian won the Miss Gospel Bahamas title in 2010. Later on that year she became an on-air radio personality at Ultimate Vibes Radio.
In 2014, Sylvian became one of the co-hosts of the Her'Spective TV show and was been featured on the cover of Developing Inward Beauty Newsletter Magazine. Last year, Sylvian embraced modelling as she walked the runway during the first Bahamas Fashion Week.
In October 2017, she returned to radio as the voice of The Scoop at Global 99.5fm.