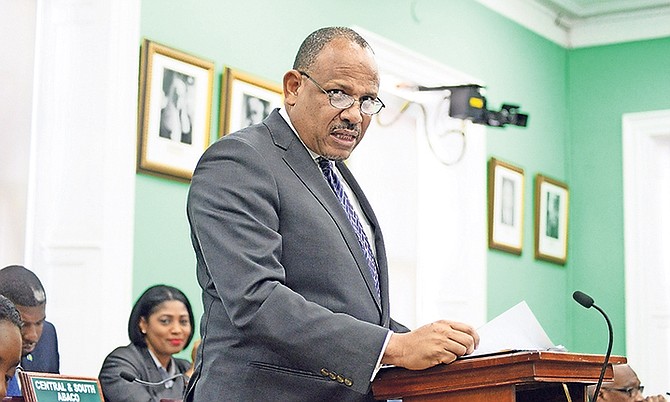 By Rashad Rolle
Tribune Staff Reporter
rrolle@tribunemedia.net
ONE hundred and ninety-five dead bodies are being kept at Princess Margaret Hospital's Morgue as of Wednesday – triple the number the facility was built to maintain, according to Health Minister Dr Duane Sands.  
Many dead bodies are never collected - as the government discovered on gaining office - and the maintenance cost to the Public Hospitals Authority for acquiring coolers, ensuring uninterrupted power and covering "pauper burials" for uncollected bodies is considerable.  
Dr Sands revealed this information yesterday while explaining to The Tribune why the PHA, burdened to cover such costs through its annual budget, must begin to charge fees to raise money so people can be provided with adequate healthcare services.
To adequately fund its operations, PHA must raise as much as $30 million per year beyond the more than $200 million it receives from the Consolidated Fund annually, Dr Sands believes. The PHA intends to charge morgue storage fees, among others, in the next fiscal year and will charge a penalty to keep bodies at the morgue beyond a specified time frame. The fees relate to a variety of PHA services. 
Dr Sands said at any given time, between 180 and 200 bodies are kept at the Rand Morgue. Many of the bodies have been there since before the FNM were elected in May last year.
"In general, the idea is that individuals do not feel any urgency to remove their loved ones and part of this ties into the cultural requirement for a funeral," he added. "A funeral is no less than $3,000 and that's for a barebones funeral; typically, you're looking at $5,000 or $6,000 more. Many simply don't have the means. The situation has been a longstanding vexing issue."
Under the Health Services (Tobacco Advertising and Sales) Rules Act, the cost for keeping bodies at the morgue for public purposes is $50, but the fee has not been charged over the years.
Meanwhile, Dr Sands said the government pays undertakers $750 per adult and $150 per infant for "pauper" burials.
He said: "These longstanding issues point to a fiscal policy based on a wing and a prayer. If you know you have got to provide $10 per service then you must be able to find the $10. If you are trying to provide $10 per service and you budget only for $8, you cannot provide decent, reasonable, safe service. If we are going to provide a reasonable and safe service and there is a variance between expenditure and funding, there are only several things that you can do. Either decrease expenditure, increase funding or do a little bit of both. What we have decided to do is define the needs of the Bahamian people and to provide those needs as efficiently and safely and appropriately as possible. Some of the funding will be provided through the taxes that come ultimately from the people through the Consolidated Fund. "Some of the funding will come from the revenue generated through the private services of the PHA. Some of the funds will have to come directly from user fees. You cannot allow inefficiency, shrinkage, losses to divert funds from provision of necessary services because that constitutes a direct tax on the people who are least able to afford it. Moving forward we have to acknowledge there is no free lunch. While most of us believe in a powerful God who can make many things happen, hope is not an effective fiscal strategy. Without adequate funding, significant maintenance can't be scheduled, upgrades are delayed, supplies are difficult to purchase, etc."
Fees for numerous medical services at public hospitals were legislated in the late 1970s but have never been charged. 
"In truth, hospital authorities have been remiss in terms of duty to collect the treasury's funds," Dr Sands said. "Now in part that's because they were enabled or instructed by the political narrative that healthcare is free."
Officials are trying to determine how much money PHA would have collected per year had the fees been charged as mandated. 
Dr Sands said the fees that will be charged will be nominal. And contrary to some social media reports, the fees have not yet been applied. 
To maintain so many bodies in a morgue designed to house far fewer, the government has purchased extra coolers over the years.
Of the bodies in the morgue now, 35 are of infants that died during childbirth. They are kept in the morgue's main cooler; 61 are adults kept in the morgue's main and satellite extension coolers; five remains are kept in compartment coolers and 94 burnt or decomposed bodies are kept for police/court case purposes in a trailer and/or spill over cooler.