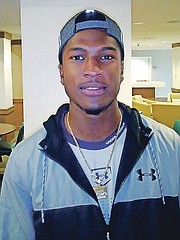 By RENALDO DORSETT
Tribune Sports Reporter
rdorsett@tribunemedia.net
LUCIUS Fox shrugged off several injury concerns and continued his production at the plate as a leadoff man for the Charlotte Stone Crabs in the Class A Florida State League.
In Friday night's 10-3 win over the Clearwater Threshers, Fox was hit on the foot by a pitch in the second inning and was replaced by a pinch runner. He did not return to the field for the remainder of the game.
Fox cleared concussion protocol Saturday and went out to finish 2-3 in a 5-2 win over the Palm Beach Cardinals. It was the sixth win in the last seven games for the Stone Crabs as they improved to 8-8 on the season.
Fox is hitting .345 with 19 hits, four doubles, five RBI. Three stolen bases an OBP of .429 and an OPS of .847 through 14 games.
He notched another career milestone and became the second Bahamian this offseason to receive a Major League call-up during Spring Training when he was assigned to the Tampa Bay Rays' Grapefruit League roster and saw immediate action on the field against the Minnesota Twins at Charlotte Sports Park in Port Charlotte, Florida.
Fox entered spring training at No.7 on the prospect list for the Rays among players still listed with rookie eligibility.
Prior to the season, Fox outlined how he planned to build on his improvements with Jonathan Mayo of MLB Pipeline.
"Last year, I made a tweak with my swing after coming from the Giants. I implemented a leg kick and it worked for me in Spring Training. But once the season got going, I didn't have a rhythm with it. I started slow in April and then I switched it to a toe-tap. That allowed me to see the ball better and spit on bad pitches. My timing was there for the fastball. And I had a really good May. That really helped me and I think that's what got me to the Futures Game. I had a really strong May and stole a lot of bases and had a lot of multi-hit games. I continued on the path with my swing, trusted my swing coming in. I made some adjustments coming in, but I'm still using the toe-tap now," Fox said.
"I feel like I'm in a better position this year than I was last year. Defensively, my accuracy with my throws. I was always a good fielder, but sometimes my throws would get away from me. So I've been working on that, on backhands, working on my time clock, knowing the runner and how much time I have. I'm also working on more extra-base hits. I like to steal a lot of bases, but I'm also trying to work on my power to get some balls over the wall and even some more doubles and triples."
Fox was assigned to the Stone Crabs at the Single A-Advanced level last July. In 30 games with the club, he hit .235 with a .608 OPS, .350 OBP, one home run, three stolen bases, 12 RBI and 19 runs scored.
Prior to the call up, he spent the previous 77 games with the Bowling Green Hot Rods of the Midwest League at the Single A-Full level. For the Hot Rods, Fox hit a career-best .278 and ranked third in the Midwest League with 27 stolen bases. He also ranked second on the team with 45 runs scored, collected 27 RBI and totaled a .362 OBP and a .722 OPS with two runs.
"I'm not trying to hit every ball out of the ballpark, but I'm trying to pick and choose when I can get a little bigger and try to drive a pitch. I don't just want to be known as a singles hitter. I want the defence to respect my power. I've been working in the weight room on my strength. And even with my swing, squaring up more balls and staying through more balls so that it can travel more to the gaps and maybe sneak some more over the fence," Fox said. "Any way I can get to third for the guys behind me, the power guys, making it an easier RBI for them, I'm willing to do."
Fox told MLP Pipeline that despite projections of him listed as a centrefielder, he continues to work on his craft defensively to remain at shortstop.
"From when I signed, scouts and evaluators told me I'd be a really good centre fielder. They said that my hands and my arm play at shortstop, but that some of my actions I had to clean up. From seeing that on scouting reports and hearing that, it just motivated me. Every day, I try to get as many ground balls as I can get. I work on my accuracy and work on my hands," he said.
"I watch big league shortstops like (Francisco) Lindor, (Adeiny) Hechavarria, (Xander) Boegarts, to see what they do. They are elite at what they do and I just try to find ways to implement that in my game. I'm working hard to prove everybody wrong and hopefully the Rays will give me the opportunity to stick at shortstop and help the team win in the future."