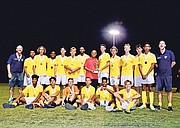 By BRENT STUBBS
Senior Sports Reporter
bstubbs@tribunemedia.net
A goal on a header from Charles Allan was all that the Lyford Cay International School needed to clinch the Sam Haven senior boys' national high school soccer championship title. It took one extra penalty shot for the Lucaya International to take the girls' title to Grand Bahama.
While Lyford Cay prevailed with a 1-0 win over the Anatol Rodgers Timberwolves, the Lucaya International prevailed over the Queen's College Comets as the tournament concluded at the Roscoe Davies Developmental Centre at the Baillou Hills Sporting Complex Saturday night.
The week-long tournament was hosted by the Ministry of Education, Science and Technology in conjunction with the Bahamas Football Association.
Also on Saturday, the CR Walker Knights nipped the Aquinas College Aces 1-0 for the senior girls' 3rd place consolation prize and the St Andrew's Hurricanes blanked the Tabernacle Baptist Falcons 3-0 for the senior boys' honour.
• Here's a summary of the games:
Senior boys
A Charles Allan header in the 27th minute sealed a 1-0 win for Lyford Cay International School over the Anatol Rodgers Timberwolves.
"It was great to have a finalist as competitive as that to test this fine group of young men," said Craig Massey, Lyford Cay's head coach. "They're a talented bunch and it's nice to see them under a bit more pressure, a bit more physicality and they could stand up to it. It's been a long way to get here and they worked hard for this." Massey said he anticipated the Timberwolves would have given them a run for their money, but they sucked it up and avoided going to the penalty shutout where he feel there are "no real winners."
Lyford Cay's goalie Oliver Townend said they did what they had to do to win.
"We fought hard and we passed the ball around well," he said. "The second half, the wind was really difficult for us, but we kept together and defended well and came out with the victory," he said. "They were definitely the best team we played in this tournament, the most technical. They were a worthy opponent to be in the final."
The 15-year-old Townend said although they will be losing a couple of players to graduation this year, they will be back to defend their title next year.
Oliver Lynch, the head coach for the Timberwolves, called it was a bitter pill for them to sallow.
"It's a tough loss and no matter how much you put out, once you lose, it's a tough loss," he said. "We had one mistake when our goal keeper came out and he misplaced the ball on the header. But I'm proud of the guys. They played well. It's just unfortunate that we lost the game."
Senior girls final
It came down to the penalty shots to break a 1-1 tie at the end of regulation and Lucaya International made good of their last four of six tries to clinch the hard fought 5-4 (penalty) victory over the Queen's College Comets.
"It was not what we expected, but by the grace of God we prevailed with the victory," said Sabrina Brown, the Comets' 17-yrar-old goalie. "I just wanted to stay focused. I've done it before, so I felt I was comfortable enough to do it. I just relied on my skills and did my best and went after every ball I could have gotten."
Two years ago, the Lucaya International were the runners-up to the St Augustine's College Big Red Machine, but they made sure that they didn't repeat the feat.
"We heard all of the stories of QC being a brilliant team and they came out and played a fantastic game against us," said head coach Nigel Kirkby. "We managed to get a really goal early in the first half, but they came back to get an unbelievable free kick to draw level and it was just a slugfest all the way through."
Having gone through a series of penalties in the tournament and another one in Grand Bahama, so he said they were prepared for the inevitable in the finale.
After falling behind 3-2, Nina Sanchez, Amalie Larsen, Sabrina Brown and Tara Kirkby added the final four penalty shots to go along with Olivia Cafferata's opening the door just before Isabella Law hit her shot right into the goalie.
Queen's College converted their first four penalty shots from Tyra McKenzie, Kaitlyn Davies, Janet Adderley and Mya Rougzos, but they missed their final two as Lucayan International celebrated their championship feat.
Julia Tychoniewicz gave Lucaya International the initial 1-0 lead until Tyra McKenzie got the equalizer in the 49th minute. Neither team was able to get past their goal defender the rest of the game in regulation, forcing the penalty shots.
Selena Traves, head coach for the Comets, admitted that they gave it their best shot.
"The girls played great. We played a very good team, but we matched them goal for goal," she said. "Penalty kicks are a very thin margin between the teams, but I thought we could have gotten one more. Despite the loss, all of the girls fought hard. It was a fantastic season, all of the girls gave 100 percent, so I can't be disappointed in that."
Queen's College got a scare at the end of the game after Br Nixon had to be treated on the sidelines after she collapsed. Se was rushed to the hospital for further evaluation of a recurring heart problem.
Senior girls consolation
Reminiscent of her performance that enabled them to win the Government Secondary Schools Sports Association;s title, Bernadette Nelson booted in the lone goal in the 27th minute to seal the 1-0 win for the CR Walker Knights over the Aquinas College Aces.
"It feels great," said Nelson as she helped the Knights improve from a fourth place finish two years ago. "Even though we came third, it still feels as if it was a championship victory. Most of our team is made up of 12 graders, but we have a few players returning and we hope that they can do it next year."
Dan Weightman, head coach of the CR Walker, said after losing in the semifinal, they rebounded and redeemed themselves.
"Our goalie had an injury early in the game, but she wanted to play through it and after we scored the only goal, we kept pressing and was able to pack it in at the end," he said. "We tried to hold it off for the last 5-10 minutes and they did that. I'm very proud of them and it was a good send off for our senior class."
Raymond Knight, head coach of Aquinas College, said the team played well.
"We had the most chances to score, but we just didn't capitalized on them," he said. "But it was a good game. The girls tried hard. It was just one of those games that could go any way. W made some subs, trying to change things around, but we didn't get the win. I can't be too disappointed. We tried our best."
Senior boys consolation
Khavie Smith and Jade Saunders found the net on back-to-back goals in the third and fourth minutes respectively, while Khaynee Smith added another insurance in the 41st minute as the St Andrew's Hurricanes blew away the Tabernacle Falcons 3-0 in their senior boys consolation game.
Yiorgo Coyle, head coach of St Andrew's, said he was proud of their effort with only 11 players in unform.
"I'm pleased with the outcome," he said. "We have quite a few young boys playing on our team, so it's quite positive for us moving forward."
Lucus Alexio, one of those players, said they set out at the beginning of the season to be the national champions, but they fell short in the semifinals.
"It's a consolation, but not ideally what we were looking for," he stated. "We know where we need to improve. The first and second half we have been very good defensively, not conceding any goals, but we just struggled a bit in attack and finding the back of the net, so we definitely need to improve in those areas next year."
Philip Wedderburn, head coach of the Falcons, commended the Hurricanes, although he wished his team was better prepared coming out of Grand Bahama.
"Our season hasn't started as yet so between the two islands, we play at different times, so our boys are not ready and they were not sharp," he insisted. "Prior to coming here, our boys only played two games under our belt. Not withstanding that, the other team played much better than us. Congratulations to them.
"On the field of play, we made some mistakes. I don't want to single out anybody, but we gave up three soft goals on poor position and not defending. We made some basic errors, but it was a wonderful experience for us. Some of our guys are playing out of Grand Bahama for the first time. We will go back home and back to thee drawing board and hopefully we can come back next year much better prepared."
At the end of the tournament, Tyra McKenzie of Queen's College was named the girls' top scorer and the most valuable player, while those two boys' awards went to Charles Allan of Lyford Cay.
Sabrina Brown of Lyford Cay was the girls' best goalkeeper and Oliver Townend of Lyford Cay won the boys' award.
The girls' fair play award was presented to Lucaya International and the boys' award was given to Anatol Rodgers.