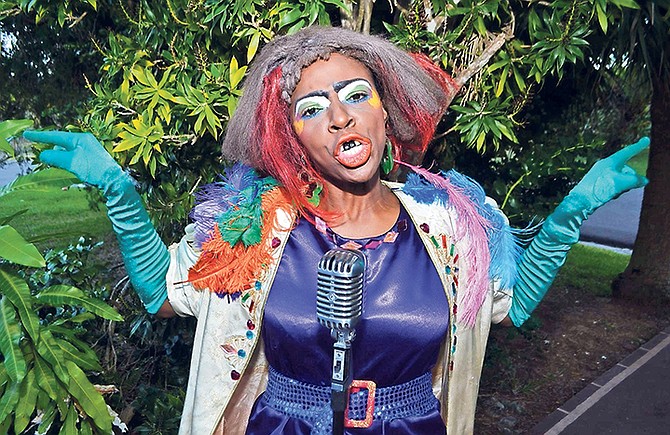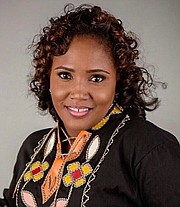 By FELICITY INGRAHAM
"Dynamite Daisy" is a household name in The Bahamas. She is a comedienne well known as the life of the party at weddings, birthdays, church events and functions all over the country. She appears on radio and television shows and commercials, and was the star of many of her own full-stage productions with a group of fellow actors who performed to packed crowds. She has even travelled throughout the United States and the Caribbean with her dynamite act.

When Daisy shows up, the way she presents herself invokes the first set of laughs. Her hairstyle is outrageous, her clothes mismatched and her make-up is extremely loud and all-over-the-place. But Daisy's confidence is through the roof. She boldly struts her stuff and takes every opportunity to compliment herself. She has a unique way of touching hearts and making everyone laugh. If you are a mother, you relate to the way she gives good advice to everyone. If you are a child, you get kicks out of her comical appearance combined with a big, genuine smile and lots of jokes. If you are from the streets, you connect to how street-wise, non-judgmental and down-to-earth she is. Daisy shows others how total self-confidence is key, as she is obviously oblivious to what others may think of her. Her messages have played an important role in this country, as they touch on serious issues such as drugs, violence, politics, family and national issues.
From the year 2000, Dynamite Daisy held a 15 year-running success streak; then, she suddenly retired from the limelight. The person acting as the highly-popular and often-requested Daisy felt her life was being called into a new direction. Many still don't know who the actress is. Others are surprised when they find out.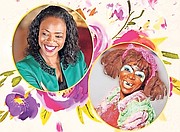 Lynn Terez Nixon (nee Davis), affectionately called "Terez" has a demeanour which is in contrast to her Daisy persona. She loves to smile, but won't be the one cracking all the jokes. She has a slightly serious but kind presence, a little shy in some ways, but sincere and forthright in others.
"I got a lot of slack for retiring the character," she says.
"I held a big ball in 2015 and retired it. I honoured my artistic manager Trent Davis, my booking manager Nicole Watson and my accountant Cheryl Pratt. I honoured three ladies who travelled with me as my production managers at various points – Christa Petty, Kendia Simmons and Desiree Taylor. I also honoured Tina Price-Lynch as the longest acting member of Dynamite Daisy Productions. She performed with me on my very first show and was with me ever since."
The day after the 2012 general elections, Terez took on a job at the Ministry of Youth, Sports and Culture in the Youth Division. That appointment has blossomed into the programme: "Youth Development Through the Arts". Junior, High School and University students ages 15 to 21 participate in productions that include singers, dancers, actors and a full band performance on stage. Productions include "Jail House Rock" and "The Thief of Love" Part one and two, which was received so well they took the show to Freeport.
In 2013, Terez married her soul mate, Quinton Nixon. Her journey of love had included two failed proposals. In the first case at age 21, she called it off after deciding not to go through with it without her parents' approval. The second time, she called it off because her beau's former lover was still in the picture. Her own personal life drama, relatable to many, may have been one of the sources of inspiration for a character which she felt she was "an anointing" on her life.
"Daisy is a non-threatening person," she said.
"She thinks she looks so great that anyone who doesn't have a high self-esteem, looking at her, would feel a little better. If she could be confident, buss up like that, then you should too!"
"People identify with Daisy. She is that family member or friend that speaks the truth in love. She is a non-threatening but no-nonsense character. It has always been my desire to write and perform, not just for entertainment, but for education and inspiration; to show people that situations can change. It is my passion – using the stage as a mirror to reflect what is happening in society and use it as a means to correct some of the wrongs."
With the Daisy character on the shelf, Terez had time to develop her career and family life. She noted some people were hard on Quinton, thinking he was the reason for Daisy's retirement.
"My husband has been fully behind me, one hundred percent in my decisions," she said.
"He has known me since I was 17 and he was 20, because we were in the same non-denominational choir. We were so close, never knowing that one day we would be together. But when we got together, he told me that he had admired me all these years."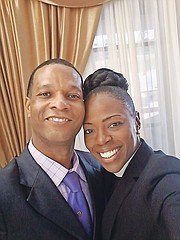 Now happily married and pouring her passion into performing arts for youngsters, Terez, 43, feels she is living out her purpose in a new way, ever-mindful that change is a part of spiritual growth.
"For artistic people, it's difficult to be as productive as you want to be when you have a nine to five job. You need to be able to be free to sit up at 3am when you are inspired."
As a young woman, Terez set some goals for herself and posted them on her bedroom door – "Sing, Write, Act and Preach".
This past March, Terez achieved them all. She was ordained as Youth Pastor of Golden Gates World Outreach Ministries, where her father serves as pastor of 45 years; a landmark on Carmichael Road and church home to many in the Golden Gates area.
Terez is the last born of Bishop Ros Davis and Althea Davis (nee Wallace) and the only girl of three children. The family lived first in Ridgeland Park, then in Gleniston Gardens, and now in Westridge Estates, where we met. She remembers going on adventures in the bushes in the area that is now the Prince Charles Shopping Centre, cutting through the bushes with a cutlass with others like her cousin Devaughn. Her older brothers Stan and Trent would sneak off to the Sea Breeze canal and she would follow. Later on, the Davis family adopted two more children, Adrian and Deloris. All of her schooling years from pre-school to senior high, she attended Kingsway Academy. There, English teacher and drama coach Paula Angel, a UK native, had faith in her that she could be the singing narrator of a musical – "Joseph and His Amazing Technicolor Dream Coat".
"This gave me my first glimpse into possibly doing this on a professional level," she said.
"I had to act but I also had to sing through the entire production. It was a whole lot of memorisation – musically and narrating the entire story line. It became easy after a while. It was exhilarating at the end of the day when it was time to put on the performance. That was the spark that led me to see myself doing it on a professional level."
"It gave me a sense of affirmation and acceptance at a young age. That's what I believe is now happening to my students (at the Youth Division). I remember after one Jail House Rock performance, one of my students came to me and said, 'Mrs. Nixon, I feel high like I took something!' That is when I realised how powerful it is at changing lives."
"Acting is a safe place to experiment. You can pretend to be a prostitute, a drug addict or a murderer and feel empathy for persons who do that without testing it on your own life. They say experience is the best teacher, but I say learning from others' experiences is the best teacher. If I can put on a production that causes people to think and make someone say you know what, 'I better go the right way', then I would have accomplished my mission.
Terez also got her feet wet as a teenager at the Dundas Centre for the Performing Arts, where she performed in the play "Gonna Take Hell". At the Dundas Centre, she became inspired by the late Kayla Lockhart-Edwards. A cultural giant, Kayla was responsible for inspiring many young people in the performing arts and left an indelible mark in the hearts of Bahamians.
At the age of 16, Terez wrote her first play – "Drugs Ain't Cool At All". In sports, she loved softball recalls coach Paul Sattem leading the Kingsway team to a clean sweep in 1991. On completing high school, she went on to study Primary Education at the College of The Bahamas. Then, a close friend Novie encouraged her to pursue her acting aspirations and follow her dreams. She took heed and ended up attending Morgan State University where she studied Theatre Arts and graduated with honours.
When Terez returned to The Bahamas, she had a vision to perform a one-woman show, acting out five parts called "From Despair to Hope". Sojourner Truth, African American Abolitionist; Juliet of Romeo and Juliet; Madea, princess of a Greek mythological play; KC, a character she created who was pregnant and had been prostituted by her mother; and Daisy. Terrance "Redeye" McSweeney built the set and her mentor Kayla came through and funded the production through her company, Arts International. It is from this performance that the public met daisy and she became in high demand.
Terez brought Daisy back in 2017 for just two shows. This past October, she performed a free show, with more than a thousand people attending. She held another during the Christmas season.
This time, Daisy is about to take the stage with Terez for a Mother's Day special – a one-woman show called "Woe-Man". The show, to be held May 12 & 13 at 7pm at the Dundas Centre for the Performing Arts, will feature Terez in drama and comedy with special appearances by Davonia Josey Williams and Maje Joseph. Tickets are on sale at the Dundas Box Office and Hallmark in the Mall at Marathon. The show will honor the life of Kayla Lockhart-Edwards with the blessing of her daughter, Keisha, a musical artist and author. A song written by Felicia Archer will be featured in the show as the single release with proceeds of the CD sales going to four-time cancer survivor Toni Lewis.
Terez loves to sing; she preaches and she writes, and she will always make a place for acting in her life. She wants to see more young people take her advice and follow their dreams. She thanks people like Evangelists Minalee Hanchell and Shirley Burrows for their spiritual guidance, encouraging her through some of her lowest points, like when she was a young teenager battling with a severe form of depression.

Terez is "telling it all" in her authobiography which is about to be published. "Behind the Face, Underneath the Makeup", she says, will share of her life journey from a small girl, all of her ups and downs, and her path to finding her purpose in life.