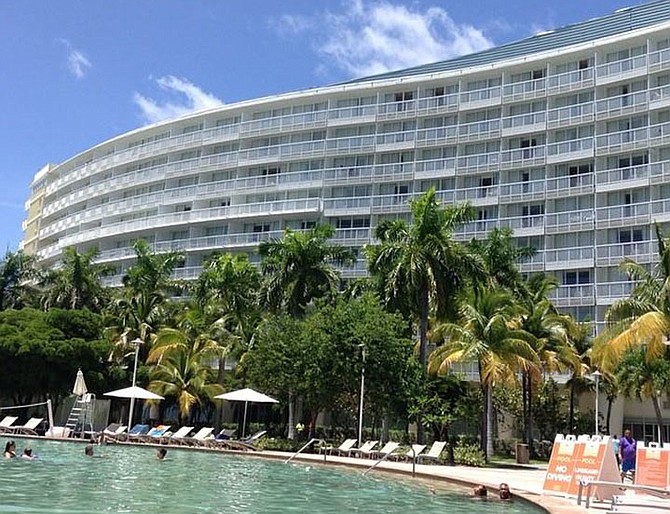 By KHRISNA RUSSELL
Deputy Chief Reporter
krussell@tribunemedia.net
FINANCE Minister K Peter Turnquest said it is "completely false" for anyone to assert the sale of the Grand Lucayan resort in Grand Bahama had collapsed, adding the deal continues to move forward with all of the involved "big ticket items" already agreed upon.
While he could give no timeline for completion, the deputy prime minister said the sale is "imminent". He admitted this was something the government said previously, noting in one instance a weather-related event in Canada caused some form of delay.
Days after former Progressive Liberal Party Chairman Bradley Roberts claimed the sale of the hotel had fallen through prompting the property to be again placed on the international market, Mr Turnquest said it was not only "disingenuous" but "political mischief" to publicly make such alarmist statements.
Speaking to reporters yesterday ahead of Cabinet, Mr Turnquest said Mr Roberts was someone trying to hold on to "relics of the past" as he encouraged him to look at the positive side of the government's efforts.
Back in December, Prime Minister Dr Hubert Minnis announced a letter of intent had been signed between owners of the hotel strip and the Toronto-based Wynn Group.
Asked whether the Wynn Group was still the purchaser, Mr Turnquest said: "Indeed".
He also said: "The comments by the former chairman is completely false. The deal continues to be moving forward. There are some final details that are being completed as we speak and we certainly expect to have a completed agreement with in short order. I know that we have said that a number of times, but these things are complicated by the financial nature of them.
"We want to make sure that we get the best deal possible for the Bahamian people and that takes a bit of effort and a bit of back and forth negotiation. We believe that we have the deal almost complete and we've pretty much agreed on certainly all of the big-ticket items. It's just a matter now of putting the agreements together and everybody to agree a date for the sign off."
When asked about a timeline for completion of the deal, he shied away from exact dates.
"I wouldn't want to put a timeline on it, but I would say that it's imminent and I hesitate on it only because I know that we've said it before and I don't want to give expectations that we cannot live up to because again this a negotiation between two parties and sometime circumstance cause delays.
"For instance, one of the circumstance was a weather-related event in Canada believe it or not and so some things are just out of our control and so I don't want to give the impression that it's going to be tomorrow when I don't control that pen."
Mr Turnquest further scolded Mr Roberts for what he called "harmful" actions toward this process.
"You know one of those things that we have to remember is that we are trying to attract foreign direct investment, which is a very competitive business nowadays because we all have the same assets more or less – sun, sand, sea friendly people and the same basic culture.
"So when we start making these kinds of statements, alarmist statements, it's not helpful to what we are trying to do in terms of grow our economy and to grow opportunities for Bahamians both in terms of careers as well as in entrepreneurial opportunities. It's unfortunate because again we all have the same goal or we should have the same goal and that is to grow this economy and give Bahamians an opportunity to be successful and to provide for their families.
"It is very difficult and challenging times. The world is changing. The Bahamas is changing. It is becoming more and more competitive. Regulations are becoming more and more stringent making it that much more difficult and causing us to have to change the way we do business, the way we look at business and these comments by someone who is trying to hold on to the relic of the past it's just unfortunate.
"I would just encourage him and others to look at the positive side of what it is that we're trying to do, what this Bahamas has to offer, what the Bahamian people have to offer the world and encourage people to get involved in productive pursuits to help us to broaden this tourism base in particular financial services so that we all can innovate together and create new opportunities expanding the offerings that we have so that we diversify and deepen the economic experience that we have."