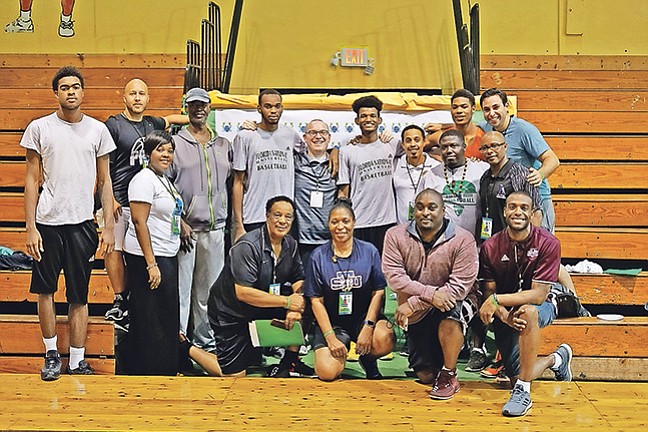 By BRENT STUBBS
Senior Sports Reporter
bstubbs@tribunemedia.net
SOME of the top high school basketball players have a chance to showcase their skills at the AF Adderley Gymnasium as the third annual Top Elite Showcase takes place.
At least 12 coaches from high schools and colleges in the United States are in town for the event that got started on Wednesday and will wrap up today.
And starting at 10am on Saturday, there will be a primary school exhibition. The top 20 players from the camp will go on to represent the Bahamas in the AAU Tournament in the US in the summer.
Rodney Curry, the coordinator of the showcase, said this is an opportunity to provide an avenue for those players who are interested in heading off to school to be seen by the college coaches who are in town to provide athletic scholarships to the deserving players to further their education.
"These players have dreams of playing overseas and so we decided to provide an avenue for them to be seen," said Curry, who is assisted by a committee that includes Peter 'Macaroni' Gilcud, Laron 'Preacher' Colebrooke and Dorinda Darling. "So far, we've had about 25 players who have been out.
"I was looking for more girls than boys because we have St Thomas University here and they are one of two high schools who are looking for girls to give them scholarships. But we've only had two girls out. We want to provide an opportunity for these girls to play at a higher level, but I don't know if the coaches have been telling them not to come out."
Clyde Glover from Bookie T Washington High School in Miami, Florida said he enjoy coming to the Bahamas because there is so much talent available and if he can find a point guard and a post player, he will take them back with him right away.
"I'm looking for some players with some ball handling skills and although I have some bigs, we still need a post player," he stressed. "I can take some players with some basic skills and I can work with them. So if I find any players who can fit those descriptions, I want them."
Glover will be concentrating more on the younger players still eligible for high school, but Denise Hannah, an assistant coach at St Thomas University in Miami, Florida, said she's ready to take some players to be apart of their college programme.
"I am looking for a shooting guard and a point guard," she said. "The kids here are athletic and we want to get some good quality kids who are willing to learn improve their game. This is our first time here. We have kids from all over the world, but we have never had anybody from the islands. This will be good for us to continue to diversify our programmee."
And Adrian White, an assistant coach as well on the Bobcats men's team at St Thomas University, said they are looking for some big men, but if he find anybody that can fit their programme, he will try to recruit them.
"We are really appreciated of the opportunity to come to the island and look at the players," he aid. "This island has a lot of talented players and we would be glad to see if we can incorporate some of them into our system."
Also here is Mt San Antonio in California, represented by Major Whitlock. This is his first trip here and he indicated that he's quite pleased with what he's seen so far.
"We had a chance to work with some talented players," he said. "I'm looking forward to trying to help out as much as I can because I'm very impressed with what coach Rodney Curry is doing with the programme. I'm happy that he invited us to come here and to be a part of it. We will continue to do what we can to help the young players from the Bahamas."
James 'JJ' Thatcher of Florida National University is also making his initial appearance here at the showcase and he likes what he's seen so far.
"I've played with three Bahamian players and a couple years ago, I had a Bahamian player on our team," he said. "I'm looking for a post player and a guard. They have to be one of the most untapped player. If I can find any of them, I'm ready to sign them up to play for us."
The players went through a series of drills and game situations to display their skills in front of the coaches. At the end of today's sessions, the coaches will make their final evaluation and inform any and all of the players whom they are interested in offering scholarships.
Jeff Rodgers, representing the Ministry of Tourism, was on hand to welcome the coaches to the Bahamas and he wished all of the players every success in their bid to be recruited. Rodgers will also provide an opportunity for the players to display their skills during his annual summer basketball camp at the Kendal Isaacs Gymnasium.