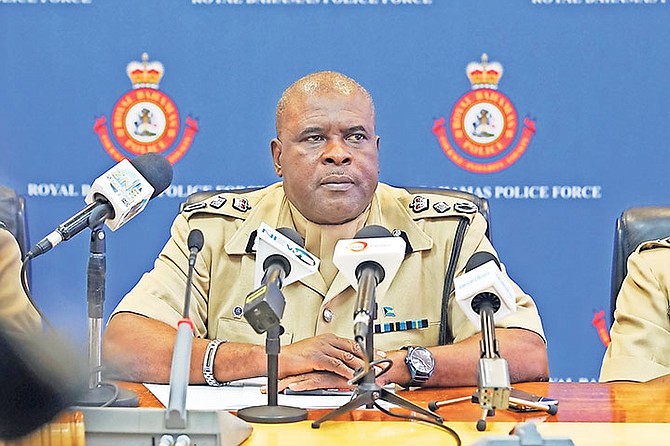 CONCERN AT ROAD DEATH RISE
POLICE Commissioner Anthony Ferguson said yesterday the Royal Bahamas Police Force is concerned at the number of traffic fatalities that have occurred in recent weeks.
Revealing that 38 fatalities took place from January to June, Commissioner Ferguson admitted the force is "still challenged with road offences".
"For the period we have arrested well over 2,000 persons for various criminal offences and reported well over 13,000 traffic offenders," he said.
"Until our citizens realise how important it is to have an orderly society we will continue to ticket them and carry out our jobs which is to take them before the courts."
The commissioner insisted the matter calls for much concern due to the significant number of accidents happening because of reckless driving.
He encouraged family and friends to "continue to talk to their people" and to remain vigilant when on the road.
Commissioner Ferguson also reported that between the period of January 1st and June 30, police recorded 500 accidents "involving damage" between the hours of midnight and 8am.
He asserted this statistic indicates a "greater need for caution" should be employed during this timeframe.
"Once a life is gone there is no way to bring it back, so an orderly and responsible society is what we all should be trying to achieve, and I believe we can be more responsible in the actions we take," he said.
His statements came after two pedestrians were killed in separate accidents early Monday morning, one of which was a hit-and-run incident.
These fatalities brought the total number of traffic-related deaths to five since Friday.
On Monday, Chief Superintendent Craig Stubbs, officer-in-charge of the Traffic Division, told The Tribune that there have been 50 traffic fatalities for the year.
By KHRISNA RUSSELL
Deputy Chief Reporter
krussell@tribunemedia.net
HOMICIDES in the first half of 2018 declined by 26 percent when compared with the same time last year.
According to Police Commissioner Anthony Ferguson yesterday, investigators recorded 54 homicides from January to June. Comparatively in the first half of last year, there were 73 murders.
While the commissioner praised the force's fight against crime during a press conference yesterday, he did not provide figures for major categories of crime like rape, armed robbery, attempted armed robbery and police involved shootings.
He said the intent of the event yesterday was to give a progress report of his policing plan and not to provide broad statistics, which is customary once each year.
Nonetheless Commissioner Ferguson told reporters overall crime in the nation was down. Rapes are also down, he said.
"Let's look at homicides that are the most feared crime in society and rightly so because nothing is more fearful than having a gun pointed in your face or being injured or losing a family member by such a heinous act," Commissioner Ferguson said.
"Last year between January and June there were 73 homicides. This year while we had some challenge, homicides show signs of reduction at 54.
"Ladies and gentlemen, we are very far from where we would like to be but we cannot be ungrateful as it is a start and we are confident that as we continue to work together we should see reduction.Unfortunately, we have persons who lay in wait for persons late at night or very early in the morning to kill them. They are evil people and so we urge friends and family members to encourage those persons you may know with the propensity to carry out such actions to cease and desist.
"The police is not prepared to go outside of his mandate, which is to preserve the peace, the prevention, protection and apprehension of offenders and to maintain law and order. I am satisfied that we are making every effort to do just that."
Despite there being fewer rapes in the first half of the year, the commissioner said he is hoping for greater cooperation from the public in this regard.
"Talking about rapes that is something I would hope that Bahamians would strive along with the police to eliminate because I believe that is one of the most feared (crimes against women) and it puts a female's whole life in fear. So any person who has that in mind to rape somebody that is a person that the entire community should be looking for," he said.
Commissioner Ferguson attributed the reduction in overall crime to several strategies.
He said a number of things contributed to the decreased homicide rate.
"The increased visibility (and) the visitation of night spots. You would recall last year some persons don't know how to behave themselves. They go out to a night spot to have fun and then when you look they pulling gun on one another and then shooting and killing. We looked at that and we determined that we needed to visit those spots.
"In huge numbers police officers, along with our partners who are operating with us defence force officers, we converged on those trouble night spots and we make our presence felt. Persons who are driving on the street at night we are up and about like a hawk watching them and looking to see what they are doing as they leave from there.
"Those persons who usually pull out guns as they leave these nightspots and firing we be right on them."
Speaking of the policing plan, COP Ferguson said: "You will recall during my press release in January of this year I told you that I will give you an update at the half point as to whether or not we are meeting the objectives outlined in my policing plan. I am now in a position to do that.
"I told you that we would be visible in our communities and endeavour to make it difficult for criminals to move about. I also told you that that crime is dynamic and complex. I never indicated that we will eliminate crime.
"My team was given the directive to turn up visibility and operations to weaken the criminal network. Over the period January to June 2018 we carried out some 24 planned operations throughout the communities. Out of that number we successfully conducted two major intelligence led operations where we launched an aerial and land based offensive against the criminal element. You would recall Operation Blue Waters that woke up the residents in the southwestern Bahamas.
"In that operation, we arrested some 31 persons and seized a number of items that were very useful in police investigations.
"We also carried out a major offensive in Grand Bahama, Operation Northern Strike. That operation was extremely successful due to the intelligence and the element of surprise. Fifty-one persons were arrested (and) four fire arms recovered and we seized in excess of $7,000 along with undeclared items and dangerous drugs.
"I also told you that we would carry out operations that we would partner with colleagues, well we have done that. We have connected in a big way particularly with the Royal Bahamas Defence Force who partnered in both intelligence led operations and yielded extremely good results," he said.