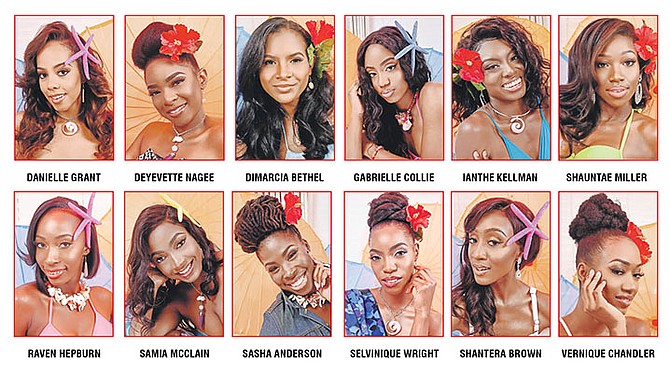 A new Miss Bahamas Universe team, headed by Anthony Smith, is set to prepare a true 21st century Bahamian beauty queen to represent the country in Thailand this December at the prestigious Miss Universe pageant.
Mr Smith, who is the pageant's president, acquired the licence in March and is now the new owner of the Miss Bahamas Universe franchise in the Bahamas. Mr Smith is also president of Westpoint Global, a marketing and special events company that has forged alliances with international partners and affiliates.
The Miss Bahamas Universe Pageant's second managing partner is PJ Douglas Sands.
"This is an extraordinary opportunity to build something that has long been a cultural tradition, as well as a part of history and heritage in some families," said Mr Smith.
The Miss Universe pageant, which debuted in 1952, is considered to be among the most prestigious international pageants in the world. Up until 2015, it was owned by US President Donald Trump.
"This year's theme is 'World View', which presents an opportunity for our young ladies to learn about other countries and their history," said Mr Smith.
"It also allows them to immerse themselves in information on both local and global events. This will greatly help the young woman who competes in the Miss Universe pageant in late Fall."
On August 12, the newly built amphitheatre at the National Art Gallery of the Bahamas will host the 12 pageant contestants who will be vying for the coveted title of Miss Universe Bahamas. During their debut, these 12 ladies will share their vision for the country and their aspirations for the social and cultural platforms they are most passionate about. The audience will get to know each one of them, and will have the opportunity to choose their favourite contestant through a special people's choice vote that will fast-track her into the top six, as the pageant preliminaries and events progress.
In early July, the Miss Bahamas executive board hosted a special, two-day event for the contestants called the 'Chasing the Sash Leadership Workshop', at the Meliá Nassau Beach. Pageant trainers and directors included PJ Douglas Sands, director of Pageant Affairs; Dr Lorneka Joseph, director of Personal and Career Development; Darron Pickstock, legal advisor, and Brett Claywell, co-executive producer.
"Our main goal was to ensure that our young ladies undergo the basics of what was needed in order for them to get a better understanding of the history of pageantry, what is expected of them as contestants and, moreover, as the new queen," said Mr Smith.
"There's a lot of entrepreneurial training and other aspects of platform development the young ladies are undergoing, so that they understand the Miss Universe system more significantly, and the idea of its motto, 'confidently beautiful'."
This year's crop of young ladies range from college students and athletes, to entrepreneurs and working professionals, or a combination of those designations. They are: Samia McClain, Danielle Grant, Vernique Chandler, Gabrielle Collie, Ianthe Kellman, Raven Hepburn, Selvinique Wright, Shantera Brown, Shauntae Miller, Deyevette Nagee, Dimarcia Bethel and Sasha Anderson.
The prize package for Miss Bahamas Universe is valued at $70,000, which includes an all-expense paid, once-in-a-lifetime experience to represent the Bahamas at the Miss Universe pageant; a four-year scholarship to attend Midwestern State University; a full wardrobe; local and international speaking engagements; cash prize; luxury jewellery; air travel; personal coaching and media training; make-up; skin and hair care products, and a whole lot more.
Mr Smith said: "Given the limited time, organisers are developing a programme that is broad in scope and will assist the new queen with her platform. A lot of what we have implemented is simply to move the pageant programme in our country into a 21st century market place. Our team's aim was to restore ideas or approach evolving concepts. For example, we've brought Toastmasters Club 1600 on board to partner with us in the training of the ladies in communication and public speaking. That has been a part of the tradition in the Miss Bahamas Universe franchise for years."
Pageants are viewed, for the most part, especially in the Bahamas, as entertainment rather than a national forum for young women to begin meaningful lives, or add to their current network, he added. He believes there are many variables to blame for this. But the new Miss Bahamas Universe pageant team is working diligently to provide the opportunities young women say they are seeking. Hence, Mr Smith said both his local and international partners and sponsors have bought into this new vision of pageantry and have come on board.
"Countries benefit from a great deal of media attention by virtue of having their name called and a sash flashed on the TV screen…so 'Sash Power' is what it's called in the pageant world," said Mr Smith. "That's enough publicity to entice people to visit a country, and it lends a level of interest that otherwise would cost millions. Seasoned directors and pageant attendees stress the worthiness of such a moment."
Mr Smith is optimistic that the Miss Bahamas Universe winner will make an indelible impression at the international competition.
The 2018 Miss Universe final will be held in Bangkok, Thailand, on December 16, at 7pm on FOX.
For more information about tickets, visit the website at www.missbahamaspageant.org or the Facebook page 'MissBahamasPageant'.