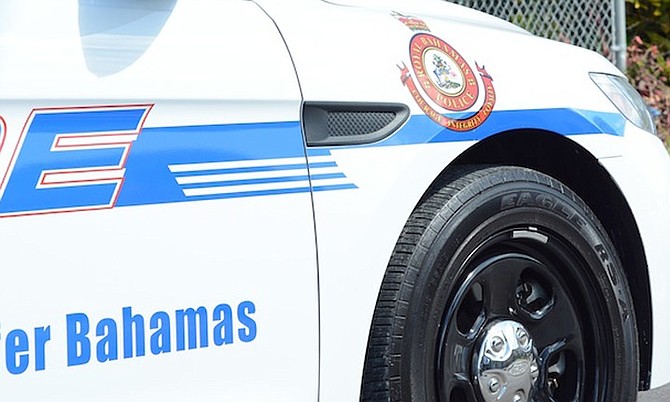 By FARRAH JOHNSON
TWO pedestrians are dead after they were killed in separate traffic accidents, including a hit-and-run.
According to police shortly after 9pm on Monday a man walking on Carmichael Road around Boatswain Hill was struck by a vehicle and seriously injured.
Paramedics were called to the scene, but a Ford Expedition hit the ambulance they were driving in while emergency personnel were attending to the victim.
The accident caused minor damage to the emergency vehicle, but the victim died at the scene.
All of the drivers remained on scene and are aiding police with their investigations.
The second accident occurred shortly after 3am yesterday when a man walking on Graham Drive in Yellow Elder Gardens was struck by a silver coloured two-door car, which left the scene.
Paramedics were called but were unsuccessful in reviving the victim who also died.
Superintendent Marino Hynes of the Traffic Division reported the vehicle which killed the second victim "stopped for a brief moment" before taking off.
Confirming the incident has been classified as a hit-and-run, Supt Hynes said police are appealing to anybody who may have witnessed the accident to report their account to police.
Supt Hynes said the victim was a resident of the area, adding it was still unclear whether the victim was trying to cross the road at the time of the accident.
He added police have seen an increase in the number of traffic fatalities and accidents due to drivers being distracted.
"We have been appealing to persons to not drive with their cell phones. Use some hands-free device, some bluetooth device, which would cause them to keep their hands on the wheel. And if they must speak while driving they can do both simultaneously," Supt Hynes said.
He also urged the driver from yesterday's incident to turn themselves in to police.
"We are appealing this morning to the driver of this vehicle to please come into (the) Police Traffic Department, identify yourself, and take responsibility for this human life," he said.
"We want that person to know that we will find you, so please use the human dignity that you have to coming to us and speak with us so that we can bring some resolution to this matter and this grieving family," he said.
Investigations are continuing.