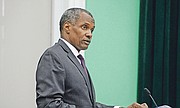 By DENISE MAYCOCK
Tribune Freeport Reporter
dmaycock@tribunemedia.net
THE Ministry of Works is awaiting tender documents from local contractors on Grand Bahama for roof repair at the Garnet Levarity Justice Centre which has a severe mould problem.
While in Freeport recently, Works Minister Desmond Bannister had indicated some $2m had been spent already on mould remediation over the years at the courthouse building.
Two weeks ago, workers staged a sit out at the Justice Centre to protest the unsafe and unhealthy working conditions.
Mr Bannister said the money already spent on remediation, the root problem was never resolved.
"The challenge is that that money was spent without making proper repairs and you can never do that. You have to get to the basic cause of the mould.
"Mould is caused by moisture, and if you have a leaking roof and you don't fix it, it does not matter what remediation you do, it is only temporary; you have to be able to fix the problem."
Mr Bannister said that contracts have been put out for tender for the courthouse and post office buildings in Freeport.
"We expect contractors to come with tender documents so that proper repairs can be properly done, and so we can control the cause of the mould, and then we can deal with remediation," he said.
"I will be coming back and forth very quietly to look at what they are doing because I want to make the centre live up to the name, Garnet Levarity."
Mr Bannister also said that measures are being taken with respect to health testing to ensure the health of workers has not been impacted by the mould in the building.
Activist Rev Glenroy Bethel, the founder of Families for Justice, said the situation at the courthouse poses a danger to both workers and the public and called for the immediate relocation of workers.
He also called on Pineridge MP Frederick McAlpine to ensure working conditions are addressed since the building is in the Pineridge constituency.
Rev McAlpine says he expects that government will move expeditiously to rectify working conditions at building.
"I think the government is aware of the situation and is committed to trying to rectify the matter in short order," Rev McAlpine told The Tribune.
"It is sad that it has come to this that we have these conditions in the government workplace or any public workplace. It is my hope and prayer that the powers that be and the Ministry of Works, and the government of The Bahamas would do what is right to ensure that our people are in a better working condition," he said.
In the meantime, the courthouse remains open and workers are currently undergoing a medical assessment.