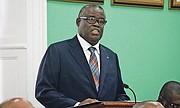 ADDRESSING the issue of unemployment among the nation's youth, Minister of the Public Service and National Insurance Brensil Rolle announced that the government introduced a restructured employment programme this week in which participants will receive soft skills training at the National Training Agency and additional training on the job in the public and private sectors.
Mr Rolle made the announcement at the launch of a re-structured National Job Creation and Skills Enhancement Programme yesterday at the National Training Agency that will engage 1,036 trainees in New Providence, Grand Bahama, and the Family Islands.
Partners in skills training from the private sector providing job placement for skills training include: SMG Construction and Millwork; Craftsman Plumbing; DLH Electric; Culmer's Mechanical Plumbing; ILF Bahamas; and Forbes Air-Condition and Refrigeration.
Over the next few days, trainees will learn soft skills facilitated by the Ministry of the Public Service & National Insurance, and the National Training Agency, with priority to those wishing to become teacher's aides, patient care monitors and care of the elderly assistants. Providing assistance in training and placement will be the Ministries of Education, Health, Social Services and Urban Development, and the Bahamas Technical and Vocational Institute (BTVI).
Some of the trainees will be given the opportunity to attend BTVI and receive a weekly stipend. Mr Rolle explained: "Some of you will be given the opportunity to attend BTVI and receive a weekly stipend. The government will invest $2,000 per student for 50 persons for a total investment of $100,000.
"Development courses are designed with 20 weeks of classroom training followed by 30 weeks of paid internship in the fields of construction, plumbing, electrical installation, welding, cosmetology and fashion design, in addition to the business and IT components all offered by BTVI. Indeed some of you may eventually establish your own businesses. Successful students will receive BTVI non-credit/non-transferable course certificates.
"...Additionally, those of you who do not attend BTVI may also wish to consider the hospitality component offered here at the National Training Agency," said Mr Rolle, as he challenged the participants to "dream big" and offered them congratulations.