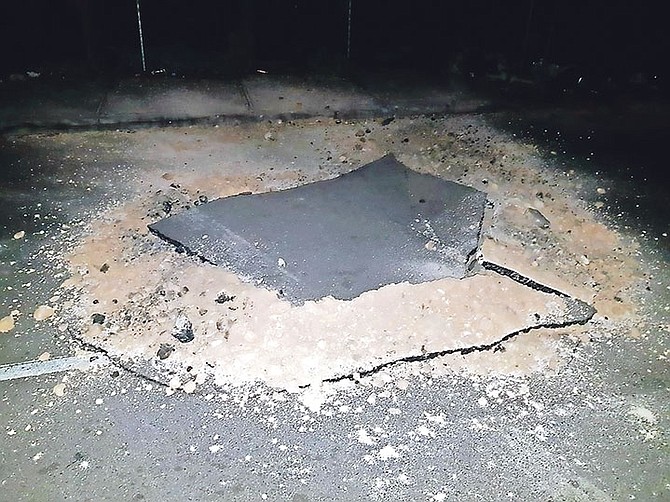 By KHRISNA RUSSELL
Deputy Chief Reporter
krussell@tribunemedia.net
AS a foreign expert assesses Bahamas Power and Light's instabilities, residents in several areas of New Providence were plunged into darkness on Wednesday night after an engine at the Clifton Pier power plant malfunctioned, resulting in a load shedding exercise - with a further power outage last night.
According to BPL there were challenges with the generation plant resulting in an interruption to power supply for customers in Stapleton, portions of Thompson Blvd, portions of Oakes Field, Mackey Street, East Bay Street east of the bridge, Blair Estates, portions of Coral Harbour, Boatswain Hill and Lyford Cay.
At the time, it was estimated some customers would be without electricity for two hours. However, there were some residents outside of the mentioned areas who complained of power disruptions for more than the stated time frame.
Last night, BPL reported a "system disturbance" at about 7.40pm which led to outages in a number of areas across New Providence. At about 10pm, BPL said that power had been restored to all customers - although some people reported areas still without power.
The issue led Progressive Liberal Party Chairman Fred Mitchell to demand full disclosure from Works Minister Desmond Bannister regarding BPL's power generation issues along with what he claimed to be human resource problems. He claimed these were the result of too many employees opting to accept voluntary separation packages, adding the government was clueless and had no plan for BPL.
In response, Mr Bannister denied Mr Mitchell's insisting that the PLP was a "reckless and untruthful" party that sat "in their infamous fake news war room creating and disseminating fables in their unrepentant attempts to mislead, alarm and frighten the Bahamian public". He said the diligent employees of BPL were hard at work correcting the many generation, transmission and distribution challenges that resulted from years of PLP mismanagement.
Regarding Wednesday's disruption, Paul Maynard, Bahamas Electrical Workers Union president, explained one of two engines at the power generation plant shut down presenting serious challenges for crews who could not for some time return it to an operational status.
He said officials had to then load shed. In June, BPL officials pledged there would be no load shedding this summer.
"This is about the third time (this summer)," Mr Maynard said yesterday when he was contacted. "The other two times weren't drastic. You could shut off buildings that have big transformers, those commercial ones so we didn't have to come to the public until last night."
And there could be more load shedding Mr Maynard said as he stressed "ancient" equipment made it more likely.
"It's a touch and go situation. Sometimes things work, sometimes they don't."
He also confirmed that a foreign protection auditor has been in the country for several weeks assessing equipment challenges.
In a statement, Mr Mitchell suggested the issues were inevitable because staff were stressed and stretched to the limit so much so that they were being allowed to sleep on the job.
"The minister responsible for BPL has to tell us now what is going on with BPL," he said. "The public had earlier been assured of a sufficient supply of electricity to deal with the demands for power during the summer. Today BPL admitted in an announcement that its services in New Providence are to collapse for at least two hours. This is unacceptable.
"BPL also has power generation problems in Exuma where the power failures are chronic and of long duration. It has ruined the summer for both residents and tourists alike.
"To add to this tale of woes are reports that the BPL staff are so stressed and stretched to the limit that people are being allowed to sleep on the job in order to work the overtime which is required to keep the lights on. Fatigue ultimately causes accidents. This shortage is now confirmed with BPL announcing that since they laid off so many people there are 60 vacancies they have to fill.
"This government is clueless and has no plan."
Mr Bannister denied the claims in a statement to The Tribune.
"The truth is a stranger to the PLP and its hopeless, clueless, reckless and hapless brigade of false and fake news purveyors," he said.
"It is untruthful for the PLP to claim that BPL issued an announcement that its services in New Providence are to collapse for at least two hours or at all," he continued. "If the person who released the false statement on behalf of the PLP has any honour left, he will publicly withdraw it and apologise to the Bahamian people and to the employees of BPL. Knowing the PLP, however, there will be no such withdrawal or retraction.
"The remainder of the release is just as false and unsupportable.
"For the record, a fire in a rented generator in North Andros this morning (Thursday) caused intermittent outages in North Andros. In order to correct the problem and to ensure the safety of its employees, there may be short power cuts in North Andros. This is a safety measure.
"The PLP's insistence on defaming dedicated BPL staff is unpardonable. They know better. It is to be remembered that the PLP had no confidence in letting Bahamians operate BPL. The woes of their mismanagement of our power utility by non-Bahamians are well known to their eternal shame. Their intent is to spread untruths and to create confusion. By their untruths they will be known," Mr Bannister said.