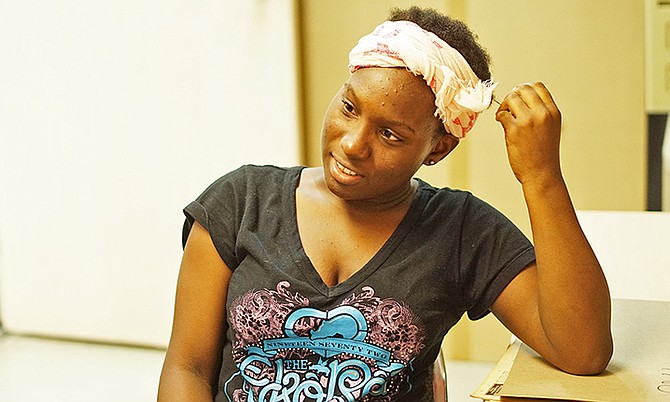 10am UPDATE: THE Cabinet Office has announced that contrary to claims made by the mother of a stateless teen seeking medical treatment in the United States and published in The Tribune on Friday, the government has made no offer or promise to foot the teen's bills.
A statement released on Friday read, "The Cabinet Office announces that contrary to the information in the Tribune of 10th August, 2018 under the caption "WE'LL PAY TARANIQUE'S BILLS", the government of the Bahamas has made no such offer or promise. The Cabinet Office refutes these claims categorically.
"The Ministry of Foreign Affairs is looking into the provision of a certificate of identity for Taranique Thurston in accordance with established policy."
By AVA TURNQUEST
Tribune Chief Reporter
aturnquest@tribunemedia.net
THE government has arranged to pay for stateless teen Taranique Thurston's medical treatment and travel costs, her mother Ginette Caty confirmed yesterday.
Officials were said to be working on obtaining a US visa for Taranique's certificate of identity under emergency circumstances, Ms Caty was told.
She is scheduled for brain surgery at Jacksonville Memorial Hospital on August 28.
"They confirmed to pay for the ticket, the hotel, a small stipend and then the medical treatment," she said.
"They called us in for an interview this morning, and while we were in there they called the hospital and confirmed the surgery. I'm so relieved, I mean I had a few days of just not eating but this is just so...God is good.
"Taranique really wasn't doing too good (Wednesday) just with the massive headaches and stressed about the document saying she's Haitian.This is just great news and it's giving her hope.
"She's still really upset and saying she just wants to go far away or not be anywhere at all but the most important part is that she is getting the surgery."
The government issued a certificate of identity for Taranique last week Friday, which stated her nationality as Haitian.
Ms Caty said her daughter was deeply hurt by the move as she identifies as Bahamian, and felt as though her country of birth did not want her.
Due to her mother's naturalisation process, Taranique is currently registered in the Bahamas as a non-Bahamian born to a foreign mother and Bahamian father, who are unmarried.
Ms Caty, 34, was naturalised as a Bahamian citizen in 2013 – more than a decade after she had applied at the required age of 18.
Ms Caty was born in the Bahamas to a Mexican mother and a Haitian father.
Up until last week, she had been repeatedly told that her daughter will have to wait until her 18th birthday before she can apply for Bahamian citizenship.
She said she was also repeatedly told by immigration officials to go to the Haitian embassy - but was told her daughter did not have an automatic claim to citizenship as had been intimated by the Bahamas government.
According to the Haitian constitution, Article 11, "any person born of a Haitian father or Haitian mother who are themselves native-born Haitians and have never renounced their nationality possesses Haitian nationality at the time of birth."
However, this entitlement is reportedly not extended to second or third generation descendants whose parents were not themselves native-born Haitians.
Yesterday, Ms Caty said: "I'm still a little distressed about what this Haitian situation mean, (Taranique) she's really upset about it. She tell me I just don't know how it feel. She read about one of her former classmates in the paper, and it really send her over the edge.
"She kept talking about how smart he was," Ms Caty continued, "they were in the same math class. So she's shocked about that too and disheartened."
The Tribune published a profile on 17-year-old Johnson Davilma this week.
Johnson has been accepted into multiple American tertiary institutions, including Florida Memorial University, Fisk University, and Philander Smith College, and been offered partial scholarships to two of these schools.
However, in order to make his dream a reality, Johnson requires additional funding.
Unfortunately, his status as the child of Haitian immigrants means that he does not meet the criteria for receiving Bahamian government scholarships. And as a 17-year-old, he is a full year too young to apply for Bahamian citizenship.
"Things have to change, it have to be a little more love, when it comes to the children who born here with this Bahamian title," Ms Caty said. "They should not be compared to the ones with the Haitian title because they originated from there. Today, one of the ladies who walk in while I was being interviewed, she was a Thurston. And she saw Taranique name and say all Thurston is my family from Cat Island, and I'm just like wow. Do you even know what we've been through, and you can say that so easily."
She added: "But I'm trying to cheer her up, to get her in the spirit so she could be a good place for this surgery. She's really sad by all the negativity that's come up."