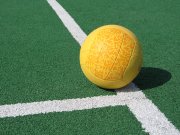 By BRENT STUBBS
Senior Sports Reporter
bstubbs@tribunemedia.net
AFTER losing a marathon five setter to hosts Suriname the night before, the Bahamas men's national volleyball team regrouped and took care of Haiti in four sets on Monday to keep their hopes alive for a shot at the gold medal at the CAZOVA (Caribbean Zonal Volleyball Association) Championships at the Ismay Van Wilgen Sporthal in Parimaribo, Suriname.
Coming off that hard fought 42-40, 23-25, 21-25, 21-25, 25-22, 15-11 loss in the feature game that lasted almost three hours on Sunday, Team Bahamas bounced back to beat Haiti in four sets, 25-23, 21-25, 25-18, 25-22 and push their record to 2-1 heading into their final game in the round robin today against Trinidad & Tobago.
"We performed pretty well. We didn't play as well as we could have, but we were still able to win the match," said head coach Lloyd Davis, who is being assisted by Kurkwood Greene Sr.
"We just had a slow start and (were) making adjustments to the conditions.
"Other than that, it went fairly well because we still were able to win."
The team was led by the 1-2 punch of Byron Ferguson and Prince Wilson.
Other members of the team are Renaldo Knowles, Kyle Wilson, Je'Vaughn Saunders, Jamaal Ferguson, Donavan Wilmott, Eugene Stuart, Tonny Simon and Shonari Hepburn.
"These guys are giving it their all," Davis said. "Yesterday (Sunday), we had two matches and tomorrow (today) we will have two. We play Trinidad at 9am in the morning to go to the gold medal round. If we beat Trinidad, we automatically go to the gold medal round that evening. If we lose, we play for bronze."
Despite losing to Suriname, Davis said it turned things around because Suriname came back on Monday and suffered their first loss of the tournament to Trinidad. Those three teams all have one loss, but Suriname was scheduled to play Barbados in the featured game last night, while the Bahamas will play Trinidad today.
The outcome of those games will determine who plays for gold and silver and who plays for bronze and fourth place. Haiti, having lost all of their games, have been eliminated from the playoff picture.
In their game against Suriname, three players from the host country - Gino Nardeen (28), Keven Sporkslede (26) and Zefano Breinburg (24) - each scored in excess of 20 points, while captain Princtanique Wilson led from the front for Bahamas with 24 points.
Suriname had the advantage in kills (74-68) and blocked shots (12-7), but Bahamas led 4-2 in service winners.
Davis said it was just a nail biter that could have gone either way.
"After losing the first set, that carried over until the fifth set when they won 15-11," he said. "It took it's toll on us, but we were able to rebound and beat Haiti in four. Unfortunately, we wore down Suriname and they got beat by Trinidad. Hopefully we can come back and take care of Trinidad and go to the gold medal round."
As they prepare for that early match today, Davis said Team Bahamas have one simply game plan.
"All we have to do is pass the ball," he insisted. "If we pass the ball and execute, we should win it."
Davis said the team is in high spirits and looking forward to the final day of competition today.