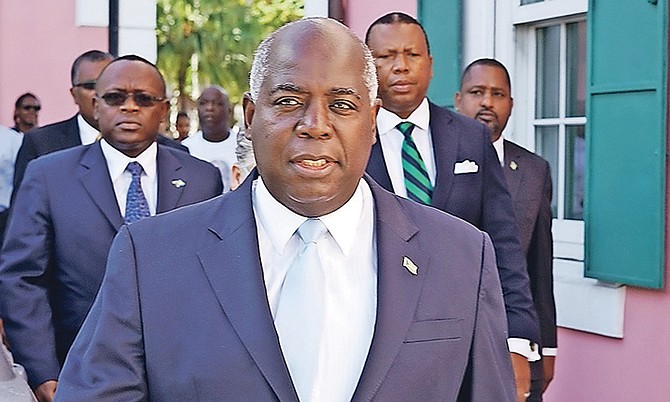 FORMER ministers in the Christie administration said they privately pushed the Hayward and St George families to sell their interests in the Grand Bahama Port Authority, though it was never an option for the government to obtain a majority stake in the port.
Instead, according to Official Opposition Leader Philip "Brave" Davis, the belief was that some equity participation by the government in the GBPA was feasible if necessary.  
With the Minnis administration's move to buy the Grand Lucayan resort expected to be a costly endeavour, former Prime Minister Hubert Ingraham said last week the government should buy the Grand Bahama Port Authority instead.
During discussions with the Christie administration, Sarah St George, vice chairman of the GBPA, represented the Hayward and St George families and dealt with possible purchasers like the Mediterranean Shipping Company, which initiated negotiations.
"There was a realisation that you probably needed new ownership to take it to a new level because of what happened post Edward St George and Albert Miller," one former Christie administration figure who did not want to be named said yesterday.
"Jack Hayward never was the operational leader but it so happens that all three of them are now gone and so the question was can the children carry it on and lots of people in Grand Bahama we consulted didn't think so. There was a view that it would help Grand Bahama if in fact the assets were sold."
Ultimately, suitable buyers could not be found, Mr Davis said.
"You have to have a willing buyer," he said.
"I don't rule out equity participation by the government in it but my preference would be for the right sort of investment group to step up that has a vision that would align with that of the people of Grand Bahama and the Bahamas government. We did not rule out equity participation but just like if you buy the hotel and you have to put all these things in place, you have to consider what economic model you will build Grand Bahama on having regard to everything that has taken place so far."
He added: "For quite awhile during our term discussions were being held with the Hayward and St George family to divest themselves of their interest and there were discussions being held to have the Hutchinson Whampoa divest themselves of certain of their interest as well. At the end of the day we wanted for new owners to deal with the hotel, the Grand Bahama Development Company and the airports and the aim was to leave Hutchinson Whampoa with their core business, that being their container port and the expansion of it. We were brokering, trying to get people to buy it."