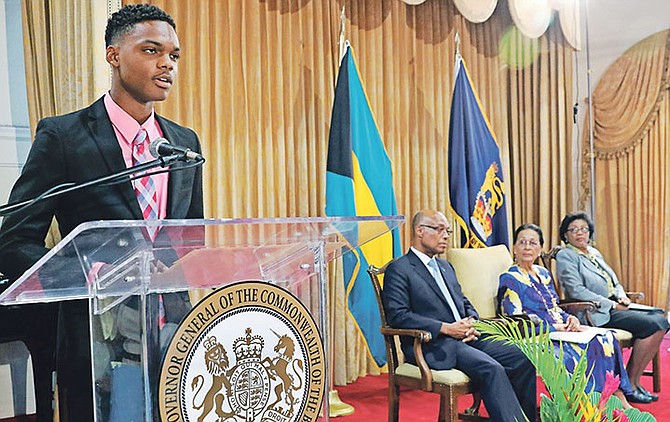 By KATHRYN CAMPBELL
AARON Edgecombe has earned the coveted 2018 All-Bahamas Merit Scholarship Award.
The prestigious award was bestowed on the Queen's College graduate by Governor General Dame Marguerite Pindling and Minister of Education Jeffrey Lloyd on August 9, during the All-Bahamas Merit and National Merit Scholars Award Ceremony at Government House.
He is the 24th scholar to receive the title of All-Bahamas Merit Scholar since introduction of the award in 1993. An aspiring engineer, Aaron, plans to pursue studies toward a degree in electrical engineering at the University of Miami. His scholarship is valued at $140,000.
The student was among the 2018 scholars whose high achievements Mr Lloyd described as "unprecedented," as he acknowledged their insight, brilliance and fortitude.
Mr Lloyd also recognised Aaron's parents, Adrian and Tiffany Edgecombe, to whom he requested the audience give a standing ovation.
"The country is very proud of you, very proud of how you have raised this young man and very proud of what and who he has become."
The teen was graduated with a cumulative GPA of 3.95. In 2015, he was recognised by the Ministry of Education for having attained the best overall results in mathematics and health science at the BJC level, and in 2018 for his performance at the BGCSE level. In June 2017, he wrote 12 subjects at the BGCSE level and obtained 11 As and 1 B. In his final year of high school, he pursued eight college level courses and achieved a 1460 score on his SAT's.
In his remarks, Aaron thanked his family, teachers, school administrators, and church, Bahamas Harvest.
"I am extremely honoured to share this stage today with some of the best and brightest young minds in our country," the student said. "We represent only a fraction of the great potential that our country has to offer. I strongly believe that some of the best resources in the country are not the natural resources of sun, sand and sea, but the human resources represented by you and me.
"My fellow scholars, we've done well in establishing a rock solid foundation for our lives. However, it is what we do from this point on that truly matters. The future of The Bahamas is in our hands and we must now determine what our contribution to our nation and our world will be as we enter the next phase of our success story."
He urged his peers to use the gifts endowed on them from God to leave the world in a better state than they met it.
Derrica Ferguson, a graduate of St Augustine's College is the 2018 All-Bahamas Merit runner-up.