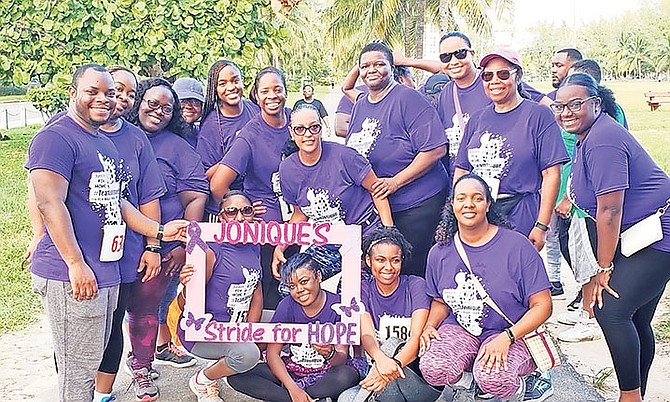 By BRENT STUBBS
Senior Sports Reporter
bstubbs@tribunemedia.net
On Saturday, persons from all walks of life showed up to lend their support to former Jordan Prince Williams High School multiple athlete Jonique Webb in her battle against lupus.
A 'Fighting Lupus, Finding Hope - Jonique's Beast Mode' run/walk race was held around Goodman's Bay and more than 200 competitors participated. It was a gesture that Webb, a Securities Commission's employee, said she greatly appreciated.
"It was pretty good," she said, adorned in a purple and pink outfit as she distributed purple t-shirts to the registered competitors.
"I was very overwhelmed with joy by the total number of persons who came out and supported the event. It was a good event."
Webb, a 29-year-old 2006 graduate of Jordan Prince Williams where she participated in basketball, softball, volleyball and track and field, was diagnosed with the trace of lupus in her system in 2012.
A year later, after further consultation, it was confirmed that she had lupus, a chronic autoimmune disease in which the body's immune system attacks its own healthy tissue. This can cause inflammation throughout the body, including the skin, joints, brain, lungs, heart, blood cells and kidneys.
Expenses
A committee, headed by Shandia Saunders and comprising of family members and friends, organised the fundraiser to assist Webb with her medical expenses as she has to prepares for a kidney transplant at the Cleveland Clinic in Fort Lauderdale, Florida.
"With things like this, it's not good to go through it alone," Webb stressed. "It's good to have the support and persons that stand with you generally, so having the support and back up of people that showed up on Saturday was very important."
Saunders said the event went really well, but of course they encountered some problems that hampered the smooth sailing.
"The only things I would have done differently was to have had the volunteers there a little earlier, so that we would not have had the backlog in getting persons registered on time for the start of the race," Saunders said. "I am very proud of the success of the event and we hope that it will become an annual event and we will be able to correct the things that didn't go right next time."
It was estimated by the committee that they would need at least 200 persons to achieve their target. They did that in the pre-registration, but there were others who showed up and registered on race day. However, Saunders said they didn't get the t-shirts in time for those persons who pre-registered, so that hindered the registration process on race day.
But Webb said it was a minor issue and she was glad that those persons who showed up, worked along with the delay.
"I know the committee is still doing the tallying to determine the total, excluding the expenses incurred, but from a glance of it, I think we would have exceeded our initial target," Webb said.
As her expenses will be ongoing, Webb said there are plans to make the run/walk an annual one and later in the year they hope to put on a souse out that will help to generate more funding.
She thanked all those persons who assisted on the committee and her family and friends and even those who she doesn't know, who introduced themselves and encouraged her in her recuperation process.
While Wilton Ramsey was the first person to finish the course that led from Goodman's Bay and travelled west on Baha Mar Boulevard and passed the Melia Hotel and returned on the same route back to Goodman's Bay, a number of members from Golden Gates Native Baptist Church, and others she worked with in the Baptist community, participated.
Among those in attendance were former Bahamas National Baptist Missionary and Educational Convention president Rev. Dr. Anthony Carroll; former National Youth President Rev. Dino Cartwright; The Venerable James Palacious and Leslie Miller, former Member of Parliament for Tall Pines.
Awards were presented to the winners in the various age group categories that included the following:
Male runners
20-29 - Wilton Ramsey, Kenneth Musgrove, Deangelo Thompson.
30-39 - Tarren Knowles, Torrell Glinton, Wilfred Bain.
Female runners
20-29 - Kendra Culmer, Monouska Alcee.
30-39 - Aniska Bonaby, Nikia Deveaux, Shanell Carroll.
40-49 - Denise Abrahamser, Shonalle Munroe.
Male Walkers
14-and-under - Jason Poitier.
15-19 - Jermaine Poitier.
20-29 - Cecil Minnis, Angelo Butler, Randy Duncombe.
30-39 - Deronm Lightbourne, Davario Butler, Eugene Patton.
40-49 - Zhivargo Rolle, Stewart Rolle, Rev. Alonzo Hinsey Jr.
50-59 - Clarence Nottage, Godfrey Willie, Barry Winder.
60-and-over - The Venerable James Palacious, Leslie Miller, Rev. Dr. Anthony Carroll.
Female Walkers
14-and-under - Pramell Smith, Anaiya Hinsey, Abby Farrington.
15-19 - Charisma Minnis, Celine Farrington, Tatyana Musgrove.
20-29 - Robyn Sands, Jasmine Williams, Sundae Ferguson.
30-39 - Mela George, Tina Walkes, Jerryse Rolle.
40-49 - Karen Thompson, Racquel Rolle, Shanika Duncombe.
50-59 - Sharon Simmons, Bernadette Gibson, Beryl Armbrister.
60-and-over - Gloria Thompson, Daisy Winder, Alice Mortimer.