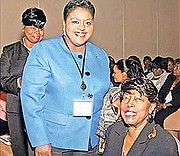 By FARAH JOHNSON
fjohnson@tribunemedia.net
FORMER senator Telator Strachan was laid to rest on Friday as a nation builder who paved the way for Bahamian women in politics.
Government officials and loved ones paid tribute to the former straw businessperson at her funeral at Faith United Missionary Baptist Church.
Among those attending were Governor General Dame Marguerite Pindling, Prime Minister Hubert A Minnis, former Prime Minister Perry Christie, and Official Opposition Leader Philip "Brave" Davis.
Offering "profound gratitude" for her legacy, Dr Minnis described Mrs Strachan as a true "Bahamian patriot."
"Though we gather from various political backgrounds and affiliations, we are delighted in recognizing and honouring the life of a noble soul who devoted her life to the enrichment of the country she so loved," he told the congregation.
The prime minister also commended Mrs Strachan for her dedicated service to her family, her church, and the nation at large, and thanked her for her significant contributions to the straw industry and politics.
"Her generation played an essential and leading role in the political development of a sovereign independent Bahamas. She was loyal to her party (and) she was loyal to her principles and beliefs," he said.
Expressing his condolences, Mr Christie said that Mrs Strachan's steadfast determination helped her to become a trailblazer in one of the most important parts of Bahamian history.
"That is why she, like others, would've determined that I want to be free as a woman to do the same thing men do. That's what fed the Women's Suffrage Movement, that's why she understood the necessity for Majority Rule," he said.
He added that Mrs Strachan always portrayed a 'Yes I can' attitude that set her apart and never "allowed her politics" to influence the decisions she made.
For his part, Mr Davis, said he had "come to pay respects" to a mother, a friend, and "a champion of the suffrage movement."
Also describing Mrs Strachan as a patriot, he thanked the former senator for "offering the talents of her heart and hands" to nation building.
"I thank God that Senator Strachan was one of those who helped to turn the engine of our economy using her gifts and talents to bring new money to The Bahamas," he said.
"Her entrepreneurial spirit demonstrated a true passion for building something great from nothing," he added.
Englerston MP Glenys Hanna Martin also commended Mrs Strachan for her notable contributions to society.
Stating that her "heart was full", Mrs Martin saw Mrs Strachan as "intelligent, poised, confident, and articulate."
"Despite being a woman, and especially one of that era, she emerged as a leader shoulder-to-shoulder with her male peers."
"…She fought for equality, equity, and justice. She stood against the powerful oligarchy that loomed over the dreams and aspirations of our people," she told the congregation.
Paying tribute to her late mother, former Social Services Minister Melanie Griffin, sang 'My faith has found a resting place.'
She described her mother as her "teacher, mentor, advisor and controller, who dedicated her life to the servitude of God, her family, and her country."
In her later years, Mrs Strachan experienced health issues, which led to multiple doctor visits and hospital admissions.
Following the death of her youngest daughter, Natasha Yvette, Mrs Strachan was readmitted to the Princess Margaret Hospital on July 23rd, where she died a week later on July 30th, surrounded by family.