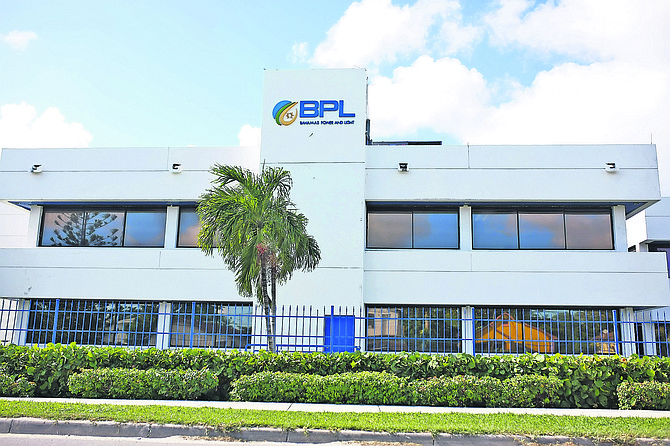 By AVA TURNQUEST
Tribune Chief Reporter
aturnquest@tribunemedia.net
A REVIEW of the tender process for Bahamas Power and Light's generation supply contract is high on the agenda for its new board, according to incoming Chairman Donovan Moxey.
Mr Moxey told The Tribune board members will work to establish a baseline at the company as it relates to the accountability, transparency and efficacy of operations and administrative functions.
In that vein, all projects currently before the board will be reviewed - chief among them, the tender process that led to the selection of Shell North America as the preferred bidder.
Mr Moxey said: "We understand there were several projects on the table. The first thing is to find out details on the projects, one mainly being the Shell contract. Understanding the decisions prior to us getting there, and determining whether those decisions were prudent or not. Once we determine as a board that it was the right choice, we will move forward from there.
"Presently I have no position on Shell whatsoever," he continued. "I have to learn what that is. As far as I know, there was a RFP (request for proposals) that was put out, a process was followed and as far as I know Shell was awarded the contract. What I'm going to do as a first course is understand the process by which it was selected. I don't think anything has been signed by the government."
Desmond Bannister, minister of works, told Tribune Business last month that the signing of a memorandum of understanding (MoU) between BPL and Shell North America for a new plant at Clifton was imminent.
BPL's CEO Whitney Heastie added "the country could not have a better partner" than Shell, with the deal's "transformational" impact extending well beyond the energy sector.
BPL's board was dissolved last week in a shock move.
In a statement last Wednesday, Mr Bannister explained the nation's electricity provider needed new leadership because the former board was "locked" in dispute on every critical issue at great cost to the company.
Mr Bannister confirmed the new appointments in a statement on Friday.
Yesterday, Mr Moxey said he has not been briefed on what specific issues led to the former board's dissolution, but added he did not consider that information as critical to his roadmap.
"There may be some information that can assist us," he said.
"From my perspective, I'd like to get some understanding but that's not something that's important. It's important to understand where BPL is now and moving forward rather than to rehash it."
Mr Moxey said: "The key thing here is, clearly all of us who live in the Bahamas know and recognize that electricity services isn't working for anybody. So one of the things you have to do as a utility is you have to get reliability up so customers can have confidence in the service you provide.
He continued: "To do that it's all hands on deck, everybody has a role. We have to understand and recognise everyone is going to be fully together as a team - that's paramount and it goes back to accountability.
Mr Moxey added he has already reached out to Bahamas Electrical Workers Union's (BEWU) President Paul Maynard.
"I've had a brief conversation with Maynard. I indicated to him he will be one of the first people I speak to once I return. In order for this to work everybody has to be involved, everybody has to understand the vision and understand their role. He and members of union are a part of BPL and one of the things I made clear is we are not going to approach this as an adversarial relationship."
"I don't see it as a hurdle more as an opportunity," Mr Moxey said yesterday.
He said his goal is to put in a long-term strategy at BPL, cognizant of the fact that boards change with election cycles.
"One of the biggest things I've heard since taking this post," Mr Moxey said, "is there is no degree of continuity for long term plans of the organisation. And as the government and board changes, everyone goes back to ground zero every five years. We have to start thinking differently about how things work within the utility itself."
Mr Moxey owns a software company and his academic background includes electrical engineering, microelectronics, and materials science with specialities like: technology commercialisation, international business development and strategic planning and partnership negotiations.
He told The Tribune he didn't see last week's shock dissolution and reported in-fighting as a hurdle, but an opportunity to bring in a fresh slate of qualified professionals with new focus to the challenges faced by the electricity provider.
"I've done tech research, research for the military. BPL's power generation is not rocket science," he said, "it's not that big of a leap."
Dr Moxey continued: "I feel that I have a lot of confidence to have successful outcomes. I'm looking forward to working with every single one of the board members.
"Obviously, I want to come to an understanding of exactly where we are, establishing a baseline with respect to power generation, transmission, and distribution, and a level of accountability with respect to operations and administrative functions. A baseline of where we are as a utility company.
"My watchwords and the culture I'm looking to bring to BPL is one of transparency, accountability and efficiency, those are three words I'm focused on."
Mr Moxey also sits on the technical planning committee of the Restoration Ragged Island Association.
The group has agitated for the government to prioritise critical restoration initiatives, as protracted delays have handicapped local efforts to rebuild and restore normalcy to the hurricane-ravaged island.
Yesterday, Mr Moxey acknowledged his new role put him in a better position to do more for his island, but noted any advancements for Ragged Island would cause upgrades for all Family Islands.
"I think I'm in a better position to do more for all Family Islands," he said.
"Ragged Island was devastated by the hurricane last year and the prime minister has said the government plans to make Ragged Island the first fully sustainable island. So to the extent that is the policy and position of government, as it relates to what BPL needs to do, BPL will do what it can to execute that.
"Whatever we do from a renewable energy standpoint will serve as a model for other Family Islands as a whole, not something as a special project for Ragged Island. Right now it gives me a chance and opportunity to look at what the plans were in a bid to understand what role BPL would play."
Of the six posts vacated last Tuesday, only board member Ferron Bethell has retained his post.
Other posts include deputy chairman, Stephen Holowesko and members James Moss, Debra Wood and Viana Gardiner.